DUSHANBE -- The US military and several Central Asian counterparts this week kicked off an exercise hosted by Tajikistan aimed at improving regional co-operation.
Sponsored by US Central Command (CENTCOM), the Regional Co-operation 2022 (RC 22) military exercise began Wednesday (August 10) and is set to run until August 20 in Dushanbe, according to a statement from the US embassy in Tajikistan.
As part of RC 22, participants from the United States, Tajikistan, Kazakhstan, Kyrgyzstan, Mongolia, Pakistan and Uzbekistan will take part in a six-day command post exercise.
Tajikistan and the United States will also conduct a five-day bilateral field training component of the exercise at the Fakhrabad Training Centre.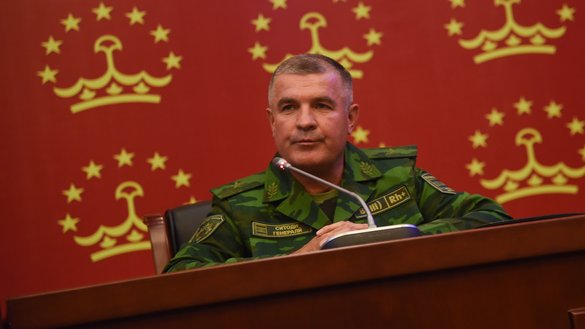 "The exercise will provide an opportunity to coordinate, synchronise and react to events in a non-threatening environment," said the statement.
The exercise is designed to enhance regional security and stability; increase national capabilities and commitment to interdict weapons of mass destruction, terrorist elements, and narcotics; and help develop regional defence forces in international peace operations and information sharing, it added.
"As the largest US military-to-military exercise involving Central and South Asian nations, Regional Co-operation 22 is an unparalleled opportunity to strengthen relationships with our partners in that region," US Ambassador to Tajikistan John Mark Pommersheim said while welcoming attendees.
"The exercise serves as a forum for addressing relevant regional issues including peaceful responses to global challenges, information exchange and security co-operation," he said.
Regional co-operation
Participants have taken turns hosting the exercise annually since 2004, with the exception of 2020 due to the COVID-19 pandemic.
Last year, the annual exercise was hosted in the US state of Montana.
"It's exciting for me to see the partnerships," said US Air Force Maj. Gen. John P. Hronek at the time.
"I really think this is a very important exercise as we look into our futures as to how we grow as nations and how we build relationships."
"One thing Regional Co-operation has shown me is that everyone has something they can teach, and everyone has something they need to learn," said US Marine Corps Lt. Col. Richard Weeks, the lead exercise planner for that year's drills, at the time.
"No one country has the best way of doing business in every area, and exercises like Regional Co-operation truly allow us to work together and exchange those ideas to both pull and learn from each other's strengths."
This year's iteration came after Tajikistan and Uzbekistan held joint military drills in Termez, Uzbekistan, in yet another sign of closer ties in the region.
The Commonwealth 2022 exercise ran from August 4-10, according to statements from the Uzbek Ministry of Defence.
The drills mainly focused on repelling a simulated violation of the two countries' border, which the ministry said was "destroyed by precise strikes of machine gunners, tanks, artillery and other combat units".
Tajik Minister of Defence Col. Gen. Sherali Mirzo arrived in Tashkent on August 9 to discuss military matters with his Uzbek counterpart Lt. Gen. Bahodir Kurbanov.
Kurbanov "emphasised the friendly relations established between Uzbekistan and the Republic of Tajikistan" and "expressed confidence" about the further expansion of ties, said the ministry.
The two sides noted co-operation across a variety of fields, from the political, economic, cultural, and humanitarian spheres to matters of defence and security, and inked an agreement for the training of Tajik military personnel at Uzbek institutions.
Security partners
The United States regularly provides support to Tajikistan's armed forces, border guards and law enforcement agencies to improve border security and help combat terrorism and drug trafficking.
This assistance consists not only of exchanging experience but includes building infrastructure and providing hardware, including for communications and transport.
As per 2021 estimates, since 1992, the United States has provided more than $330 million (3.7 billion TJS) in security sector assistance to Tajikistan.
CENTCOM commander Gen. Michael "Erik" Kurilla in June in Dushanbe met with Tajik President Emomali Rahmon to discuss US-Tajik security matters, according to a statement on Rahmon's official site.
The US and Tajik delegations considered the possible expansion of US-Tajik ties, especially in military and security matters.
They also discussed the regional and global situations, the fight against terrorism, drug trafficking and other trans-national crime.
The Tajik talks came after Kurilla completed discussions in two other post-Soviet states, Uzbekistan and Kazakhstan.