Embarrassing mishaps continue to plague the Russian military in Ukraine as problems with manpower, morale and supply routes reached new heights in recent weeks.
Blasts at Saki airfield in Russian-annexed Crimea last Tuesday (August 9) encapsulated the Russian military's growing headaches and its credulity-straining attempts to cover them up.
A series of massive explosions rocked the air base and caused extensive damage, with at least nine fighter jets destroyed, but Russia quickly blamed an accident.
The Russian Defence Ministry said it was seeking to establish the reason for the explosions but indicated that the airfield was not targeted.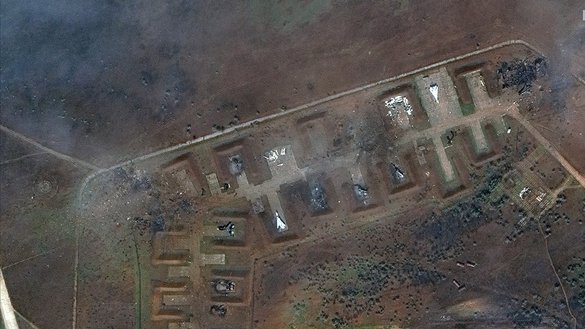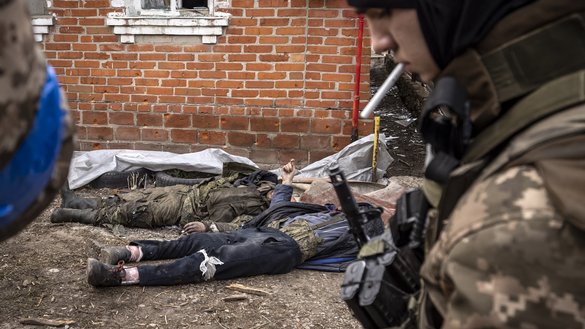 "If it was an accident, it would have required four or five people throwing cigarettes on the same spot or hitting bombs with a hammer -- incredibly unlikely," analyst Oliver Alexander told AFP.
Eliot Higgins, a founder of the investigative journalism group Bellingcat, said the images showed three craters and evidence of "a massive fire across the base".
"One way to interpret those craters is precise strikes from a long range munition," he wrote on Twitter.
"I can't think of a time Russia has lost this many air assets in one day in recent memory, and they have to be deeply concerned about Ukraine's ability to do similar strikes elsewhere, especially the Kerch Strait Bridge [connecting Crimea and Russia]," Higgins said.
Ukrainian officials cited anonymously by the New York Times and Washington Post have said Ukraine was behind the blasts, but there has been no public acknowledgment by Kyiv's forces.
Ukraine's military has sarcastically commented on Russia's "technical difficulties", saying they may have been caused by smokers in unauthorised areas.
On Wednesday morning, Mykhaylo Podolyak, an adviser to Ukrainian President Volodymyr Zelenskyy, tweeted that "the epidemic of technical accidents at military airfields in Crimea and Belarus should be considered by Russian military as a warning".
"Forget about Ukraine, take off the uniform and leave.... Karma finds you anywhere," he continued.
Russia has used the Crimean peninsula, which was illegally annexed in 2014, as a major base to attack Ukraine.
But Crimea has rarely been targeted, and this would represent a major escalation in the war -- and a major setback for the Russian military that clearly never even considered Russian territory vulnerable when it invaded Ukraine in February.
Ukraine's army has been hitting targets deeper in Russian-held territory since some High Mobility Artillery Rocket Systems (HIMARS) from Western allies started arriving in recent weeks.
Where are the Russian defences?
The destruction of the Saki air base underscores another embarrassing fact more than five months after Russia invaded Ukraine: the much larger and supposedly better equipped aggressor has not established air supremacy or reliable missile defences.
Ukrainian planes are still contesting the skies because Ukrainian troops have shot down Russian planes, destroyed them on the ground (as happened at Saki) and blown up Russian anti-aircraft missiles, as reported by various media including Newsweek in July.
HIMARS has been instrumental in withholding air supremacy from the Russians, according to the Pentagon.
If indeed Ukraine used missiles to attack Saki, then the air defence missile batteries around the base proved useless.
"Notable that Russian air defences again failed. Remember this is a high-end Russian target," British military analyst Timothy Ash wrote on his blog last Tuesday.
Going into the war, Russian weaponry had already proved a disappointment around the world. Such visible debacles in Ukraine have only worsened those weapons' already shabby reputation.
In 2020, forces operating Turkish and Israeli drones decimated Russian-equipped foes in Nagorno-Karabakh (Azerbaijan), Syria and Libya.
Basic ineptitude is causing other problems.
When Ukraine sank the Russian warship Moskva on the Black Sea in April, its victory was aided by the Moskva crew's failure to turn on missile defence radars, the US Naval Institute said in April.
Supply routes cut
Recent weeks have also highlighted Russia's growing supply route problems.
Ukraine on Sunday said Russian troops who have crossed the Dnipro river during their offensive in the southern Kherson region were facing growing difficulties after the shelling of strategic bridges.
The three bridges that Russia controls in the area -- two for road traffic and another carrying a railway -- have been bombarded repeatedly in recent weeks.
Regional lawmaker Sergiy Khlan told Ukrainian television that the only way for Russian soldiers to cross the river were pontoons near the Antonovsky bridge that "cannot totally meet their needs".
Kherson, the capital of the region, is situated only a few kilometres away from the frontlines. The wider region -- also called Kherson -- is essential to Ukrainian agriculture.
It is strategic because it neighbours Crimea.
Ukrainian forces say they have been leading a slow counter-offensive in the south of the country for a few weeks.
Kyiv says it has retaken dozens of villages from Russian troops.
Staggering losses
The latest disappointments for Russia come as it bears staggering losses in its war in Ukraine, forcing Moscow to try to recruit prisoners and Central Asian migrant workers.
Although the invasion of Ukraine was the largest in Europe since World War II, Russia's 160,000 troops barely outnumbered the Ukrainian defenders at the start. Military doctrine calls for invaders to outnumber defenders 3 to 1.
In the first few weeks of the conflict, Ukraine's dispersed forces were able to take a heavy toll on their opponents, thanks in part to years of NATO training, as well as supplies of anti-tank and anti-aircraft weapons from Western allies.
The death toll for Russian troops has been rising ever since.
Russia has given an official toll of troops killed only on two occasions, the last on March 25 with a figure of 1,351 that analysts consider far too low.
According to the latest update by the Ukrainian military, Russia has lost about 43,750 troops.
Western sources contacted by AFP usually give a much lower figure on Russian casualties -- from 15,000 to 20,000 soldiers killed.
However, a senior US official estimated August 8 that as many as 80,000 Russians have been killed or wounded in Ukraine since the war began in late February.