ALMATY -- Military exercises conducted by the Russia-led Collective Security Treaty Organisation (CSTO) are becoming increasingly pointless in the face of modern day threats and Moscow's invasion of Ukraine, say analysts.
The CSTO, whose members include Russia, Armenia, Belarus, Kazakhstan, Kyrgyzstan and Tajikistan, has in recent months touted exercises aimed at preparing for "external aggression".
The Cobalt 2022 exercises, held on August 2-5 in Issyk-Kul province, Kyrgyzstan, and organised by the CSTO, involved member-states' rapid reaction forces and Interior Ministry (MVD) special units.
"About 500 personnel, armoured vehicles, tactical artillery, specialised vehicles, unmanned aerial vehicles and search dogs are involved in the training," the CSTO said in an official statement.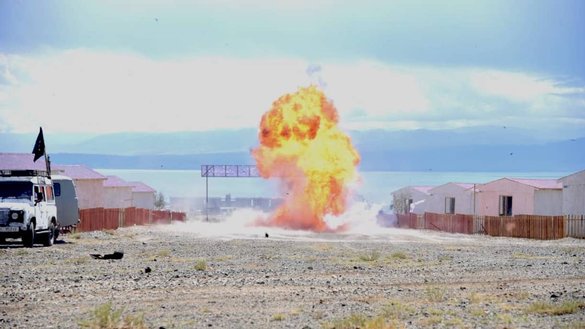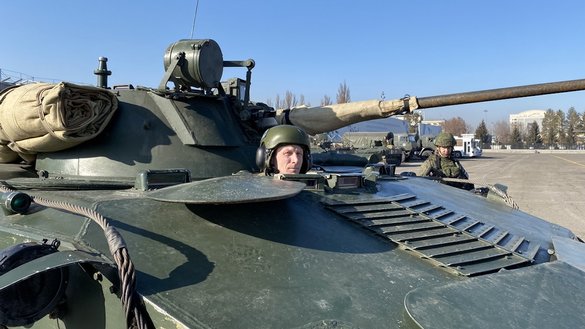 The CSTO also plans to hold three more exercises in Kazakhstan in October: Co-operation 2022 for joint rapid reaction forces; Search 2022, for reconnaissance forces and equipment; and Echelon 2022, for logistics units.
Frontier 2022, another CSTO joint exercise, is slated to be held in Tajikistan to fine tune military operations in mountains to "repel external military aggression".
The exact dates of the Tajik drill are unknown.
Russia regularly conducts exercises in CSTO member-states and maintains bases in Central Asia, namely, Tajikistan and Kyrgyzstan.
But when crises arise, it rarely offers military aid. For instance, it did nothing to help when Kyrgyzstan and Tajikistan fought over their disputed border in April 2021.
The CSTO's real purpose is less protecting the region and more expanding Russian military influence over and control of the other member-states, critics have said.
Ignoring real threats
Central Asian nations need to consider the threats that they actually face, rather than prepare for full-scale, conventional invasions, say observers.
The CSTO's recent activities fail to address new threats facing the region amid the Russian-Ukrainian conflict, according to Kasybek Jolchuyev of Bishkek, a security analyst and columnist for news portal Orbita.kg.
Russia invaded Ukraine February 24.
"Our population is getting poorer because of the Russian invasion [of Ukraine] and [Western] sanctions. What's more, a process of domestic radicalisation is under way," Jolchuyev told Caravanserai.
As a result of supply chain disruptions, trade in Central Asia has suffered, unemployment is growing and purchasing power is in decline, he noted.
As the socio-economic situation deteriorates, radical movements are gaining strength as they seek to exploit society's problems, he said.
"We must deal with real, internal problems. For example, we need to do more to identify and monitor hidden destructive ... movements, nab recruiters -- and not waste resources, time and effort on fighting windmills," Jolchuyev said.
Farhad Tolipov, director of the Tashkent think-tank Caravan of Knowledge, also noted the pointlessness of the Russian-led CSTO and the need to strengthen regional co-operation.
"Uzbekistan doesn't need the CSTO and is not planning to join this military bloc," he said. "Our country has enough forces to cope with external aggression, if it ever arises."
Central Asian countries instead need to strive for regional integration, which has not developed as it should have in the 30 years of their independence, said Tolipov.
"We must create our own shared political and economic space, develop a shared foreign policy, become a strong, cohesive region," Tolipov said.
A different example
Providing a different approach than the CSTO exercises, a US-led military drill this month is aimed at improving regional integration and tackling real threats.
Sponsored by US Central Command (CENTCOM), Regional Co-operation 22 (RC 22) began August 10 and is set to run until Saturday (August 20) in Dushanbe, according to a statement from the US embassy in Tajikistan.
As part of RC 22, participants from the United States, Tajikistan, Kazakhstan, Kyrgyzstan, Mongolia, Pakistan and Uzbekistan will take part in a six-day command post exercise.
Tajikistan and the United States will also conduct a five-day bilateral field training component of the exercise at the Fakhrabad Training Centre.
"The exercise will provide an opportunity to coordinate, synchronise and react to events in a non-threatening environment," said the statement.
The exercise is designed to enhance regional security and stability; increase national capabilities and commitment to interdict weapons of mass destruction, terrorist elements, and narcotics; and help develop regional defence forces in international peace operations and information sharing, it added.
"As the largest US military-to-military exercise involving Central and South Asian nations, Regional Co-operation 22 is an unparalleled opportunity to strengthen relationships with our partners in that region," US Ambassador to Tajikistan John Mark Pommersheim said while welcoming attendees.
"The exercise serves as a forum for addressing relevant regional issues including peaceful responses to global challenges, information exchange and security co-operation," he said.
Angry Moscow
Central Asian countries themselves have been working together, sidelining Russia and enraging Russian media.
At a July summit in Kyrgyzstan -- without the presence of Russian officials -- Central Asian countries provided the most recent example of their desire to co-operate on regional problems.
On July 20-21, the Kyrgyz city Cholpon-Ata hosted the 4th Consultative Meeting of the Heads of State of Central Asia, attended by Kazakh President Kassym-Jomart Tokayev, Kyrgyz President Sadyr Japarov, Uzbek President Shavkat Mirziyoyev, Tajik President Emomali Rahmon and Turkmen President Serdar Berdymukhamedov.
The parties discussed solutions for acute problems that have accumulated, including regional security threats, climate change, border issues, extremism and the situation in Afghanistan.
At the conclusion of the summit, Nur-Sultan, Bishkek and Tashkent signed the Treaty of Friendship, Neighbourliness, and Co-operation for the Development of Central Asia in the 21st Century.
Dushanbe and Ashgabat backed the agreement but said they would sign it "after completing all domestic procedures".
In the final document, the countries enshrined agreements on further five-way co-operation in solving urgent problems related to security; the economy; regional infrastructure for transport, transit and logistics; the environment; and more.
The sight of Central Asian leaders daring to discuss their challenges without seeking Russian oversight has apparently angered Moscow.
In an interview with the Russian newspaper Independent Gazette published on July 18, Prof. Alexander Knyazev, a scholar of Central Asia and the Middle East at St. Petersburg State University, claimed that regional summits have "symbolic content", but no "practical effectiveness".
In the same article, Alexander Kobrinsky, director of Russia's Agency for Ethno-National Strategies, trumpeted Russia's alleged indispensability.
"Russia's presence brings peace and development in the countries of Central Asia", he claimed, adding that the pact on neighbourliness that the regional leaders were planning to sign "will not save the region from potential conflicts".