TASHKENT -- Jamshid, a 31-year-old Uzbek man, smokes anxiously as he recounts his time driving a truck for the Russian army in Ukraine.
After losing his job amid the coronavirus epidemic in Russia, Jamshid borrowed money from a bank, friends and acquaintances to support his family back in Uzbekistan.
He fell deep into debt, and was forced to do everything possible to improve his financial situation and send money home.
Then, in early March, a private company offered him a job as a driver transporting soldiers and weapons from Belgorod, Russia, into occupied Ukrainian territory.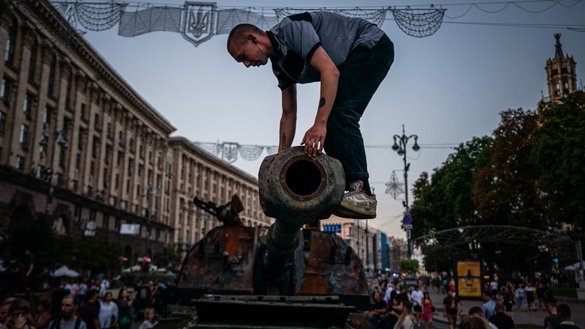 "I experienced a lot of stress from everything I saw in Ukraine, where I delivered cargo and soldiers. And at some point I wanted to go back [to Moscow]. But the promised money -- 100,000 RUB [$1,683] a month -- and Russian citizenship kept me [in the war]," said Jamshid told Caravanserai under a pseudonym for his own safety.
"When I first saw the charred corpse of a Russian tank crew member along the road, I threw up," he said.
"That evening I couldn't fall asleep. 'Did you come to a resort or something? Forget everything, and earn your bread -- that's why you came!' the Russian officers chided."
For five months of service, he received only 80,000 RUB ($1,346), instead of the promised 500,000 RUB.
Nobody cares about anyone else in a war -- everyone wants to survive or to go home, he said. Eventually he terminated his contract and returned to Moscow in early August.
He fears going back to Uzbekistan, where he knows he can be imprisoned if authorities discover his mercenary activities.
But he has firmly decided to return to Uzbekistan no matter what.
"Allah himself is a witness of what I went through in Ukraine," Jamshid said. "More of my countrymen with stories like mine remain there. But our destinies will probably turn out differently."
Dangerous provocations
To prevent others like Jamshid from being similarly deceived, Uzbekistan is warning its citizens living in Russia against calls to join "volunteer" battalions involved in combat in Ukraine.
Any form of participation in warfare abroad is considered to be mercenary activity and is punishable by up to 10 years in prison, the Uzbek embassy said in a statement August 10.
"The embassy urges all our compatriots to stay away from incitements," it added.
The Uzbek embassy in Russia issued its latest warning in response to a video aired by VETTA Television under the headline "Perm Uzbeks plan to join special operation in Ukraine".
The video, just under two minutes long, shows a small conference room with about 40 people, mostly men, who appear to be of Asian descent.
Speaking in Russian from a podium, Jahongir Jalolov, the leader of the Uzbek diaspora in Perm province, Russia, calls on local Uzbeks to create a battalion named after 14th-century conqueror Tamerlane.
"Our children attend kindergartens, study at schools and universities. We live and work in Russia. We must ... justify the bread that we eat," he said.
"I propose to form a volunteer battalion and ... to support Russia's special military operation to demilitarise and denazify Ukraine."
Audience members applaud him and rise from their seats twice: first, after a mention of Russian President Vladimir Putin; and second, after he says, "I serve Russia!" -- a phrase used by the Russian military.
Authorities across Russia have been trying to create battalions of volunteers based on ethnicity and region, the Russian newspaper Kommersant reported August 8.
It will be easier for members of one geographic or ethnic group to go to Ukraine, co-operate there and come back safely, say the creators of such battalions. More than 40 such units exist, according to Kommersant's estimates.
False promises
Mahbuba Nusratova, 63, from Qashqadaryo (Kashkadarya) province, Uzbekistan, strongly condemned Jalolov's call to send Uzbek migrants working in Russia to fight in Ukraine.
"I have two sons: one is 40; the other is 44. They have been working in Russia for several years," she said. "They went there to work, to support our family here in Uzbekistan, not to fight for who knows what."
"I think that the leaders of the Uzbek diaspora have fallen under the influence of Russian politicians and the military; otherwise, they would not have made such criminal appeals," she said.
These demands to fight for Russia are incitements by the Kremlin, said Botirjon Shermukhammedov, a lawyer who works with migrant workers in Moscow.
"Such appeals will continue not only in the Uzbek diaspora but also in the Kyrgyz and Tajik diasporas," he said. "Basically, organisations like the one headed by Jalolov rely on government handouts or are supervised by all sorts of security agencies."
The migrants being urged to fight may receive promises of various "benefits" such as a temporary residence permit, permanent residence and even Russian citizenship, he added.
"That's how they attract and interest a migrant who has no job, no documents and no income," he said. "Of course we are against all this."
The way Russia is drafting Uzbek migrants is reminiscent of "Islamic State" (IS) recruitment, said Anora Sodikova, editor of the Rost24.uz website.
"They are both terrorists, aren't they? Russia is recruiting more young members of other ethnic groups for the war against Ukraine. We saw how they recruit Chechens, Bashkirs... The Bashkirs are even protesting," she said.
Jalolov's statement was an attempt at manipulation, she said.
"If Uzbek migrants' families use the school and kindergarten, they have the right to do so because they pay for work permits. They pay taxes," Sodikova said.
"Using such manipulations to draft our migrants is a disgrace."