Though it has been two decades since Russia, Iran and India signed an agreement laying out a vision for a North-South Transport Corridor, Russia and Iran have been promoting the plan with added urgency in recent years.
Both nations are facing international sanctions and isolation on the world stage: Russia, for its invasion of Ukraine, and Iran, for its regional interference and continued pursuit of its nuclear ambitions.
With the doors of international commerce slammed shut to them, the two nations have made recent moves to activate the 7,200km-long ship, rail and road route through India, Iran, Afghanistan, Azerbaijan, Russia, Central Asia and Europe.
The first part of the route stretches from India across the Arabian Sea to the Iranian port of Bandar Abbas, per a July 2002 Brookings Institution report.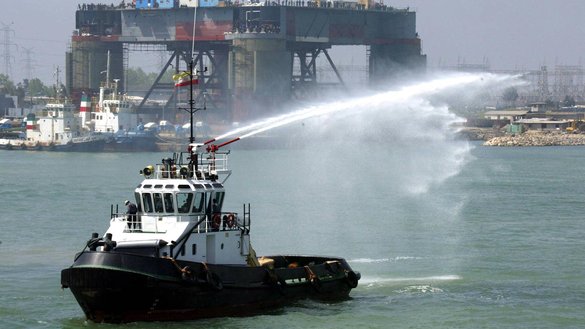 The second part of the route links Iran to Russia via the Caspian Sea.
A third branch of the route passes through Kazakhstan, Uzbekistan and Turkmenistan in Central Asia, according to an article that first appeared in Arabic in Al-Quds Al-Arabi on June 21.
In service of the second branch of this trade route, Iran has been mulling a proposal to build a canal that would link the Arabian Gulf to the Caspian Sea, with the first formal study carried out in the 1960s.
Russia has been an eager advocate of the "Iranrud" proposal, as it would enable it to bypass the Bosphorus, which is under NATO control, and Suez, according to a 2014 report by engineer Peymãn Moazzen.
But decades after the original study was completed, the Iranrud canal proposal is still in its early stages and there are many challenges to construction, not least of which is its great length.
Attempt to bypass Suez, sanctions
When a massive container vessel became wedged in the Suez Canal in March 2021, blocking the key commercial shipping lane for a full six days, Russia leapt at the opportunity to push alternative trade routes.
The Moscow Times on March 26, 2021, reported that Russian officials "have already started aggressively promoting Russia's Northern Sea Route (NSR) -- an alternative Europe-to-Asia sea route which traverses the Arctic".
Shortly afterwards, on April 13, Russian Foreign Minister Sergey Lavrov said Russia and Iran were interested in developing the North-South Transport Corridor, in light of the Suez disruption, Al-Monitor reported.
Discussions were under way in Tehran to that end, Lavrov said at the time.
Egyptian officials were dismissive about the possibility of competition, however, noting that such a notion was "unrealistic" for multiple reasons and pointing to the lack of development activity over the past 20 years.
A viable north-south trade route remains a major goal of both Iran and Russia, Al-Monitor reported, noting that "trade between Russia and Iran steadily rises year by year".
This year, on June 17, Iran and Russia signed an agreement to accelerate the North-South Transport Corridor and establish trade centres in Tehran and the Russian port of St. Petersburg to facilitate trade between them.
The deal aimed to help Iranian and Russian businesspeople establish contact and conduct financial transactions in the energy, transportation, electronics, agriculture, food, pharmaceutical and construction sectors, Al-Monitor said.
Courting a resentful Central Asia
There also have been heightened efforts to court other countries along the corridor, particularly oil-rich Kazakhstan, which maintains an alliance with Russia and has deep economic links to China.
Those efforts, though, will have to overcome bitterness engendered by high-handed Russian and Iranian policies.
On July 11, a Russian court overturned a ruling for a 30-day ban on the unloading of oil deliveries from Kazakhstan, a source of tensions between the two countries, AFP reported.
That ban, had it stayed in effect, would have blocked Kazakhstan from exporting its oil to Europe. The dispute caused Kazakh President Kassym-Jomart Tokayev to order officials to find oil export routes bypassing Russia.
Recent stoppages by Russia of Kazakh oil exports have triggered speculation that the Kremlin might be punishing its Central Asian ally for its neutral stance on Ukraine.
In addition, Turkmenistan, which like Russia and Iran has a coast on the Caspian Sea, has been unable to break free of its dependence on Russian pipelines and thus unable to export natural gas to Europe directly.
Russia and Iran, for decades, have blocked Turkmen hopes of building an undersea pipeline to Azerbaijan, which would bypass Russian pipelines. As a result, Turkmenistan has only two customers, Russia and China, which force it to sell gas at unfavourably low prices.
Eyeing Kazakhstan
If Moscow and Tehran can repair the hard feelings their policies have created, a cross-Kazakhstan route would be high on their list of priorities.
"Of course, the land route to the north of Europe through Kazakhstan is a passage that interests China as well," Al-Quds Al-Arabi reported.
During a June 19 visit to Tehran, Kazakh President Tokayev and Iranian President Ebrahim Raisi inaugurated a railway network running from Kazakhstan to Iran and onto Turkey, Al-Monitor reported.
"The railway network with Kazakhstan could help Iran promote the International North-South Transport Corridor trade route in Russia, Iran and India," it said, noting that Iran's trade with several Central Asian countries increased in 2021.
"Although Kazakhstan rarely enters discussions about Iranian foreign policy, many analysts overlook the importance of Central Asia to Tehran," TRT World reported January 11.
"Over the years, Kazakhstan has served to provide Iran with economic help in the form of oil swap arrangements," it said, noting that this arrangement has helped Iran circumvent sanctions and other measures to isolate and weaken it.
"Iran's foreign policy interests in Central Asia are best served by continuing to align with Moscow as far as events in Russia's so-called 'near abroad' are concerned," British Open University lecturer Edward Wastnidge told TRT World.
"Iran sees itself as playing a complementary role to that of Russia and China in the region, and like them it wishes to see a stable Central Asia that doesn't become too closely aligned with Western powers," he said.
Kazakhstan is a major oil and uranium producer and a member, along with Iran, of the China-led Shanghai Co-operation Organisation, which also includes Russia, India and Pakistan, RFE/RL reported June 19.
"Only recently has Central Asia become a policy priority for Tehran, which now sees the region as a potential 'bridge' between Iran and the East," The Diplomat reported May 2.
In addition to Kazakhstan, Iran has been focused on Uzbekistan and Kyrgyzstan, it added, noting that despite a Persian "base" in these countries, many do not look favourably on Iran.
"Iran is just simply not on the radar for many."