ALMATY -- Beijing has been striving to bolster its image in neighbouring Kyrgyzstan for many years, but local sentiment against the regime remains widespread and persistent.
The People's Republic of China (PRC) is stepping up efforts to expand influence in Kyrgyzstan's information space and provide the country with views and opinions on political issues that Beijing deems most important, according to a study published on August 25 by the Organisation for Security and Co-operation in Europe (OSCE) Academy in Bishkek.
China's strategies have three main characteristics: the insertion of content within Kyrgyz media, the local presence of PRC media and engagement on social media, according to the report.
China began to implement its information policy 20 years ago, when it concluded co-operation agreements with Kyrgyz media.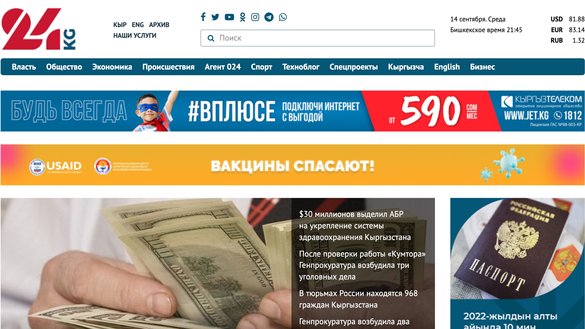 Under these agreements, editors could choose to reprint articles from Chinese resources, but they were also obliged to publish content of particular importance to Beijing.
Major media outlets such as the newspaper Vecherniy Bishkek, southern Kyrgyz TV channel OshTV, and popular news sites 24.kg and Akipress have worked with China.
China has also co-operated with state-owned media: TV and radio broadcasting company KTRK, ElTR, the Kabar news agency and the newspaper Slovo Kyrgyzstana.
Meanwhile, three Chinese media outlets are registered in Kyrgyzstan as foreign media: Xinhua, Wen Wei Po and Silk Road Observer, the OSCE report said, citing a list published by the Kyrgyz Foreign Ministry in 2022.
Two others, Dolon TV and Land Bridge, operate locally as private media companies without registering as foreign media.
Most of these Chinese media outlets are closely affiliated with the Publicity Department (also known as the Propaganda Department) of the Central Committee of the Chinese Communist Party and receive financial support from the Chinese government, the report noted.
The Chinese embassy in Bishkek has been cultivating co-operation with Kyrgyzstan by organising free trips to China for journalists and offering funding and other incentives to encourage local journalists to write positive stories and refrain from publishing negative ones.
The PRC has conducted training programmes for Kyrgyz journalists that include tours in China supposedly to exchange experiences and become acquainted with Chinese culture.
During these tours, journalists were also shown the allegedly prosperous life of Xinjiang to convince them that northwest China has no ideological re-education camps and that Muslim minorities -- Kyrgyz, Kazakhs and Uighurs -- live happily there.
In reality, Beijing is accused of detaining more than one million Uighurs and other mostly Muslim, Turkic-speaking inhabitants of the far-western region in a secretive network of detention centres and prisons.
Accusations include mass incarceration, forced labour, compulsory sterilisation, systematic rape and the destruction of Uighur cultural and Islamic sites.
China is committing the "genocide" of Muslim minority groups, the United States and other Western countries have said.
Kyrgyz recalcitrance
Beijing is spending significant sums to advance its agenda in Kyrgyzstan, including by expanding the presence of Chinese state media, the OSCE report noted.
"Money talks, and that's a problem because [Kyrgyzstan's] media sector is very underfunded," Niva Yau, senior researcher at the OSCE Academy and the author of the report, said in an interview with Radio Free Europe/Radio Liberty (RFE/RL) published on August 27.
"[China] has lots of money to invest and spend," she said.
China has become especially active in Kyrgyzstan's media sector over the past 10 years, Timur Toktonaliyev, a Bishkek-based media analyst and former editor of the Institute for War and Peace Reporting in Kyrgyzstan, told Caravanserai.
"Before 2010, the Chinese embassy in Kyrgyzstan was an impregnable fortress for journalists," he said.
"It was impossible to get any comments from them, but now Chinese Ambassador Du Dewen has turned into a media personality. She shows up on local channels. She gives interviews to local journalists more often than other ambassadors do, and even gives them gifts," said Toktonaliyev.
Nevertheless, Kyrgyz media co-operate with China in the information space out of necessity and editors do not particularly want to provide positive coverage of conditions in China, the OSCE report said.
Speaking off the record, one Bishkek journalist who participated in a 2019 trip organised by Chinese authorities to Xinjiang told Caravanserai that her editors asked her to create "positive content" about life in China as part of the partnership.
"We realised that our entire trip, the route and interactions with local residents were orchestrated by the Chinese," she said.
"Meanwhile, the happy residents of cities in the XUAR [Xinjiang Uyghur Autonomous Region] gave us fake smiles and repeated memorised texts about how good their lives were," she said.
'Immature' propaganda
The extent to which China's efforts are producing tangible results is unknown, the OSCE report also noted.
"There is lots of clumsiness to observe on the Chinese side, but it is still growing and also adapting, especially on social media," Yau the OSCE researcher told RFE/RL.
"[China] is quite immature when it comes to global media. They just copy and paste that model [from home] when they go overseas and in many cases refuse to listen to the local people that work for them," she said.
The Chinese are "wasting money" in Kyrgyzstan, Gulnura Toraliyeva, an independent media analyst from Bishkek, said in an interview with television channel Current Time published in September.
"The work is not strategic. It's ill conceived. As if [the Chinese] are not focused on being effective but instead have done this to tick boxes," Toraliyeva said.
"[The Chinese] aren't analysing locals' media habits. They don't research how best to influence."
For example, one of the journalists interviewed by the OSCE said on condition of anonymity that a Chinese delegation had proposed a film about a Chinese man who travels to Kyrgyzstan for work and falls in love with a Kyrgyz girl.
"'I told them Kyrgyz people will tear them apart after such [a] movie; this is provocative," said the interviewee in the report.
The Chinese delegation seemed utterly unaware of Sinophobia in Kyrgyzstan, the OSCE noted.
Today Kyrgyzstan's population is, at a minimum, sceptical about China, said Toktonaliyev.
"In my opinion, China's information operations in Kyrgyzstan as a whole do not ... change their [Kyrgyz residents'] sceptical attitude towards their eastern neighbour," he said.
Kyrgyz audiences are more concerned with China's economic expansion, which may bring the country's land and resources under Chinese control, than with re-education camps, Toktonaliyev explained.
"The Kyrgyz people's level of wariness varies gradually from calm pragmatism to open hostility toward the Chinese. China can try only to control the degree of wariness," he said.