KYIV -- A lightning Ukrainian counter-offensive over the past few weeks has highlighted once again the Russian military's shortcomings in the war.
Ukrainian forces September 5 stormed into Kharkiv province after duping the Russians into expecting an offensive in Kherson province, prompting panicked Russian troops to surrender or flee their positions by the thousands.
The offensive saw Ukraine recapture the strategic town of Izyum -- which President Volodymyr Zelenskyy visited on Wednesday (September 14). It ousted Russian forces from most of Kharkiv province, which borders Russia.
"The Ukrainians once again managed to do what many thought was impossible," Zelenskyy said in his nightly address.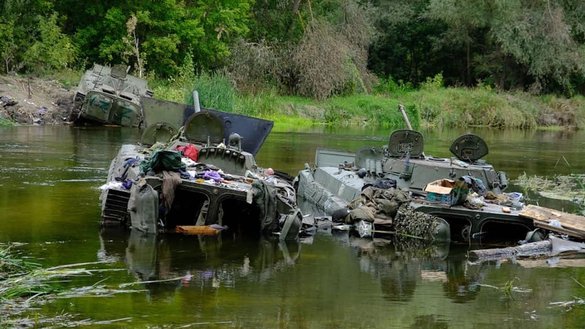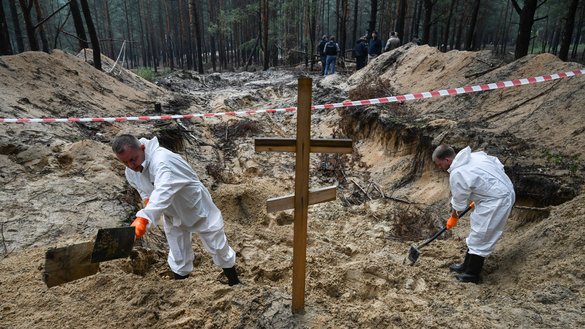 The push came after the nearly seven-month-long conflict appeared to have reached a stalemate over the summer, with Russian forces holding large parts of Ukraine's east and south but failing to make much further headway.
Russia's occupation of Crimea -- annexed by Moscow in 2014 -- was a "tragedy", said Zelenskyy, promising that his forces would eventually recapture the peninsula.
Grim discovery
On Thursday, Zelenskyy revealed the discovery of a mass grave in Izyum, likening it to deaths seen in the cities of Bucha and Mariupol, which have become symbols of Russian atrocities.
"We want the world to know what the Russian occupation has caused," he said.
A regional police official, Sergei Botvinov, told Sky News that a burial site with about 440 graves had been discovered in Izyum, with some of the dead shot and others killed in shelling.
Many bodies have not yet been identified and an investigation is ongoing, he said.
The grim discovery came as the White House announced it had approved a new package of up to $600 million in additional military aid for Ukraine, including equipment and services, as well as training.
The US Department of Defence specified in a later statement that the package will include 37,000 artillery rounds, of which 1,000 will be precision-guided, and four counter-artillery radars, among other weapons and equipment.
More ammunition will also be provided for the HIMARS rocket system, the Pentagon said.
Since Russia's invasion began February 24, the United States has provided more than $15 billion in military assistance to Kyiv.
Exposing Russia's weaknesses
"The city of Izyum is the key to the south of Kharkiv province as well as the northern part of Donetsk and Luhansk provinces," said Serhiy Kuzan, director of the Ukrainian Centre for Security and Co-operation.
The Russian army's lack of reserve manpower is its latest weakness to be exposed, he said.
After capturing Izyum in March, the Russians deployed their most combat-ready forces there, planning to expand their success in Kharkiv province. But over time, the Russian command redeployed part of the Izyum contingent to other areas to compensate for a lack of professional soldiers.
"Everything combat-ready that they had, including the Eastern Military District -- it has all been involved in Ukraine since February," said Kuzan.
"All the myths [of Russian military prowess] were destroyed on live TV," he said. "Everything they cultivated for 20 years, everything that millions, hundreds of millions, of dollars were invested in to lead the public to believe that this is the second-best army in the world, that this is a mighty state."
"'Russia can be stopped, but it cannot be defeated,' 'Russia cannot be defeated on the battlefield'. We have now simply destroyed all these arguments. The entire Russian mythology has been destroyed," said Kuzan.
"We don't have Western tanks, Western planes. We do not have long-range missiles. And even with the makeshift means that we do have, we achieved this success."
'Colossal' failure
Russian authorities have been forced to deny obvious defeat.
Russia is merely regrouping its forces to achieve the objectives of the so-called "special military operation", claimed Russian Defence Ministry spokesperson Igor Konashenkov on Sunday.
Calling the invasion a "war" is punishable in Russia by up to 15 years in prison.
Images and videos over the past week, however, showed Russian forces abandoning tanks, armoured vehicles and ammunition as they fled.
Some reportedly fled on stolen bicycles while disguised as locals.
Kyiv's forces captured 388 pieces of Russian equipment between September 7 and 11, Ukrainian news outlet TSN said, citing the open source intelligence website Oryx. Of those, 200 "are in good condition".
In the same period, Russian forces lost 49 tanks, 24 armoured personnel carriers, 32 artillery vehicles and multiple launch rocket systems, and two planes.
Since September 6, Ukrainian forces in Kharkiv have recaptured about 8,500 sq km and areas home to some 150,000 residents, Ukrainian Deputy Defence Minister Hanna Maliar said Wednesday.
The Kremlin's claims that its forces are regrouping "is all fiction for the Russian public", said Oleg Zhdanov, a military analyst in Kyiv.
"Remember when Ukrainian soldiers knocked the Russians off Snake Island [in July]. What did the Russians say then? That it was a 'gesture of goodwill'," Zhdanov told Caravanserai.
In reality, in Kharkiv and on Snake Island both, Russian soldiers fell victim to carefully planned and successfully executed Ukrainian counter-offensives, he said.
"Ukraine's General Staff convinced the Russian command that the main blow would be toward Kherson," he said. "The Russians deployed troops there, but Ukrainian soldiers attacked from a different side, in Kharkiv province."
This ruse was so unexpected that Ukrainian troops rolled over their numerically superior Russian foes, he added.
"This is a colossal Russian military intelligence failure, the fact that they did not see this build-up coming," Michael Kofman, senior research scientist at the Centre for Naval Analyses near Washington, DC, told AFP.
"The Russian military intelligence completely blew this," he said.