KYIV -- Russia's attempts to source weapons and ammunition from North Korea and Iran for its invasion of Ukraine show the Kremlin's increasing desperation, say observers.
Ukraine's Defence Ministry last Tuesday (September 13) said its forces downed an Iranian-made drone not far from Kupiansk, Kharkiv province.
The ministry posted images of what appeared to be parts of a destroyed drone.
"An analysis of the appearance of parts of the drone's wing suggests that Ukraine's armed forces destroyed an Iranian UAV for the first time," the Armed Forces of Ukraine said in a photo caption on Telegram, referring to unmanned aerial vehicle.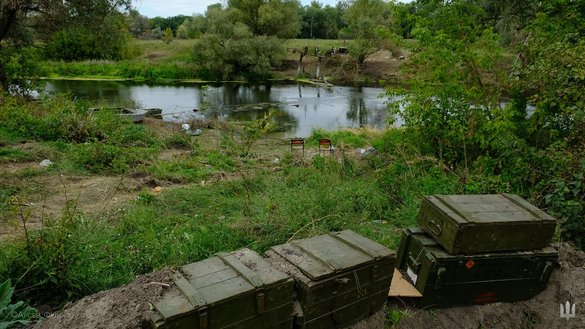 "We're talking about a long-range Shahed-136 kamikaze UAV," it said.
Russia recently began receiving Iranian combat drones to be used in the Ukraine war, but many of them have proved faulty, the US military said August 30.
"Russian transport aircraft loaded the UAV equipment at an airfield in Iran and subsequently flew from Iran to Russia over several days in August," Pentagon spokesman Brig. Gen. Pat Ryder said at the time.
"It's likely part of Russia's plans to import hundreds of Iranian UAVs of various types," he said.
However, Ryder said, "our information indicates that UAVs associated with this transfer have already experienced numerous failures."
Moscow turned to Iran in part because sanctions and export controls directed at Russia by Ukraine's allies have made it harder for Russian industry to produce their own, said Ryder.
"Iranian drones are copies of those of Western manufacturers, but they are handmade with very low quality," Alexander Kovalenko of Kyiv, a military analyst for the website InfoResist, told Caravanserai.
"They can both reconnoiter and function as strike drones, but they are a generation, even two, behind their Western counterparts," he said.
The deal "is a very big miscalculation by Iran", he added.
"They could get the energy embargo lifted and earn billions of dollars from oil and gas exports. But co-operation with Russia, which is under sanctions, will not facilitate this," said Kovalenko, referring to recent nuclear talks.
Laziness and corruption
Russia's purchase of low-quality, Iran-made weapons means that it has no other choice, say analysts.
By the end of the year, the Russian army could face not just a shortage but a complete lack of many types of weapons.
"No one thought that the Russians would crumble so quickly," said Ivan Kirichevsky of Kyiv, a military analyst at Defence Express, a media and consulting company.
"During the retreat in Kharkiv province alone, they abandoned military vehicles for a whole battalion -- 40 tanks, 40 armoured vehicles, and about 100 wheeled vehicles," Kirichevsky said.
A surprise counteroffensive in the country's northeast that began September 5 has seen Russian forces ousted from Kharkiv province.
"Perhaps this would have been hardly noticeable at the beginning of the war, but now it is catastrophic for their situation," Kirichevsky said.
The Kremlin has practically no "reserves", he noted.
At the beginning of 2022, Russia had more than 13,000 tanks, with roughly 3,000 in service and just more than 10,000 in reserve, Kirichevsky said, citing data from The Military Balance, a publication of the International Institute for Strategic Studies that examines armaments from around the world.
"These 10,000 vehicles in reserve -- they needed to be lubricated, to have their engines checked, to have their sighting equipment tested. But the Russians didn't do this."
"And they don't have companies for restoring combat vehicles," he added.
"Because of the Russians' laziness and corruption, many of these tanks are simply unusable," said Kirichevsky.
"I think that in 2023 the war will end ... But when exactly it will end depends on when stocks run out completely in Russia. It won't be long now," he said.
Desperation
Russia is also running out of missiles and other munitions.
The Kremlin's military-industrial complex is capable of producing from one million to one and a half million shells per year, but that is not enough for the Russian offensive, according to Kovalenko, the military analyst.
"The shortage is very severe. There are 8 million rounds of munitions in warehouses in Russia. That can support up to six months of active operations, but then they will not be able to fight," he said.
That has forced the Kremlin to consider purchasing artillery shells and rockets from North Korea, according to US intelligence cited by The New York Times on September 5.
"Our sense is it could include literally millions of rounds, rockets and artillery shells from North Korea. That's what our information gives us -- it could be on that scale," said Pentagon spokesperson John Kirby a day later, as reported by Reuters.
The "potential purchase" was "just another indication of how desperate Putin's becoming ... It's an indication of how much his defense industrial establishment is suffering as a result of this war and the degree of desperation," he said.
North Korean ammunition especially "could even be dangerous for Russian vehicles. After all, it was made under sanctions, that is, crudely", noted Kovalenko.
The ammunition also needs to be transported 10,000km by rail, making it "very expensive and unreliable", he added.
"Russia is unable to produce anything on its own. Sanctions are strangling it," Denis Popovich of Kyiv, a military correspondent and the editor-in-chief of the publication Apostrophe, told Caravanserai.
"Pariah countries are their last chance," he said.
"Russia was not prepared for such a long war. When the fighting moved into this stage -- the army is too small, and there aren't enough weapons. So they are looking."
"Sooner or later they will have to admit all the failures," said Popovich.