ALMATY -- During his recent visit to Kazakhstan, Chinese President Xi Jinping plainly stated his intention to counter Russia's threats to the region's territorial integrity.
Xi arrived in Kazakhstan on Thursday (September 14) before continuing on to Samarkand, Uzbekistan, for a Shanghai Co-operation Organisation (SCO) summit that included talks with other world leaders, including Russian President Vladimir Putin.
The SCO comprises China, Russia, Kazakhstan, Kyrgyzstan, Uzbekistan, Tajikistan, India and Pakistan.
However, it is unlikely that Xi's conversation with Putin took place in the spirit of "friendship without limits", as the two sides declared the last time they met just days before Russia invaded Ukraine on February 24.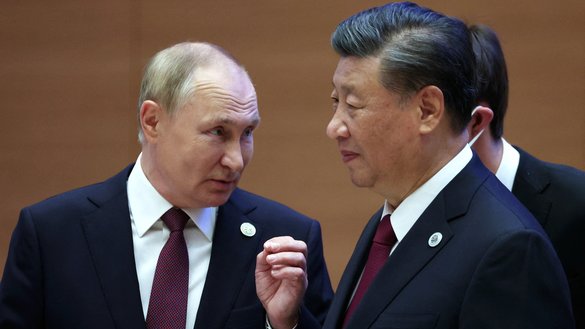 Kazakh President Kassym-Jomart Tokayev and the Chinese leader conferred formally at the Akorda, the Kazakh presidential residence in Astana.
After exchanging routine courtesies, Xi issued a statement that both concealed a threat and announced a new distribution of influence in Central Asia.
"No matter how the international situation changes, we will continue to strongly support Kazakhstan in defending its independence, sovereignty and territorial integrity ... and oppose the interference of any forces in the internal affairs of your country," Xi said.
Analysts heard a stern warning from Beijing to Moscow, an unwelcome development for the Kremlin as it sinks deeper into the quagmire of its invasion of Ukraine.
"Kazakhstan is understandably nervous that Russia might one day turn its attention to 'liberating' the sizeable Russian population still living in northern Kazakhstan," Prof. Mark Katz, a specialist in Russian foreign policy at George Mason University in Virginia, told the South China Morning Post (SCMP) earlier in September.
"Xi's visit to Kazakhstan can be seen as a sign that Beijing sees Kazakhstan as a friend -- and Russia should not do anything to hurt Beijing's friend," he added.
"The country borders China, and there were curious questions being asked [in China] about Russia's intervention earlier this year in Kazakhstan's turmoil," Yun Sun, a senior fellow at the Washington-based Stimson Centre, told the SCMP.
'A wolf's promise'
Xi's statement received a mixed public reaction in Kazakhstan.
Some hope it reduces the likelihood of Russia invading Kazakhstan; however, many others doubt the sincerity of Xi's words about friendship.
"This is like a wolf's promise to respect the life of a lamb ... China is slipping into authoritarianism, and the promises of authoritarian states are worthless," Almaty resident Sayat Sabrjanov, an entrepreneur and founder of the Satel.kz trading platform, wrote on Facebook.
China itself gives reason to doubt its sincerity, given how it is backing away from longtime ally Russia.
Fearing Western sanctions, China has refused to supply weapons and prohibited technologies to Russia. Additionally, some Chinese companies have reduced or suspended shipments, or have even started to leave the Russian market.
In televised remarks at the start of his meeting with Xi on Thursday, Putin addressed the strain in the two leaders' relationship.
"We highly appreciate the balanced position of our Chinese friends in connection with the Ukrainian crisis," Putin said, wearing an uncomfortable expression, according to the Washington Examiner. "We understand your questions and concerns in this regard."
Putin promised to "explain in detail" Russia's position on Ukraine to Xi.
Analysts saw Putin's comments as a rare admission that the war in Ukraine is going badly for Moscow and has strained relations with Beijing.
Beijing is also making it clear to Moscow that Central Asia -- and Kazakhstan in particular -- lie within China's sphere of strategic interests, they add.
"This is remarkable. Xi is not supporting Putin," former US Ambassador to Moscow Michael McFaul tweeted Thursday. "No weapons, no ammo, no chips, no real words of solidarity. Just a willingness to buy Russian energy at very discounted prices."
"I also hope Xi is learning the right lessons about the giant and unnecessary costs of unprovoked invasions," he tweeted Saturday.
"Xi Jinping no longer sees Russia as an equal partner and ally, especially in light of Putin's failures in Ukraine," said Ruslan Nazarov, an international relations analyst from Astana.
"Since the avowals of 'friendship without limits' at the two leaders' meeting in Moscow in February, before the invasion began, much has changed."
The Kremlin's debacle in Ukraine demonstrates that Russian military might is less impressive than the world community thought before the war said Nazarov.
"If China previously recognised Central Asia as Russia's zone of influence and pursued relationships in the region cautiously, today Xi loudly declares his claims on Kazakhstan," Nazarov said.
"There is no longer talk of any 'friendship' with Moscow."
Kazakh misgivings about China
That said, Kazakhs are unlikely to relish the prospect of rapprochement with China, a giant country forever coveting other countries' land and raw materials.
"Our people fear Chinese economic expansion where the Chinese may control domestic businesses, arable land and resources, and where we will have to work for them," said Nurbol Baigaliuly, a farmer from Almaty province.
The most significant anti-Chinese protest took place in the fall of 2019, which started in the west and then spread to other cities.
The public demanded the abandonment of a plan to relocate "55 factories" from China to Kazakhstan, demonstrating its profound suspicion of economic closeness with China.
Beijing's persecution of Xinjiang's Muslim minority does not help diminish anti-Chinese sentiment.
Beijing stands accused of arbitrarily detaining more than one million Uighurs and other Muslim minorities in Xinjiang -- including some ethnic Kazakhs and Kyrgyz -- under a years-long security campaign that lawmakers around the world have labelled a "genocide".
China relies on Kazakhstan to supply oil and to serve as a transit zone for Chinese exports, said Dosym Satpayev of Almaty, director of the Risk Assessment Group.
Kazakhstan should not fall under China's increased influence, he stressed.
"When escaping from an aggressive bear, we ought not rush into the jaws of a Chinese dragon," Satpayev said.