KYIV -- Faced with failures on the battlefield, Russian President Vladimir Putin on Wednesday (September 21) double downed on his invasion of Ukraine by announcing a partial mobilisation and backing plans to annex occupied regions.
Putin in a televised 13-minute speech on Wednesday declared it a "necessity" to support the General Staff's decision to mobilise reservists.
"I will repeat, we are talking precisely of a partial mobilisation," said Putin. "That is, [these] summonses will apply only to those citizens who are presently reservists; above all, to those who have served in the Armed Forces, have certain military specialisations and the corresponding experience."
Defence Minister Sergei Shoigu later announced that Russia "had to" to mobilise 300,000 reservists.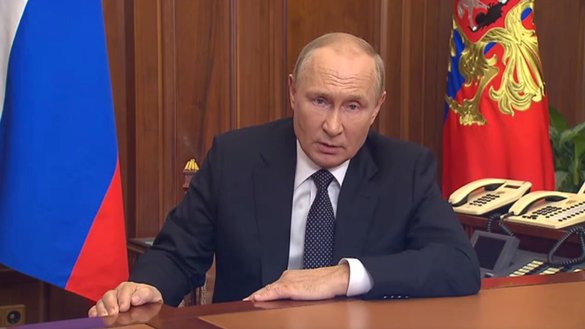 "We are not planning some widespread round-up, grabbing everyone quickly," Shoigu told Russia-24 TV in an interview televised immediately after Putin's speech, in an attempt to allay growing fears inside Russia.
The move comes as pro-Russian authorities in the regions of Donetsk, Luhansk, Kherson and Zaporizhzhia plan to hold referenda on joining Russia from September 23 to 27.
Kyiv's Western allies were swift to condemn the announced referenda, which are expected to produce overwhelming but suspect majorities in favour of becoming part of Russia.
"Sham referenda and mobilisation are signs of weakness, of Russian failure," US Ambassador to Ukraine Bridget A. Brink said on Twitter on Wednesday.
"The United States will never recognise Russia's claim to purportedly annexed Ukrainian territory, and we will continue to stand with Ukraine for as long as it takes," Brink said.
"None of this -- the sham referenda, the potential mobilisation of additional forces -- is a sign of strength. On the contrary, it's a sign of weakness. It's the sign of Russian failure," US Secretary of State Antony Blinken said ahead of a meeting with UK Foreign Secretary James Cleverly Tuesday.
"If these referenda proceed, and if Russia purports to annex Ukrainian territory, the United States will never, never recognise it," he added.
"President Putin's breaking of his own promises not to mobilise parts of his population and the illegal annexation of parts of Ukraine, are an admission that his invasion is failing," UK Defence Secretary Ben Wallace said in a statement.
"He and his Defence Minister have sent tens of thousands of their own citizens to their deaths, ill equipped and badly led."
"No amount of threats and propaganda can hide the fact that Ukraine is winning this war, the international community are united and Russia is becoming a global pariah."
Domestic consequences
The Kremlin's decision had immediate domestic consequences, with Russian stocks and the ruble's exchange rate dropping, Interfax reported.
Public "market signals" indicated that Putin and Shoigu's assurances had little credibility.
Russians bought up all nonstop flights to Yerevan, Armenia, and Istanbul, Turkey, scheduled for Wednesday in an apparent attempt to avoid being drafted, according to the popular Russian Telegram channel Verstka.
Putin's decision is a death throe, say observers.
"The Kremlin has lost a great many men in this war," said Petro Burkovskiy of Kyiv, a specialist in international relations and the executive director of the Ilko Kucheriv Democratic Initiatives Foundation.
"Recently all it's been doing is looking for manpower. It went to the prisons, tried to attract men in Central Asian countries, but all of these efforts did not produce results," he said.
"It has lost about 100,000 to 120,000 killed or wounded, which is 50% of the army it assembled before the invasion," he estimated.
"The only remaining manpower pool is draftees. This is a resource under the control of the authorities, one that's already been assembled. All that remains is simply to send them quickly to the front."
The partial mobilisation could lead to protests, said Burkovskiy.
"Even at the front, mutinies can break out among elite troops," he added. "Youth can rise up against being sent to the front. If the authorities start to crush protests with force, this can become a spark that ignites something bigger."
Signs of dissent are already growing.
"If you go to demonstrations, we will support it; we are ready to provide any co-ordinated assistance you need," said Ivan Zhdanov, an associate of imprisoned Russian opposition leader Alexei Navalny, in a statement carried by Latvia-based Russian media outlet Meduza.
"If you are ready to do big things like set fire to a draft office, we support it and are ready also to provide certain assistance," he said.
Kremlin panic
All of Russia's actions attest to genuine panic in the Kremlin leadership, say observers.
"Russians have seen that the Ukrainians are going on a mighty counter-attack, so they're terrified," said Ivan Stupak of Kyiv, a former Security Service of Ukraine (SBU) employee and an analyst at the Ukrainian think-tank Institute of the Future.
Stupak is certain that panic drove the decision to raise penalties for those who refuse to fight.
On Tuesday, the State Duma added to the Russian criminal code definitions of the terms "mobilisation" and "wartime". On top of that, it voted to make voluntary surrender to Ukrainian forces punishable by 10 years in prison.
"If you have to drag men to war by force, that's desperation," said Stupak. "They can't even find criminals willing to go for money; they simply are refusing to go fight. Propaganda has stopped working. That's why they're taking radical steps."
The new laws are already unpopular, according to Stupak.
"The mood is such that you can't find plane or train tickets [out of Russia]. People are writing, we spit on Europe [to no effect], but when Europe spits on us, we choke. Why must I fight [in Ukraine] alongside convicts? What do we do now? Russians are very dissatisfied; people are furious."
Russians "don't understand why they have to die", he said.
"Ukrainians are dying for their own country, their own language, but why do Russians have to die in Ukraine?"