TASHKENT -- Russia and China's attempt at rallying a new anti-Western order at the Shanghai Co-operation Organisation (SCO) summit last week floundered amid tension between members.
The meeting of the SCO in Samarkand, Uzbekistan, brought together the leaders of members Russia, China, India, Pakistan, and four Central Asian nations, as well as the presidents of Iran and Turkey, September 15–16.
The summit was put forward by the Kremlin as an alternative to "Western-centric organisations", at a time of increasing pressure on Moscow over its invasion of Ukraine and growing anger in Beijing over US support for Taiwan.
During the summit, Russian President Vladimir Putin and his Chinese counterpart Xi Jinping met for their first face-to-face talks since Russia sent troops into Ukraine in February.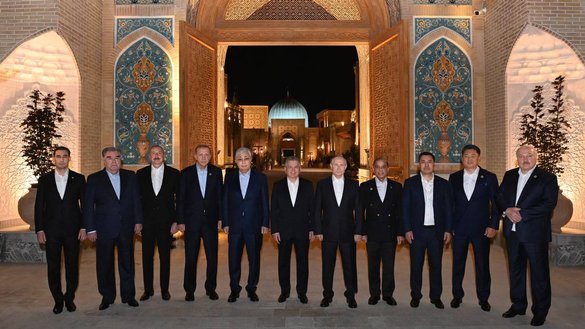 The SCO -- which also includes Kazakhstan, Kyrgyzstan, Tajikistan and Uzbekistan -- was set up in 2001 as a political, economic and security organisation to rival Western institutions.
Despite Xi and Putin's calls for co-operation, the group is far from fully united.
Indian Prime Minister Narendra Modi in a public rebuke at the summit told Putin now "is not a time for war."
Putin was also forced to acknowledge that key ally Beijing had "concerns" over the conflict on Ukraine.
Meanwhile, the leaders of Kyrgyzstan and Tajikistan were forced to confer at the summit so they could order their forces to withdraw after deadly clashes along their disputed border.
And for its part, Uzbekistan highlighted the need to preserve the non-aligned status of the SCO.
"In the draft resolution, joint documents and, most importantly, in the Samarkand Declaration, there are no and will not be any statements and appeals on issues pursuing any geopolitical goals," said Rahmatulla Nurimbetov, Uzbekistan's national co-ordinator at the SCO, ahead of the summit, according to Uzdaily.uz.
"I will emphasise once again that the SCO is not a structure directed against the West or other organisations," Nurimbetov said September 9.
'Amorphous form'
Putin failed to get any support for his war in Ukraine at the summit, according to Kamoliddin Rabbimov, a Tashkent-based political analyst.
"The Indian prime minister gently criticised the Kremlin's actions," said Rabbimov.
"We have spoken to you many times on the phone that democracy, diplomacy and dialogue are such things that touch the world," Modi told Putin in Samarkand, according to the Indian External Affairs Ministry.
"China also kept its distance," added Rabbimov. "Kazakhstan and Uzbekistan firmly toed the SCO's line, that the SCO is neither a military nor a political bloc."
The idea of uniting against the West did not garner support, say analysts.
No matter how much Putin pursues the goal of making an anti-Western union out of the SCO, that is impossible given that the SCO member countries' goals differ completely from Putin's vision, said Anvar Nazirov, another political analyst in Tashkent.
Putin's failure was predictable, said Alisher Ilkhamov, director of the London-based organisation Central Asia Due Diligence.
The SCO is a rather motley group that includes countries that are in certain conflicts with one another, such as India versus Pakistan, as well as India versus China, he said.
"China does not yet want to enter into an open confrontation with the West since it has strong economic ties to it, much stronger than to Russia and the Central Asian countries. Xi Jinping's speech reflected this."
While Xi wove resentment of the West into his speech, he also emphasised that a conflict between blocs must be avoided. This contradictory position will mark China's foreign policy in the coming years, Ilkhamov said.
"The summit showed that the SCO is currently just a talk fest for high-ranking officials that lacks a clearly formulated mandate and a mechanism to carry it out."
The SCO will remain in this amorphous form for the foreseeable future, he said.
"When it comes to Uzbekistan, an exceptional pragmatism characterises its foreign policy," Ilkhamov added.
"Its leadership views the SCO only as a way to sign economically beneficial agreements with giants like China (first and foremost), Russia, Iran and Turkey."
A fraught relationship
Despite the meeting between Putin and Xi at the summit, the relationship between Russia and China remains fraught.
With a GDP and population that are both about 10 times greater than those of its neighbour, Beijing has every claim to be the senior partner in an imbalanced relationship.
And China has remained relatively tight-lipped about Russia's invasion of Ukraine, never condemning the assault but also stopping short of expressing any backing for it.
Russia's failures in Ukraine have also called into question just how serious an ally Russia can be for China.
"China has two goals. First, it wants to strengthen its positions in Central Asia, which supplies raw materials for its western regions and thus guarantees their energy security. These regions depend on Central Asian oil and gas," said Nazirov, one of the political analysts from Tashkent.
The Russian media overvalue Russia's share in the global economy and its influence, said Meruert Makhmutova, director of the Public Policy Research Centre in Almaty.
China, the economy of which is closely intertwined with the global economy, has no such ideological dogmas, she said.
"Beijing is interested in co-operating with the West to advance its own interests -- to boost its economy, which is experiencing fallout from the strict COVID-19 lockdown restrictions," Makhmutova told Caravanserai.
"So the Kremlin's desire, which the Russian media are articulating, is 'let's join forces with China and show the West what's what'. This is nothing more than an attempt to present what is desired as what's true," she said.