YEREVAN, Armenia -- Dmitri flew to Armenia with just one small bag, leaving behind his wife and children, adding to the thousands fleeing Russia to avoid serving in the war against Ukraine.
"I don't want to go to the war," he said. "I don't want to die in this senseless war. This is a fratricidal war."
Russian President Vladimir Putin's decision this week to mobilise several hundred thousand reservists has prompted many to attempt to flee the country.
Flights out of Russia were nearly fully booked for the week ahead to cities in Armenia, Azerbaijan, Georgia, Kazakhstan, Kyrgyzstan and Tajikistan, in an apparent exodus of Russian men eligible for mobilisation.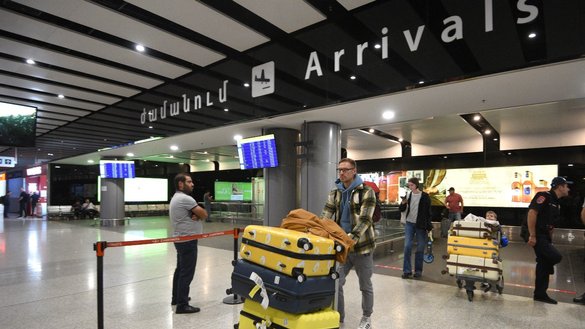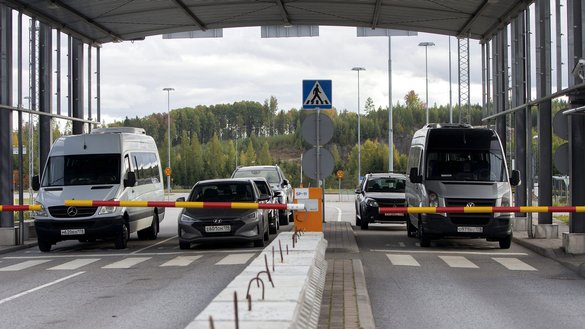 The prices of tickets for remaining connections skyrocketed, apparently driven by fears that borders would close, or of a broader call-up that might send many Russian men of fighting age to the front lines, the Associated Press reported.
The price for flights from Moscow to Istanbul or Dubai rose swiftly, it said, reaching as high as $9,119 for a one-way economy class fare.
Russia invaded Ukraine February 24, but the rapid victory Putin expected never materialised. Instead, Russian forces had to retreat from the Kyiv area, lost their Black Sea fleet flagship to a missile strike and fled from Kharkiv province after a surprise Ukrainian counter-offensive.
Mass exodus from Russia
"The situation in Russia would make anyone want to leave," said Sergei, 44, arriving in Yerevan with his teenage son, looking lost and exhausted.
He confirmed they had fled "because of the mobilisation" but refused to give his full name.
"We choose not to wait to be called up," said his son Nikolai, 17.
Military-aged men made up the majority of those arriving in Yerevan off the latest flight from Moscow. Many were reluctant to speak.
Yerevan has become a major destination for Russians fleeing since war began on February 24, with at least 40,000 Russians arriving in Armenia.
Almost 50,000 Russians have fled to neighbouring Georgia, national statistics from June showed.
German Interior Minister Nancy Faeser on Thursday (September 22) said Russian deserters could "obtain international protection" in her country.
"Anyone who courageously opposes Putin's regime and thereby falls into great danger, can file for asylum on grounds of political persecution," she said in an interview with the Frankfurter Allgemeine Zeitung newspaper.
Israel said Thursday that immigration over the past 12 months hit a two-decade high, with influxes from Russia and Ukraine accounting for almost three quarters of new arrivals.
Israeli media reported that attempts by Russian Jews to qualify for Israeli immigration have spiked further following Putin's decision to call up 300,000 reservists to fight in the ongoing war in Ukraine.
'Almost nobody supports the war'
Finnish border authorities said Thursday they had seen an increase in traffic from Russia following Putin's announcement.
At the Vaalimaa crossing, a line of cars about 150 metres long could be seen Thursday afternoon.
A 23-year-old project manager from Moscow said the mobilisation had pushed forward his plans to leave Russia by October.
"I'm eligible for the call-up," he explained.
"Some people went to protests because they've got nothing to lose. Others are looking into laws and talking to lawyers to find out whether they can be conscripted," he said.
And back in Yerevan, another Russian who had managed to get out said he was "shocked" by Putin's mobilisation announcement.
"Almost nobody supports the war," he said, declining to give his name out of concern for his security. "This is all so painful. I want all of this to end soon."
Protests against mobilisation
Inside Russia, there were widespread protests against Putin's call-up order.
Police arrested more than 1,300 people Wednesday at demonstrations across the country, according to OVD-Info, one of the groups monitoring protests.
Meanwhile, drunken brawls have broken out among the newly mobilised Russian reservists, according to videos circulating on social media.
Some regions have been forced to ban the sale of alcohol near military recruitment offices, Belarusian journalist Tadeusz Giczan wrote on Twitter.
In the city of Togliatti, a military recruitment office was set on fire, one of dozens of similar attacks across Russia in recent months, the Washington Post reported.
In his daily address on Thursday, Ukrainian President Volodymyr Zelenskyy called on Russians to resist the mobilisation, noting that "55,000 Russian soldiers died in these six months of war".
"Want more? No? Then protest. Fight back. Run away. Or surrender" to the Ukrainian army, he said.