KYIV -- European Union (EU) countries are considering barring Russians from their borders following Russian President Vladimir Putin's "partial mobilisation" announced last week. Some countries already have.
Since Putin announced the "partial mobilisation" on September 21, almost seven months after Russia invaded Ukraine, Russian men of military age have been fleeing abroad en masse.
Flights to countries that do not require visas from Russian nationals -- including Turkey, Armenia, Azerbaijan and Uzbekistan -- are sold out for days, even though the fares have skyrocketed.
Those fleeing say they are not willing to fight in Putin's war and doubt the mobilisation will stay "partial" -- fearing the dragnet could scoop up to four times the stated goal of 300,000 men.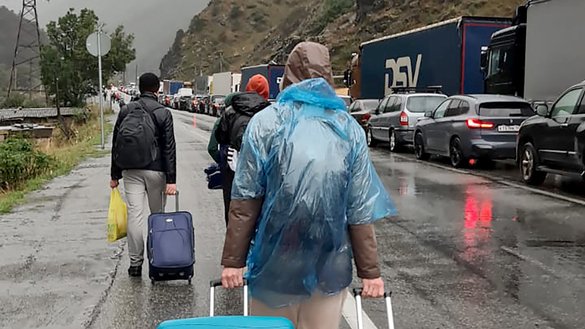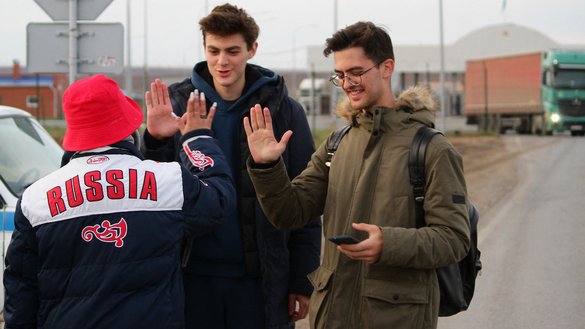 Doors slam shut
As panicked Russian men seek a way out, many countries furious with the Kremlin's war crimes in Ukraine are slamming the doors shut.
Many of them are EU members that once were part of the Soviet Union.
The Czech Republic said September 22 it would not issue humanitarian visas to Russians fleeing to avoid mobilisation, taking a different stance from some of its EU peers. Latvia made a similar announcement a day earlier.
"In the interests of security, Latvia will not issue humanitarian or other types of visas to Russian citizens who are evading the mobilisation," Latvian Foreign Minister Edgars Rinkēvičs tweeted September 21.
The Baltic states and Poland, effective September 19, prohibited Russians with short-stay Schengen visas from entering their countries.
The EU's Council of Ministers earlier this month announced it was fully suspending its visa facilitation agreement with Russia effective September 12.
The Baltic states on September 7 acted before other countries, deciding to "restrict entry to Russian citizens over the invasion of Ukraine", Euronews reported.
Russians are running out of places where they can go to avoid being drafted.
The dwindling list of options includes neighbours like Finland, Mongolia, Turkey and a few small ex-Soviet republics in the Caucasus and Central Asia.
"At the moment it's challenging for Russians to get to another country, especially one in Europe," said Ihor Reiterovych of Kyiv, a political analyst.
"Russia is practically isolated," he said. "What can you do? They brought in Putin's regime, so now they have to answer for it."
Even before Putin announced the partial mobilisation, Russians confronted substantial restrictions.
The EU closed its airspace to Russian and Belarusian airlines after Russia invaded Ukraine on February 24, making land borders almost the only route Russians could take to cross into the EU.
No Russians tourists while Ukrainians are dying
Since the war began, about 700,000 Russians have entered Poland, Finland and the Baltic countries, according to the Financial Times. The majority of them were tourists en route to vacations in the western part of the EU.
Those days are rapidly ending.
"Russians need to get to a country bordering Russia and try their luck there," Reiterovych said. "But now the Baltic countries aren't letting them in on tourist visas. Another option is to sail on a ferry from Finland, but the Finns too are saying they won't transport Russians."
Finland, one of the last havens for fleeing Russians, is asking the EU to collectively bar Russian visitors.
"Finland calls for a recommendation that allow [sic] Schengen countries, when they refuse entry of Russian nationals at their border, to either annul or revoke a person's visa or impose an entry ban on them in accordance with ordinary Schengen practices," the Finnish Foreign Ministry said in a statement September 20.
If enacted, the policy would prevent a Russian citizen refused entry at the border of one Schengen country from entering through another Schengen country.
"In the past, Russia was number one on the world visa map in terms of number of visas issued per capita," said Iryna Sushko of Kyiv, executive director of the NGO Europe Without Barriers, without citing a source.
"But now these other countries are saying, 'we don't want Russians going on shopping trips and gallivanting while Ukrainians are dying in the war.'"
Zelenskyy's appeal
Ukrainian President Volodymyr Zelenskyy recently called on the global community to toughen visa requirements for Russian citizens.
"I think no free shopping or tourism attractions for Russian ... nationals in Europe, as long as they're aggressors. Stay at home, guys," Zelenskyy told former US president Bill Clinton on September 20 during an online conversation organised by the Clinton Global Initiative.
Until a decision emerges at the EU level, each EU member decides separately whether to admit Russians.
"It's complicated for all 27 countries to reach a consensus. But I think that the countries that initiated this will convince their colleagues to impose restrictions," Sushko said.
Visa fees for Russians have jumped from €35 to €80, she added. It will also take longer to process a visa application because candidates will be required to submit additional documents with their applications.
"This is a very significant decision because before this, the sanctions affected oligarchs and politicians," Sushko said. "This time the sanctions affect anyone who needs to go on a trip ... people who didn't think about the war will now begin thinking about it."
A matter of security
A visa ban is a matter of security, analysts say.
"Frankly, I don't understand why other states aren't afraid [of admitting Russians without any limits]," said Petro Burkovskiy of Kyiv, a political analyst. "The risk is obvious, and the Baltic countries ... are protecting themselves."
"Experience shows that you can't know who these Russian citizens are -- are they just tourists or are they saboteurs or spies?"
Burkovskiy additionally supports forcing Russians to reconsider the political choices they have made.
"Collective punishments have great significance ... If you don't disavow [the invasion of Ukraine], you're an accomplice," he said.
Reiterovych pointed to another positive effect of the visa restrictions.
"Dissatisfaction with the [Putin] regime will grow among those who can't leave," he said. "That dissatisfaction will erupt. Now there's also the mobilisation. In the future all of this could spiral into sabotage."