KYIV -- Russia's sham referenda in occupied territories of Ukraine -- followed by their annexation -- are "meaningless" and mark the Kremlin's latest flouting of international law, say world leaders and analysts.
Putin announced the annexation of four parts of Ukraine in a speech Friday (September 30).
The Kremlin's proxy governments in occupied Kherson, Zaporizhzhia, Donetsk and Luhansk provinces earlier on Wednesday hastily reported the "successful" results of the fake "referenda to join Russia" that were held there over the course of five days.
The "authorities" immediately asked Moscow to incorporate them into Russia.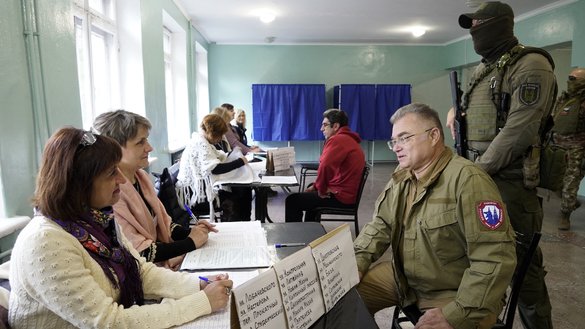 Putin has made veiled threats to use nuclear weapons to defend the territories, amid Ukrainian gains on the ground against Russia, which invaded on February 24.
The United Nations (UN) Security Council was set to vote Friday on a resolution condemning the referenda.
The resolution has no chance of passing thanks to Moscow's veto power, though it can then be presented to the UN General Assembly.
The text, seen by AFP, "condemns the Russian Federation's organisation of illegal so-called referenda" in the Russian-occupied Ukrainian regions of Donetsk, Lugansk [Luhansk], Zaporizhzhia and Kherson, saying they "have no validity" and "cannot form the basis for any alteration of the status of these regions", including "any purported annexation".
It calls on member states not to recognise any annexation of the areas by Russia and demands Moscow "immediately, completely and unconditionally withdraw all of its military forces from the territory of Ukraine".
UN Secretary-General António Guterres on Thursday condemned Russia's plans to declare the annexation of occupied parts of Ukraine, calling it "a dangerous escalation" that "has no place in the modern world".
"Any decision to proceed with the annexation of Donetsk, Luhansk, Kherson and Zaporizhzhia regions of Ukraine would have no legal value and deserves to be condemned," he said in a statement.
"I want to be very clear about this. The United States will never, never never recognise Russia's claims on Ukraine sovereign territory," US President Joe Biden said Thursday as he met leaders of Pacific island countries in Washington.
"The so-called referenda was a sham, an absolute sham. The results were manufactured in Moscow," he said.
"The true will of the Ukrainian people is evident every day as they sacrifice their lives to save their people and maintain the independence of their country," Biden said.
Flouting international law
Russian authorities made little effort to present the referenda and annexation as legal, say observers.
Occupation authorities claimed that 1.6 million people -- allegedly 94% of eligible voters -- voted in Luhansk province.
That number coincides with data that were collected in 2012 during Ukrainian parliamentary elections, Serhiy Haidai, the Luhansk provincial governor, wrote on his Telegram channel on Wednesday.
In other words, the Kremlin-backed proxies wrote in outdated figures without taking into account that hundreds of thousands of residents have fled Luhansk since 2014, when Russia seized the province.
"Almost no one is surprised at the results of this multi-day 'involuntary expression'. There are thousands of people who are outraged but probably very few who are surprised," Haidai wrote.
"You can scrawl any numbers and 'correctly' count empty or incorrectly filled-out ballots. It's hard to call them ballots," he added.
"These referenda should not be analysed from a legal perspective -- they're meaningless," said Valery Honcharuk of Kyiv, a political scientist at Taras Shevchenko National University.
Ihor Reiterovych of Kyiv, a political analyst and director of the political and legal programmes of the Ukrainian Centre for Social Development, compared the annexation to Nazi Germany's Anschluss (annexation of Austria) in 1938.
"Putin surpassed Hitler's idiocy in flouting ... international law. It was done so ineptly that it makes a mockery of the idea of a referendum," Reiterovych said.
Only Russian society could possibly accept the results "because the numbers are just ludicrous", he said.
"You also need to remember that the referendum took place at gunpoint: Russian soldiers were watching and monitoring everything, especially what people put down on those sham ballots."
"I'm sure many [voters] checked the box out of fear. In terms of turnout, I'm sure it was a maximum of 10%. It's definitely not what the Kremlin's proxies wrote," he added.
Backed into a corner
Annexation will in no way influence combat operations and will not stymie Ukraine's push to liberate its territories, said Reiterovych.
"Of course the Russians want to bolster their influence over these territories, and they'll try to intimidate everyone by threatening to use nuclear weapons, but they actually can't change anything," he said.
"Ukraine will ignore all those scare tactics and continue to fight for its land. Meanwhile, Western support will only build."
As a result of Putin's new annexation, even countries that until recently believed it was possible to negotiate with the Kremlin are turning against the Russian leader, according to Reiterovych.
"This action mocks those who on the one hand were Ukraine's allies but still believed they could co-operate with Russia and counted on Russia to be reasonable."
"Now they understand that Russia is not at all reasonable," said Reiterovych.
Annexation could allow the Kremlin to enact even more radical policies toward Ukrainian citizens who demonstrate disloyalty -- for example, drafting Ukrainians from the annexed territories into the army, say analysts.
In Crimea, for example, 90% of draft notices in Crimea are going to Crimean Tatars, who make up about 15% of the peninsula's population, according to human rights organisations.
Tatars are predominantly Muslim and non-Slavic.
"We conducted an analysis based on our sources in Crimea, and ... found that a disproportionately large number of Crimean Tatars are being drafted," said Yevhen Yaroshenko of Kyiv, an analyst at CrimeaSOS.
"The numbers are very concerning. Many are saying that the mobilisation is a method that could lead to genocide," Yaroshenko said.
"Russia historically treated the Crimean Tatars like a disloyal group and always worked to create conditions to push them out of Crimea."
"Russia always drafted non-Russian peoples actively into combat. Just look at how many have been mobilised from Bashkortostan, Dagestan and Buryatia [regions in Russia with predominantly non-Slavic populations]," he said.
"How many were mobilised from Moscow and St. Petersburg? The numbers speak for themselves. In [drafting] non-Russian peoples, they're crushing them," Yaroshenko said.
It is evident that such a policy of dragging Ukrainian citizens to the front to fight against their own country will be widespread in the newly annexed regions, he said.
"Forced conscription from occupied territories is a serious war crime," Yaroshenko said.