ALMATY -- The Russian-led Collective Security Treaty Organisation (CSTO) is facing its final days as Moscow continues its war in Ukraine and as member states take up arms against one another and neighbouring states, say analysts.
Six former Soviet republics are members of the CSTO: Armenia, Belarus, Kazakhstan, Kyrgyzstan, Russia and Tajikistan.
The bloc was created in the early 1990s immediately after the collapse of the USSR, ostensibly for collective defence against external aggression, including terrorist attacks.
For 30 years, the CSTO has failed to fulfil its mission, even when crises meeting its own conditions for intervention arose.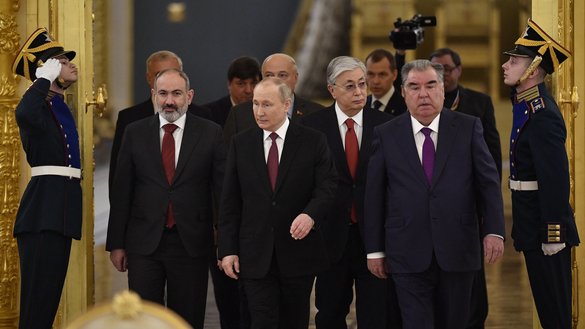 Most recently, in mid-September, border clashes between CSTO members Kyrgyzstan and Tajikistan killed at least 100 people, including civilians, and wounded more than 200, according to official sources.
The refusal of the CSTO to intervene provoked sharp criticism of the bloc in both Kyrgyzstan and Tajikistan.
"The CSTO is living its last days. Of its five [sic] members, four are at war, two of them with each other," Azamat Akeneyev of Bishkek, an economist, wrote on Twitter September 16.
"This is a collective [in]security organisation," he joked, using a Russian pun.
Akeneyev was referring to Russia's invasion of Ukraine in February, deadly border battles between Armenia and Azerbaijan in September, and the conflict between Tajikistan and Kyrgyzstan.
The only time the CSTO ever deployed troops was in Kazakhstan in January, when it put down street protests and cited foreign "terrorists" whom outside observers could not detect.
"There was no need to send in the CSTO troops," Tashkent-based political analyst Anvar Nazirov told Caravanserai at the time. "This conflict is purely domestic."
Many times before, the CSTO has ignored conflicts that its charter says it must address.
Neglecting Kyrgyzstan
Three times before the September 2022 border battles with Tajikistan, Kyrgyzstan has endured crises during which the CSTO did nothing.
On April 28-May 1, 2021, it had another deadly border conflict with Tajikistan, but the CSTO was paralysed.
"The CSTO's secretary general, Stanislav Zas, called on both sides to make peace, but it was quite clear that he could do little to help," the Carnegie Endowment for International Peace (CEIP) noted in a July 2021 analysis. "The CSTO's charter simply doesn't allow for the possibility of a war between two of its member states."
Kyrgyzstan earlier sought the CSTO's help in 2010, when a bloody conflict between ethnic Kyrgyz and ethnic Uzbeks broke out in the south.
When the Kyrgyz authorities appealed for CSTO assistance, the bloc claimed the conflict was an "internal affair".
In August 1999, hundreds of militants from the Islamic Movement of Uzbekistan (IMU) invaded southern Kyrgyzstan from Tajikistan and Afghanistan, demanding unrestricted passage to Uzbekistan.
Kyrgyz troops fought fierce battles for two months before clearing the militants from Batken province. Russia and the CSTO provided no help as the Kremlin was busy waging the second Chechen war at the time.
In 2021, upset by the CSTO's indifference to Kyrgyz troubles, Kyrgyz lawmakers called on the government to leave the bloc, since it was not fulfilling its obligations.
The Armenian-Azerbaijani conflict
The CSTO has also aroused feelings of betrayal in Armenia, which counts on Russia and the CSTO as a counterweight to its larger, more powerful neighbour Azerbaijan.
Those expectations proved spectacularly worthless this year and in 2021 and 2020.
Fighting between the two countries, which have a decades-old territorial dispute, erupted September 13-14 along their border.
Armenia, a member of the CSTO, sought military support from the alliance, which sent only a group of advisers.
They gave some recommendations for "de-escalation" before quickly returning to Moscow.
The response in Yerevan was furious and bitter.
"Our expectations have not been met. We, being in constant contact with the people, will find it difficult to explain to them why the CSTO is not taking the stipulated measures," Alen Simonyan, president of the National Assembly of Armenia, said in an interview with Public TV on September 16.
"Naturally, we drew, are drawing and will draw conclusions," he added.
Ordinary Armenians similarly called for the country to distance itself from the CSTO and strengthen co-operation with the West.
"If now Armenia ... does not take a step towards joining the civilised system of the United States, France and the European Union, then Putin, Erdoğan and Aliyev will devour Armenia," Artur Sakunts, director of the Vanadzor office of the Helsinki Citizens' Assembly, wrote on Facebook on September 13, referring to the leaders of Russia, Turkey and Azerbaijan.
Armenian hopes for help in response to other rounds of fighting with Azerbaijan went unmet by the CSTO in 2021 and 2020.
Seeking new partners
Kyrgyzstan too may have had enough of Russia and the CSTO.
Kyrgyz Ambassador to Turkey Kubanychbek Omuraliyev on September 19 met with Ismail Demir, president of the Turkish Defence Industry Agency, in Ankara.
The two sides discussed plans for co-operation in the defence sector, including the creation of a Kyrgyz-Turkish defence contractor in Kyrgyzstan.
Kyrgyzstan is unlikely to continue to rely on CSTO support in the future, so the country needs to strengthen its own defence to protect its sovereignty, including through military co-operation with countries outside the bloc, said Islam Baigarayev, an official at the Krygyz Ministry of Justice.
"We have been repeatedly convinced that so-called CSTO security guarantees are nothing more than declarations," he said.
"Even though Kyrgyzstan is a member of the CSTO, when there is external aggression, we have to defend ourselves on our own, for the umpteenth time."
Russia's interests are one of the key reasons why the CSTO does not act, said Almaz Tazhybai of Bishkek, director of the Kyrgyz Centre for Public Policy Analysis.
"Russia does not want Central Asia to grow and escape its influence. It needs a region that can be controlled," he said.
Discontent and disillusionment with Russia are expanding in former Soviet republics, say foreign analysts.
CSTO members are unhappy that the organisation has not even addressed issues such as countering drug trafficking and illegal migration, which have only gotten worse, legal scholar Evhen Tsybulenko of Tallinn, Estonia, said in a September article for the International Centre for Defence and Security (ICDS).
The CSTO stands only for the preservation of Russian military bases in member states, he said.
"Russia-led organisations have utterly failed to reverse the main underlying trend of our times -- Russia's diminishing influence in the post-Soviet space," Tsybulenko wrote.