MYKOLAIVKA -- Ukrainian President Volodymyr Zelenskyy Sunday (October 2) said that Lyman, a key town located in one of four Ukrainian regions annexed by Russia, had been "cleared" of Moscow's troops.
The recapture of Lyman -- which Moscow's forces pummelled for weeks to control earlier this year -- marks the first Ukrainian military victory in a territory the Kremlin has claimed as its own and vowed to defend by all possible means.
Ukraine's army said it had entered Lyman, a strategic railway hub in eastern Donetsk province, on Saturday, prompting Moscow to announce the "withdrawal" of its troops from the town towards "more favourable lines".
The recapture of Lyman had become the most popular story in the media, Zelenskyy said in his Sunday evening address. "But the successes of our soldiers are not limited to Lyman," he added.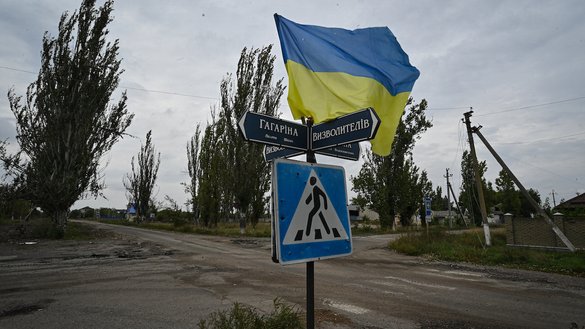 The previous day he had pledged to retake more areas in the country's eastern Donbas region within the week.
The retreat from Lyman came after Russian President Vladimir Putin staged a grand Kremlin ceremony on September 30 to celebrate the illegal annexation of the four Ukrainian territories -- Donetsk, Kherson, Luhansk and Zaporizhzhia -- following referendums denounced as void by Kyiv and its allies.
Russia's Constitutional Court on Sunday recognised the annexation accords Putin signed, and the State Duma, Russia's lower house of parliament, ratified the treaties on Monday.
The four territories create a crucial land corridor between Russia and the Crimean Peninsula, which Moscow annexed in 2014.
Together the five regions make up about 20% of Ukraine.
Russians 'escaped in panic'
Ukraine's forces in recent days have even been clawing back territory that Russian forces controlled in the annexed territories.
A week earlier Ukrainian forces seized Kupiansk Vuzlovyi, an industrial suburb on the east bank of the Oskil river about 100km north of Lyman in Kharkiv province, when the Russian troops holed up in its brick factory withdrew under fire.
The railway lines in northeastern Ukraine converge at Kupiansk Vuzlovyi before heading south towards Svatove, in annexed Luhansk province.
During the first six months of this year's Russian invasion of Ukraine, the trains rattling through Kupiansk Vuzlovyi's huge marshalling yards carried supplies southward to the occupation forces.
But now the soldiers patrolling the modern -- but heavily damaged -- station are Ukrainian and the tracks are silent.
"This site has always been considered a target of strategic importance; it's a railway and cargo connection point," said "Rosomakha", a soldier whose call sign is the Ukrainian word for "Wolverine".
The Russian forces are now expected to try again to stall the Ukrainian offensive deeper inside the territory Moscow claims to have annexed, 30km down the rail line in Svatove.
But Rosomakha and his comrades are not overly concerned. They claim that the Russians fled in disarray and that, once Ukraine has reorganised its forces in Kupiansk, they are ready to press on.
"They escaped in panic, and they relocated a lot of units elsewhere in the middle of the summer," he said, adding that recently captured prisoners had given them a good idea of Russian planning.
Ukraine knows, for example, that some of the Russian positions have been reinforced with conscripts since Putin announced on September 21 what he called a "partial mobilisation" of reserve manpower.
But they are not intimidated by this, nor by Moscow's sham annexation.
"According to Ukrainian law, this is the territory of Ukraine; this is our land," Rosomakha told AFP at Kupiansk Vuzlovyi station.
"I'm originally from Luhansk region, which is why I won't stop until the very last Russian is removed from this land."
Mounting losses
The advance of Ukrainian forces comes as Russia faces staggering losses of manpower and materiel since the start of its invasion in February.
The Ukrainian military said in its regular update Monday that about 60,430 Russian military personnel have been killed since the start of the war in late February.
In addition, Russia has lost 2,380 tanks, 4,991 armoured personnel carriers, and scores of aircraft, warships and other equipment.
Immediately after the announcement of "partial mobilisation" in Russia on September 21, Russian Defence Minister Sergei Shoigu said "losses in the special operation amounted to 5,937 men".
Independent analysts say the Russian estimate is far too low, and that Moscow's war in Ukraine has been riddled by systemic mistakes in planning the invasion, shoddy intelligence, incompetent generals and fear of higher authorities.
The losses have forced Russia to attempt to source weapons and ammunition from North Korea and Iran.
And amid its "partial mobilisation", the Kremlin has been trying to recruit prisoners and Central Asian migrants to fight in its war.
With Russian losses mounting, some analysts have warned that Putin could turn to nuclear weapons -- an option floated by one Putin ally.
Chechen leader Ramzan Kadyrov Saturday said that Russia should consider using "low-yield nuclear weapons" after Moscow's troops were forced out of Lyman.