TASHKENT -- Andrei, a resident of Leningrad province, Russia, who recently turned 24, had never left Russia before.
But after Russian President Vladimir Putin on September 21 declared a "partial mobilisation" aimed at propping up Moscow's forces in Ukraine, Andrei found himself at a crossroads.
With ticket prices surging, he bought the next flight to Tashkent, Uzbekistan, where a friend of his mother's from her school days in Kharkiv, Ukraine, lives.
He packed hastily, taking along only the bare necessities: his passport, some clothing, a laptop and his favourite book, George Orwell's "1984".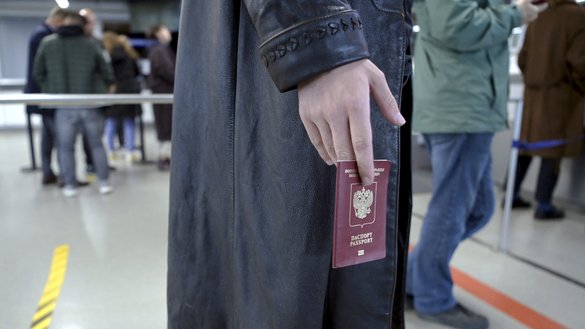 "Strange as it may seem, it's one of the best-selling books in Russia in the past few years," Andrei, who asked that his last name not be used, told Caravanserai.
"What's also strange is that we changed so quickly and imperceptibly into a country where human rights have been forgotten."
At Domodedovo Airport in Moscow, authorities asked Andrei why and for how long he was leaving the country.
Andrei told them he was visiting friends.
At the time, Russia had not set up mobile draft offices at the border.
He arrived in Tashkent September 28.
Before he fled Russia, the members of his social circle did not talk much of politics, Putin or the war, he said.
"But after September 21, people were thunderstruck," Andrei said. "Everyone got scared he'd be drafted, and that if he refused to go fight, he'd be thrown in jail."
"We were also told that after September 28 we wouldn't be able to leave, that we just wouldn't be allowed to cross the border," Andrei said.
Most of the passengers on his flight were men, he said.
Exodus
Andrei is among the tens of thousands of Russian men of draft age who have fled abroad to escape Putin's mobilisation.
Others were less fortunate.
More than 200,000 people have been conscripted into the Russian army since September 1, Russian Defence Minister Sergei Shoigu said during a televised meeting Tuesday (October 4).
The Kremlin said the "partial mobilisation" aims to recruit 300,000 men. It comes after a series of military setbacks.
With entry to Europe largely restricted, those fleeing have two main options: the South Caucasus -- Georgia, Armenia and then Turkey -- and Central Asian countries -- Kazakhstan, Uzbekistan and to a lesser extent, Kyrgyzstan and Tajikistan.
Kazakhstan said Tuesday that more than 200,000 Russians had crossed its borders in two weeks. Some are likely to be continuing on to Uzbekistan, which does not border Russia.
Meanwhile, between 40,000 and 60,000 Russian citizens are in Uzbekistan, according to local media estimates.
A first wave of Russians, mostly information technology (IT) workers who could work remotely, began relocating to Uzbekistan at the beginning of Russia's invasion of Ukraine in late February.
Since early February, some 6,000 IT specialists have moved to Uzbekistan, Spot.uz reported in September.
Russian citizens in Uzbekistan may stay without a visa for up to 90 days, and the Uzbek government has said it will not deport Russians who come to avoid conscription, Reuters reported in October.
Social media pages have emerged sharing advice in Uzbek for the new arrivals, offering tips on how to find an apartment and a job; enrol children in daycare, kindergartens or schools; withdraw or change money; obtain a bank card and more.
Divided opinion
Public opinion over the new arrivals remains divided, however.
Nuriddin Ibraimov of Tashkent, 67, expressed anger about the Russians fleeing and wonders why they are not speaking out against Putin and his circle.
"I'm afraid that they're running from military service, not from Putin's government," he said.
"After all, in Ukraine, President [Viktor] Yanukovych was forced to leave," he said, referring to the 2014 overthrow of a pro-Russian president.
"And after election results were falsified in Belarus [in 2020], people took to the streets. Maybe it didn't work out, but they bravely protested against [President Alyaksandr] Lukashenka," he added.
The border needs to be closed as soon as possible to Russian draft evaders, said Kamol Khudoinazarov, 32, of Karshi.
"These representatives of the people who call Central Asian migrant workers [anti-Asian slurs] have now rushed to Uzbekistan to save their own skin," he said. "What should we call them now? How should we treat them?"
"Personally, I support shutting the borders," Khudoinazarov said. "After they weather the storm [in Uzbekistan], they'll go home to Russia and post all sorts of nasty things online about Uzbeks and Uzbekistan. I'm positive that's what will happen."
"In Russia, Uzbek migrant workers have always been demeaned and still are," said Anora Sodikova, editor in chief of Rost24.uz.
"Our people are tolerant, but my attitude toward the Russian refugees won't change," she said.
"I think there's a contingent of Russians who are xenophobes. But if they come to our country, I'd like them to respect our culture, traditions and values," she said. "Now they'll have an opportunity to get acquainted with the homeland of those who labour in Russia."
'Kaitar dunye'
Uzbeks need to understand that the Kremlin is not all of Russia, said Kamoliddin Rabbimov, a Tashkent-based political analyst.
"Russia itself is a society -- it's people who may not agree with the policies of the ... authorities," he said.
However, under Putin, the collective consciousness is steeped in prejudice and nationalism, and it will be very difficult to rid bigots of such convictions, he noted.
Although the Uzbek people are not particularly wealthy, the Russians say they are encountering the local population's hospitality, goodwill and readiness to help, Bakhrom Radjabov, a political economist in Tashkent, wrote on Facebook September 28.
"This is despite the treatment Uzbeks receive in Russia. Oh, my naive, kind-hearted people," he wrote.
"There's an expression in Uzbek, 'kaitar dunye'," he wrote, which means "everything will get back on track".
"Maybe something like this needs to happen for someone to understand that he [or she] needs to treat others like human beings, not like objects or animals."