TASHKENT -- Russia is intensifying its efforts to recruit Central Asian migrants into its armed forces as its war in Ukraine continues to drag on, diminishing Russian troops' resources and morale.
Russian President Vladimir Putin doubled down on his invasion of Ukraine by announcing the partial mobilisation of 300,000 reservists on September 21.
Since then, photographs of the migrant centre in Sakharovo posted on social media have revealed a trilingual ad campaign -- in Uzbek, Tajik and Kyrgyz -- aimed at enticing citizens of other states to sign contracts with the Russian Ministry of Defence.
The Sakharovo multi-purpose centre is a one-stop shop for migrants to handle employment-related issues, including mandatory fingerprinting, medical examinations, and receiving or renewing permits to work in Russia.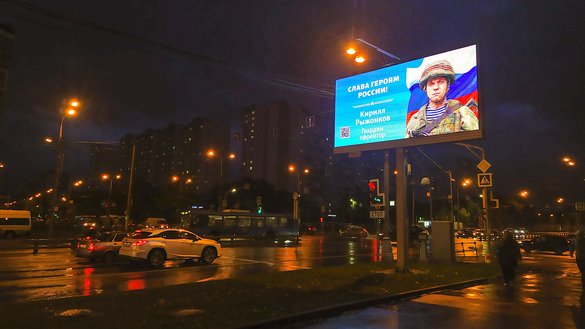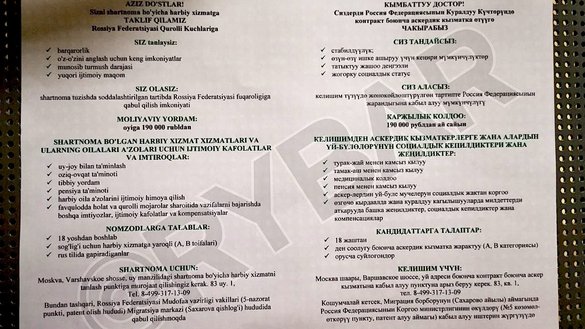 One ad, shown in a photo shared by the My Migranty ("We are migrants") Telegram channel on September 26, reads in Uzbek and Kyrgyz: "Dear friends, you are invited to serve in the Russian Armed Forces on a contract basis".
Serving in the military will offer "stability, extensive opportunities for fulfilment, a respectable standard of living and high social status", the ad claims.
It also promises "the provision of food, medical assistance, pension benefits, social protection of soldiers' family members, other benefits, social guarantees and compensation for performing duties during a state of emergency and under conditions of armed conflict".
The requirements for candidates are the same as for Russian citizens: anyone aged 18 and over who is physically fit for military service may count on getting a contract.
The only additional requirement for migrants is proficiency in Russian.
Involuntary mercenaries
Offering migrants alleged benefits and protection is just one approach Russian military recruiters are using, according to Valentina Chupik, an Uzbek-born activist who provides legal support to Central Asian migrant workers in Russia.
Migrants may find themselves unknowingly signing military contracts hidden among run-of-the-mill paperwork, she said.
Migrants at Sakharovo are often given a bundle of papers and told to sign all the documents as quickly as possible.
"They slip a two-page contract on voluntary military service into the pile of papers," Chupik said. "People might sign it without even understanding that they've enlisted and actually committed a crime ... they've become mercenaries."
Under Uzbek law, citizens who join foreign militaries or fight in foreign lands can be punished by five to 10 years in prison. The penalty is up to nine years in Kazakhstan and 20 years in Tajikistan.
"There are people [at the centre] yelling, 'Sign quickly!' The migrants aren't given time to read the documents," Chupik said. "Not everyone is capable of putting a yelling official in their place."
Chupik, who monitors instances in which migrants are compelled to serve in the army, said she has received dozens of reports of such incidents.
An Uzbek citizen named Marufzhon, for example, unintentionally signed a military service contract. When he became aware of his error, he contacted Chupik.
"I advised him to leave the country fast," she said, adding that Marufzhon fled to Kazakhstan.
"Leaving Russia is probably the only way to avoid being sent to the front. After you sign a contract it's hard to dispute it. The Russian courts are now totally detached from the law and conscience."
Changing laws
Russian propaganda has also attempted to justify breaking laws to sign contracts with the Russian military.
"Gaining the status of a Russian can overshadow all the problems that await [migrant recruits] in their historical homeland," Denis Denisov, director of the Institute of Peacekeeping Initiatives and Conflictology in Moscow, said in an interview with RIA Novosti.
For migrants who sign a contract and receive citizenship, he said, going home will no longer make sense.
"At the end of the day, they're not at all obligated to go back, while Russia won't turn in its own citizens -- from Russia's point of view, no laws have been broken," Denisov said.
An amendment to the Russian citizenship law took effect last month, enabling foreign citizens who sign up as contract soldiers to receive citizenship after only one year of service. Previously, citizenship required three years of military service.
The Russian State Duma also approved amendments to the Criminal Code that envisage lengthy prison terms for Russian citizens -- including dual citizens -- who refuse to join the armed forces.
Moscow could strip naturalised citizens born in Central Asia of their Russian citizenship if they refuse calls to mobilise, Kirill Kabanov, a member of the Kremlin's Human Rights Council, said on September 22.
"We are preparing proposals for new citizens of Russia who have had Russian citizenship for less than 10 years to do compulsory military service for a year, applicable to those originally from Central Asian countries: Kazakhstan, Kyrgyzstan, Tajikistan and Uzbekistan," he wrote on Telegram.
"Refusal to perform one's military obligation should result in the deprivation of Russian citizenship not only for someone liable for military service but also for members of his family," he added.
Kabanov's punitive proposal is still under discussion.
Fleeing death
Kyrgyz journalist and activist Adil Turdukulov said that migrants who have received Russian citizenship and do not want to fight in the war can simply flee the country.
For those who are not Russian citizens, he said, there is no way the Kremlin can force them to enter the army on a contract or take part in the war in Ukraine.
"The only way to coerce them is with incentives and giving them some kind of material benefit or Russian citizenship," he said. "But people need to understand that when they sign a contract with the Ministry of Defence, they're risking their lives."
Central Asian migration services and state propaganda must educate their citizens in order to convey to them that they are putting their lives in danger and participating in an unjust war, he said.
"As Muslims, they need to understand that," Turdukulov added.
Chupik warned that Uzbek citizens who sign contracts with the Russian military will ultimately end up as cannon fodder.
They will be used to clear land mines and to lure Ukrainian soldiers out of their hiding places, she told kun.uz September 28.
"There's about a 90% chance that you [migrants] will be killed," Chupik said.
"It's not the worst scenario if you die fast because if you're blown up on a mine and your head and a piece of your body are all that remain, that's a terrible way to die. It's a long, horrible death."
"So just try to do whatever you can to not end up at the front," Chupik urged.