GENEVA -- Children are bearing the heaviest burden caused by Russia's invasion of Ukraine, the United Nations Children's Fund (UNICEF) said in a study published this week.
Russia's invasion of Ukraine and the resulting economic fallout have thrown four million children into poverty across Central Asia and eastern Europe -- an increase of 19% over last year, UNICEF said Monday (October 17).
While children make up 25% of the population in the region, they account for nearly 40% of the additional 10.4 million people experiencing poverty this year.
"The consequences of child poverty stretch far beyond families living in financial distress," the agency said.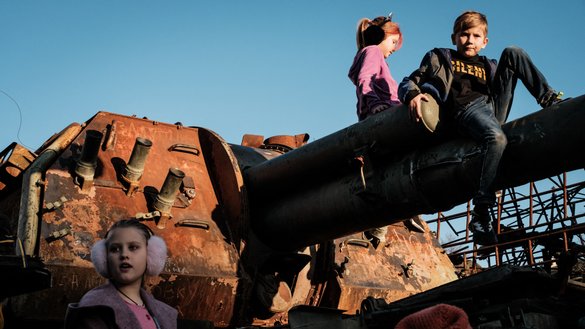 "The sharp increase could result in an additional 4,500 children dying before their first birthday, and learning losses could be equivalent to an additional 117,000 children dropping out of school this year."
UNICEF drew its conclusions from a study of data from 22 countries.
Russian and Ukrainian children have been most affected since Moscow's attack on its neighbour on February 24.
"Russia accounts for nearly three-quarters of the total increase in the number of children living in poverty due to the Ukraine war and a cost-of-living crisis across the region, with an additional 2.8 million children now living in households below the poverty line," UNICEF found.
The blow to Russia's economy from Western sanctions combined with its large population to produce the outsize effect.
"Ukraine is home to half a million additional children living in poverty, the second largest share," UNICEF added.
Romania followed closely behind, with a further 110,000 children in poverty.
'Lost lives, lost learning, lost futures'
"Children all over the region are being swept up in this war's terrible wake," said UNICEF regional director for Europe and Central Asia Afshan Khan.
"If we don't support these children and families now, the steep rise in child poverty will almost certainly result in lost lives, lost learning and lost futures."
The poorer a family is, the greater the proportion of its income it must spend on food and fuel, leaving less for children's healthcare and education, the agency explained.
"The Ukraine war and subsequent cost-of-living crisis means that the poorest children are even less likely to access essential services and are more at risk of child marriage, violence, exploitation and abuse," it said.
The cycle of poverty is hard to break, the report added.
"One in three children born and raised in poverty will live their adult lives in poverty, leading to an intergenerational cycle of hardship and deprivation."
UNICEF is partnering with the EU Commission and several EU countries to pilot the EU Child Guarantee initiative to mitigate the impact of poverty on children and provide them with opportunities to thrive in adulthood.
With more children and families being pushed into poverty as a result of Russia's invasion of Ukraine, a robust response is warranted across the region, the agency said.
"We have to protect and expand social support for vulnerable families before the situation gets any worse," Khan said.
The war's long reach
The financial impact of the war is being felt globally.
Food supplies are being dangerously disrupted by "the compounding impacts of the pandemic, the deepening climate crisis, rising energy and fertiliser costs, and protracted conflicts -- including Russia's invasion of Ukraine", the White House said last month.
The turmoil has "disrupted global supply chains and dramatically increased global food prices".
In particular, long-term drought has left parts of Somalia at risk of famine, the White House said.
US President Joe Biden on September 21 announced another $2.9 billion for a fund aimed at helping to resolve global food insecurity caused in part by Russia's invasion of grain-producing Ukraine.
Thousands of severely malnourished boys and girls in Somalia are at risk of dying, UNICEF warned on Tuesday.
"Without greater action and investment, we are facing the death of children on a scale not seen in half a century," UNICEF spokesperson James Elder told journalists in Geneva.
According to the latest data, 44,000 children have been admitted to a health facility for treatment of severe acute malnutrition since August -- a rate of one child "every single minute of every single day", he said.
While UNICEF has received "substantial funds" in the past months from the United States, the United Kingdom and the European Commission, Elder stressed that long-term funding will be critical "to prevent famine from happening, again and again".
Bearing responsibility
On the sidelines of the UN General Assembly on September 20, ministers from the European Union, United States, African Union and Spain met to discuss food shortages, which are seen as a key factor in conflicts and instability.
Ukraine's President Volodymyr Zelenskyy appeared by video link and directly accused Moscow of willingly triggering a food crisis.
"Any state that provokes famine, that tries to make access to food a privilege, that tries to make the protection of nations from famine dependent on ... the mercy of some dictator -- such a state must get the toughest reaction from the world," he said.
He blamed Russian blockades and other "immoral actions" for slashing exports from Ukraine, a major agricultural producer.
"Russia must bear responsibility for this," he said.
Spanish Prime Minister Pedro Sanchez said Russian President Vladimir Putin, through his invasion of Ukraine, "is trying to blackmail the international community with food".
"There is no peace with hunger and we cannot combat hunger without peace," Sanchez said.