KYIV -- Zarina Shakhmukhambetova, a yoga teacher originally from Almaty, was back home in Kazakhstan caring for her ailing mother when Russia launched its invasion of Ukraine on February 24.
"When the war started, I was shocked. My husband is Ukrainian, and before the war, I lived in Zaporizhzhia", a city in southeast Ukraine, she told Caravanserai.
"Initially, I sat paralysed with my phone, and then I saw an announcement on social networks that volunteers were being recruited in Almaty to organise aid to Ukraine," she said.
She volunteered at the headquarters of the Parcel Relief Fund, joining others across Central Asia in sending aid to Ukrainians.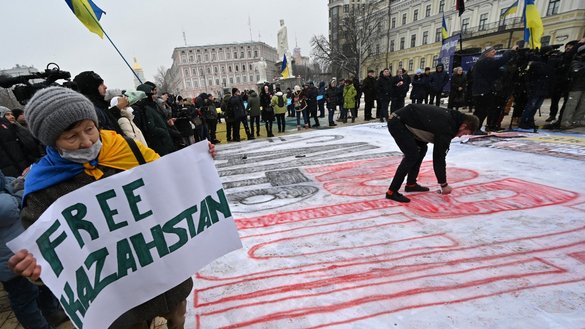 The first month saw funds and aid raised quickly for the cause.
"We were given a room free of charge at the social and cultural centre. And people from all walks of life in Kazakhstan came there -- there were people who had no connection to Ukraine whatsoever [who came] simply out of compassion, because civilians are suffering."
"Many could not understand how Russia could have stuck a knife in the back of Ukrainians despite the brotherly ties between the two peoples," Shakhmukhambetova recalled.
Determined to help
In Astana, local charitable foundations and businesspeople, as well as the general public, have continued to offer aid, according to Zlatoslava Bliznyuk, an aid organiser and restauranteur.
Bliznyuk, a Ukrainian who has lived in Kazakhstan for six years, at first tried to return to her homeland after the start of the invasion.
She went to the Ukrainian consul in Kazakhstan and asked him for help getting back to Ukraine.
"I said I want to go home, even if in the cargo bay of a plane. He said, 'you will help much more here', and he set aside an office and we went to work," Bliznyuk told Caravanserai.
"In a week, I put everything together, and then the big sponsors started coming, approaching us on their own," she said.
Shakhmukhambetova said that she saw a lot of ordinary Kazakhs bring home-canned food and even their own medications and medical supplies to the aid centres.
"An elderly man brought two bandages and a topical antiseptic. A woman brought a package of medicine for high blood pressure."
"Seeing these Kazakhs brought tears to our eyes. Now, after renewed missile attacks targeted Kyiv in October, people once more showed up with [aid] packages," Bliznyuk said.
At the onset of the war, Bliznyuk and other volunteers sent four planes of medical supplies to Ukraine.
But after Kazakhstan adopted a law that prohibited medicine exports in April, they began delivering hygiene products and food by car.
"We sent aid by car, but it's a long way, of course," she said. "We also send aid via the Port of Kuryk in Kazakhstan, then a ferry carries it to Azerbaijan, and from there it sails to Turkey. From Turkey to Bulgaria, from Bulgaria to Moldova, and then through the city of Chernivtsi to Ukraine."
"The main thing is to bypass Russia," she said.
One of the latest shipments, sent at the end of September, carried 20,000 tonnes of food to Ukraine.
A common history
In Uzbekistan, volunteers have collected more than 2,500 kg of humanitarian aid -- medicines, children's clothing, food rations -- since the start of the war.
The aid was delivered by plane to the Polish city of Katowice, and from there to Ukraine, according to Mykola Doroshenko, the Ukrainian Ambassador to Uzbekistan.
"There is a rather large group of Uzbek entrepreneurs who have partnerships with Ukrainians. I know they provide financial assistance to Ukrainian families," Doroshenko told Caravanserai.
"There is also a circle of young entrepreneurs who have created a humanitarian group and are helping Ukraine directly," Doroshenko said.
The embassy is working with government officials to get additional humanitarian aid, he added.
Central Asian immigrants who have long lived in other countries are also helping out.
Malika Akhmetova was born in Kazakhstan, but has lived in recent years in Ostrava, a town in the Czech Republic.
"My partner and I bought food, disinfectants, pads, and immediately sent everything to Ukraine. Among my acquaintances, there are many from Central Asian countries," Akhmetova said.
"They are all for Ukraine. They understand what is happening there and who started this war," she said.
Akhmetova helps Ukrainian refugees find employment in Europe and organises cash and in-kind aid drives.
Kazakhs and Ukrainians have a similar history, she said.
"We understand Ukrainians and are also still trying to recover from what happened in the Soviet Union, when our language and our traditions were banned, and we lived under the yoke of the Soviet empire."
"Now we are doing everything we can to help the Ukrainians, because we stand in solidarity with them. They are fighting for their freedom. Kazakhs are also trying to protect their identity and their language," said Akhmetova.
Shakhmukhambetova, who has left Kazakhstan to return to her husband in Ukraine and help people there, agrees.
"The Soviet Union negatively influenced our traditions and our culture. We, too, are not speaking our native language. They called us both Kalbits and Mambets [ethnic slurs], and they shamed us for speaking Kazakh."
Ukrainians did not fare any better, she added.
"A Kazakh will always sacrifice his last ram to feed a guest ... [This hospitality] seems to be engrained in us. In this regard, Ukrainians are very similar."
"That's why I can't understand how it's possible to attack people like us," said Shakhmukhambetova.