KYIV -- The creation of a joint Russian-Belarusian force is just another ploy by the Kremlin to put pressure on Europe, analysts say, but caution needs to be deployed.
The Belarusian Ministry of Defence on Sunday (October 23) posted on its official Telegram channel photos of a new detachment of Russian soldiers that had just arrived in Belarus.
The ministry earlier on October 17 said that Russia would deploy up to 9,000 soldiers and about 170 tanks to Belarus to build up a new joint force.
Russia will also send to Belarus "up to 200 [other] armoured vehicles and up to 100 weapons and mortars with a calibre exceeding 100mm", Valeri Revenko, the Belarusian Defence Ministry adviser for international military co-operation, said on Telegram.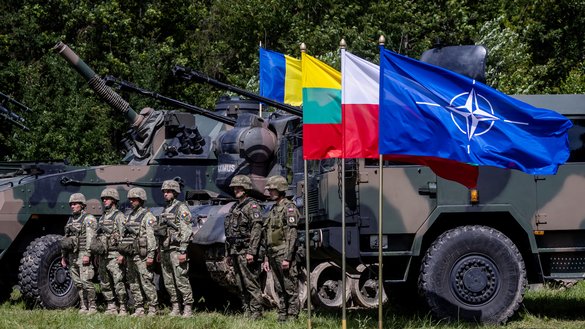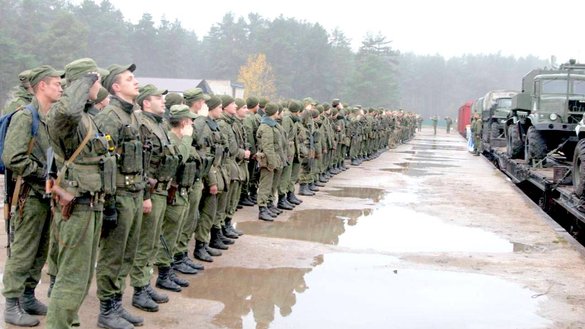 Russian units will be deployed to four training grounds in the east and the centre of Belarus, where they will take part in exercises involving notably "combat firing and anti-air missile firing", he said.
Belarus insisted the force would be uniquely defensive with the purpose of securing its borders.
Belarusian leader Alyaksandr Lukashenka is an ally of Russian President Vladimir Putin and allowed Belarusian territory to be used by Moscow's troops to invade Ukraine in February.
But Belarusian armed forces up to now have not taken part in the offensive.
Belarus relies financially and politically on its key ally Russia.
In the summer, Russia promised Belarus it would deliver in a few months Iskander M missiles capable of carrying nuclear warheads and that it would modernise warplanes.
Lukashenka, when first announcing the creation of the joint force on October 10, made a baseless accusation saying Lithuania, Poland and Ukraine of training Belarusian "radicals" for terror attacks.
Multivector pressure
"All these assertions about creating a joint grouping, about providing Belarus with Iskander missiles with nuclear warheads, are all elements of military pressure on Europe," said Dmytro Snegiryov, Kyiv-based military analyst and co-chairman of the NGO Just Cause.
"This is above all about the Suwałki Gap," he said, referring to a sparsely populated region in the northeastern corner of Poland that serves as a key corridor between Belarus and Russia's Kaliningrad province.
Russia could seize the gap to surround the Baltic states in a potential conflict with NATO.
NATO is "taking the possibility that Russia may try to penetrate this corridor very seriously", he said.
"Of course that creates tension. Poland has already increased its military budget several-fold, and [NATO] has decided to deploy additional NATO troops to the Baltic countries," Snegiryov said.
"Putin is essentially using playing this card ... for multivector pressure," he said.
Nevertheless, the actual joint force is not truly a threat, said Alexander Kovalenko, analyst for the website InfoResist.
"They're actually just transporting drafted Russians to Belarus for training since Russia doesn't have enough training grounds at home," he said.
"These men are unprofessional," he added. "It's hard to even call these divisions a battalion tactical group since they aren't fully equipped."
"Every group of this kind needs to have a certain number of tanks and armoured infantry fighting vehicles. They also need to have self-propelled artillery, surface-to-air missile systems and multiple-launch rocket systems, but they don't have any of that," he said.
"All you need to do is look at the total numbers: Belarus's combat-capable army has 14,000 soldiers. That's not enough to capture a province or even a city," he said.
Moreover, the Belarusian army's problems are multiplying because Lukashenka is giving his weaponry to the Russians, Kovalenko said.
"Equipment is continuing to be shipped out of Belarus, mainly from storage depots," he said. "T-72 tanks and artillery were shipped from the 969th base to Russia. Now they're shipping vehicles from the 287th base: Kamazes [trucks] and Urals [off-road vehicles]."
'We need to be ready'
Despite Belarus' defensive claims, Kyiv has warned of the danger of a renewed attack from the north.
"We're seeing that Russian forces are gathering in Belarus," said Andriy Demchenko, a spokesman for Ukraine's State Border Guard Service. "They could amass forces to stage another offensive. We need to be ready."
"Russia is pressuring Belarus as much as it can so that Belarus will join the war with units from its armed forces," he said. "This rhetoric that's coming out of Belarus ... looks absurd because Russian troops have already entered Ukrainian territory from Belarus."
"Belarus is providing its territory as a launch site for missile strikes, and for kamikaze drones that are also taking off from Belarus now," he added.
Ukraine has prepared as much as it can for a potential invasion, having fortified all the border districts, mined the roads and blown up bridges, according to Demchenko.
"The defence forces, national guard and border guards are all prepared. We're motivated, and we'll act decisively," he said.