ALMATY -- The reported freezing of a joint Kazakh-Russian cybersecurity endeavour is the latest sign of the growing divide between the two nations, analysts say.
Transtelecom, one of Kazakhstan's largest telecom operators, reportedly froze a joint cybersecurity project with Bizon, a Russian company, Kommersant reported October 31.
The six-year project, which cost about 2.4 billion RUB ($39 million) to implement, was launched in 2019 to "combine the expertise and experience of their incident monitoring and rapid response centres", and to create a cloud solution in Kazakhstan to automate "protection against cyber threats".
The Kazakh decision to abandon the project was influenced by sanctions against Sberbank, which owned Bizon until July, as well as the "general geopolitical situation", Kommersant reported, citing analysts.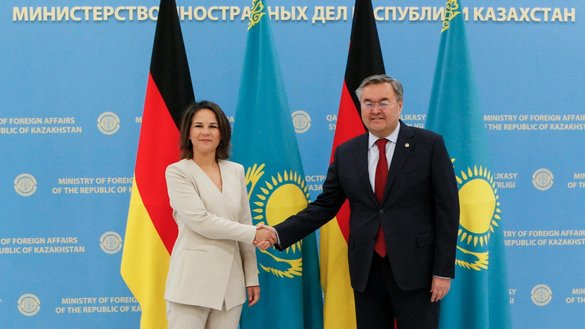 Sberbank is among the Russian entities sanctioned by Western nations in the wake of the Kremlin's invasion of Ukraine.
Kazakhstan could easily replace the Russian partner with another foreign provider of information security solutions, which abound in Kazakhstan, the article noted.
Transtelecom, which has ties to the Kazakh government, specialises in telecommunications, digitalisation and system integration in information technology (IT), communications, automation and energy.
The company has implemented projects as part of Kazakhstan's state digitalisation programme.
Transtelecom in a statement denied it had frozen the project with Bizon and said that relevant joint projects launched in 2019 had already been implemented.
Cutting ties
"Kazakhstan has curtailed co-operation with Sberbank and its structures since hostilities began in Ukraine," Oleg Shakirov, a consultant at the Moscow think-tank PIR Centre, said in the Kommersant article.
Kazakhstan in April also pulled out of a deal with the pro-Kremlin bank to create an e-government platform, added Shakirov.
The relevant co-operation agreement was concluded in September 2021.
Under the terms of the deal, Sber was supposed to connect all government agencies' databases to a single platform, which meant that the Russian bank would have access to Kazakhs' personal information, including medical records, home addresses, assets and tax payments.
News of the partnership outraged Kazakhs, who criticised their government's plans to give a foreign company access to Kazakhstan's strategically sensitive government data.
"These examples show how [Kazakhstan] is distancing itself in order to avoid consequences for itself," said Shakirov.
IT specialists say Russia's actions provoked Kazakhstan's "distancing".
The situation changed after Russia became an aggressor, said Kaisar Isenov, an IT developer at the Astana Hub international technology park.
Moreover, in recent years, Russian legislators have regularly made threatening statements that Kazakhstan's northern territories historically belonged to Russia, calling into question the Central Asian republic's sovereignty and statehood, said Isenov.
Such rhetoric from Russians "is an overt warning to Kazakhstan, which is seeking to extricate itself from Russian influence and go its own way, that we must not even think of co-operating too closely with Western countries", he said. "And this is not the rhetoric of a friend, ally and partner."
"It is not surprising that Astana is taking reasonable measures to ensure national cybersecurity," he added.
New threats and risks
Co-operating with Russia risks Kazakhstan's cybersecurity, which the nation is taking more seriously following Russia's invasion of Ukraine, observers say.
In October, Kazakh authorities introduced an extensive set of changes to the country's military doctrine that, according to the Defence Ministry, make it possible "to adapt the state's views on military security and defence to modern requirements and conditions, and also increase the country's military capacity to adequately respond to new threats and risks".
Many of the amendments were designed with a view to growing national security threats from Russia, according to observers.
For example, the updated doctrine emphasises the threat of "[cyber-attacks] on ... the information systems of the state's military and on systems for supporting the country's vital activities, meant to destabilise the domestic situation and reduce the state's military and military-economic potential".
"[Russia] is a different state with its own interests, but its specialists would be handling our cybersecurity," said Almaty cybersecurity analyst Arman Abdrasilov, former director of Zerde National Infocommunication Holding, a Kazakh state-owned IT company, referring to the Bizon project.
"So we need to focus on developing local competence," he said.
Co-operation with Russia in IT has not produced the expected benefits, he added.
Even though Russia has significant cybersecurity resources, "they do not share expertise with us. Instead, they just earn money here and leave", he said.
Kazakhstan instead is looking to build ties with Western countries such as Germany.
German Foreign Minister Annalena Baerbock arrived in Astana at the end of October to discuss closer economic co-operation in green energy.
"Kazakhstan has repeatedly made it clear that it supports the international order," Baerbock said, noting that Astana did not side with Moscow during a United Nations vote on a resolution condemning the Russian invasion. Kazakhstan abstained from voting on the issue in March.
Germany, unlike Russia and China, offers relations on an equal footing, noted Baerbock.