KYIV -- Kyiv urged leaders in Africa on Tuesday (November 15) to keep their citizens from being embroiled in Russia's invasion of Ukraine, a day after Zambia said one of its own was killed.
In Lusaka, Foreign Minister Stanley Kakubo on Monday said a Zambian student who had been jailed in Russia died "at the battlefront" in Ukraine and demanded an explanation from the Kremlin.
Lemekhani Nathan Nyirenda, 23, who had been serving a prison sentence in Russia, "passed away on 22nd September 2022, in Ukraine", the minister said in a statement.
The statement said Nyirenda, who had been studying nuclear engineering at the Moscow Engineering Physics Institute, had been handed a jail term in April 2020 of nine years and six months.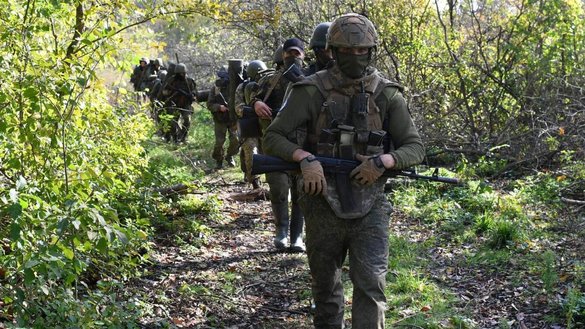 He was incarcerated at Tver medium security prison on the outskirts of that city, it said.
Nyirenda was convicted of a drug offence, according to the BBC.
"(...) The Zambian government has requested the Russian authorities to urgently provide information on the circumstances under which a Zambian citizen, serving a prison sentence in Moscow, could have been recruited to fight in Ukraine and subsequently lose his life," Kakubo said.
Niyrenda's remains have been transported to the Russian border town of Rostov ahead of repatriation to Zambia, the statement added.
Ukrainian Foreign Ministry spokesman Oleg Nikolenko urged African countries to press Russia not to use their citizens in its war in Ukraine.
"We call on African Union and all African states to demand that Russia stop press-ganging their nationals," Nikolenko wrote on social media.
"Africans shouldn't die for [Russian President Vladimir] Putin's sick imperial ambitions," he said.
Russian said it was investigating the claims.
Ukrainian officials say the Wagner mercenary group has been sending thousands of soldiers recruited in Russian prisons to the front line, with the promise of a salary and an amnesty.
According to Ukrainian President Volodymyr Zelenskyy, Wagner may have recruited up to 2,000 former prisoners to fight.
Cannon fodder
Several Ukrainian soldiers on the front line in Bakhmut in eastern Ukraine told AFP in October that the alleged ex-convicts were being used as bait to draw fire and reveal Ukrainian positions.
The town, which has little strategic value, has been under attack for months by Russian forces, who are mostly on the defensive in other regions across the country.
"It starts at around 6.00pm, when it's getting dark," said Anton, a 50-year-old Ukrainian soldier from the 93th brigade who was resting after an injury, at the time.
"These soldiers -- with no experience -- are sent towards our guns and stay there for a few minutes," said Anton, estimating that seven or eight were sent every night.
"Their job is to advance towards us, forcing us to fire on them, to reveal our positions," said Sergiy, a major in the 53rd brigade.
"After that, they fire artillery or send more experienced commandos towards our positions."
Most of these fighters -- dubbed "disposable soldiers" by the Ukrainians -- are killed, they said. Some are wounded and captured.
It appears that such fighters have little choice.
Wagner Group owner Yevgeny Prigozhin -- a businessman close to the Kremlin -- Tuesday denied the group's involvement in the execution of one of its fighters in Ukraine, after having said the man deserved a "dog's death".
Last week, social media accounts linked to Wagner shared footage of the brutal killing of a man who had reportedly surrendered to Ukrainian forces before being returned to Moscow's forces.
The man, who identified himself as Yevgeny Nuzhin, was shown receiving a fatal blow to the head with a sledgehammer.
Prigozhin on Sunday praised what he described as "magnificent work", calling the murdered man a "dog".
"A dog should have a dog's death," he said.
In a fresh statement Tuesday, Prigozhin denied his mercenary army had played any role in the execution.
"Wagner employees are distinguished by their exemplary discipline and strict adherence to generally accepted international standards and rules of social behaviour," Prigozhin added.
Rights violations
The Russian rights group Gulagu.net, which advocates for prisoners in Russian detention, said that Nuzhin was among those who had been in prison in Russia and whom the Wagner Group recruited to fight in Ukraine.
Prigozhin has been accused of personally participating in a recruitment drive by offering contracts at Russian prisons, vowing that those who surrender or are captured would be killed.
The 61-year-old businessman in September disclosed for the first time that he had founded the Wagner Group in 2014 to fight in Ukraine and acknowledged its presence in Africa, the Middle East and Latin America.
Several rights groups have brought legal proceedings against Wagner, accusing its members of having in 2017 tortured and murdered a pro-regime fighter who had deserted in Syria.
This month Wagner opened a headquarters in Russia's second city of St. Petersburg.
Prigozhin himself faces Western sanctions for meddling in foreign elections, an accusation he admitted to earlier this month.
In 2018 and 2020, Washington hit Prigozhin with sanctions, saying his Internet Research Agency (IRA), a St. Petersburg-based "troll factory", was behind US election interference in 2016 and 2020.
The IRA also is accused of spreading disruptive propaganda during the elections and referenda of other countries, such as Britain, Germany and France.