CHISINAU, Moldova -- An almost two-month-long series of protests in Chisinau's central square, organised and allegedly financed by Moldovan oligarch Ilan Shor, is the latest example of a Kremlin-backed plot to remove Moldova's pro-Western government, analysts tell Caravanserai.
The former Soviet republic, like Georgia and Ukraine, has a separatist region occupied by Russian troops -- Transnistria -- that keeps the country from fully controlling its own territory.
On October 26, the US government announced sanctions on Shor, his wife Jasmine (a Russian pop singer), seven other individuals and 12 organisations, for corruption or allegedly working with Russia to undermine Moldovan democracy.
Shor, an Israeli-born businessman turned populist politician in Moldova, was convicted in 2017 of stealing $1 billion from Moldovan banks in 2014, and fled the country in 2019, the Washington Post reported in October, citing documents obtained by Ukrainian intelligence and viewed by the Post.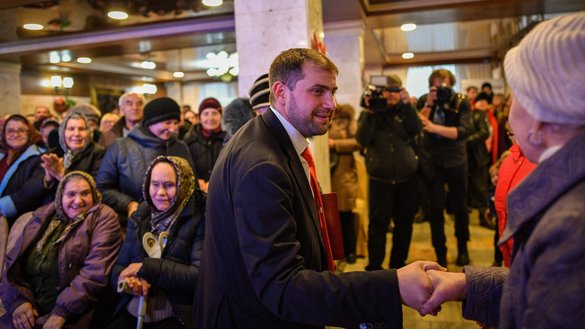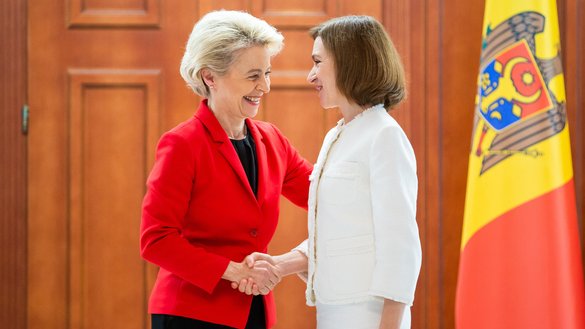 Since then, Moldova has unsuccessfully demanded his extradition from Israel. Jasmine and their children are living in Russia, Stmegi.com reported in March.
The sanctions come as Western powers seek to bolster support for Moldova amid fears of a spillover from the war in neighbouring Ukraine, with Russia maintaining troops in Moldova's breakaway region of Transnistria.
Washington is blocking the US assets of Shor and criminalising transactions with him.
The sanctioned organisations and individuals are "acting as instruments of Russia's global influence campaign, which seeks to manipulate the United States and its allies and partners, including Moldova and Ukraine", the US Treasury Department said in its announcement.
Despite living in Israel, Shor has been organising pro-Kremlin, anti-government protests every weekend in Chisinau's central square since September 18.
Moldovan authorities have accused him of paying the demonstrators and running his pro-Russian party from exile.
Other ex-Soviet states that are also backing away from Russia, such as those in Central Asia, are watching the events closely, especially Kazakhstan, which has a Russian enclave in the north that is regularly referenced in Kremlin narratives.
Crime ring
In a statement issued in late October, US Ambassador to Moldova Kent Longsdon lamented "the extent of the corruption Mr. [Vladimir] Plahotniuc and Mr. Shor have engaged in", referring to another sanctioned Moldovan tycoon.
Longsdon pointed to "years of state capture, an eroded justice system, distorted elections and stolen votes in Parliament, and bags of cash changing hands".
Analysts also consider Shor and his party to be criminals more than politicians.
"We can say that the Shor Party is, in essence, a crime ring that manipulates people," said Vyacheslav Berbeka of Chisinau, an analyst with the Institute for Development and Social Initiatives.
"Russia supplies them not only with money but also with advisers. Last Sunday [October 30], everyone saw how well the crowd was organised and how they tried to provoke the police," he told Caravanserai.
"At the protests, people who in Moldova are associated with the KGB have started showing up," Petru Macovei of Chisinau, director of the Association of Independent Press of Moldova, told Caravanserai, using the Soviet acronym to note the long experience of those individuals.
Videos of the protests have shown older demonstrators with anti-American signs.
"They are advisers from Moscow. They are also former officials and veterans who have been waiting for their chance for many years," Macovei said of the intelligence operatives at work.
"Shor's party will probably be banned soon ... He can sense that the end is near and convinced the Kremlin that this is the last chance to overthrow the authorities," added Macovei.
"I was told that on weekends it is impossible to find a worker in villages to harvest grapes. Shor pays them much more to participate in protests, about €25 ($26) each," said Macovei.
Working with the FSB
The attempt to destabilise Moldova is the project of FSB [Russian Federal Security Service] official Dmitry Milyutin, working through Igor Chaika, director of the Delovaya Rossiya business association in Chisinau, reported the Washington Post in its October story.
"The FSB has funneled tens of millions of dollars from some of Russia's biggest state companies to cultivate a network of Moldovan politicians and reorient the country toward Moscow, documents and interviews indicate," according to the report.
Putin spokesman Dmitry Peskov reportedly helps co-ordinate the operation.
Jasmine, Shor's wife, made her own pro-Kremlin views clear back in March.
At the time, she defended the Russian invasion of Ukraine on her Instagram page, as noted by Gazeta.ru in October.
"The residents of Donbas, miners, and metallurgists experienced the atrocities of neo-Nazis for a long time," she claimed, using the Kremlin's false narrative to describe the Ukrainian government.