KYIV -- Russia's once-shadowy Wagner mercenary group has been expanding the scope of its activities, including publicly advertising recruitment offices, training civilians and building up its infrastructure.
The founder and owner of the group, Yevgeny Prigozhin, said November 11 that his organisation had started training civilians in Russian regions bordering Ukraine to form a militia and build fortifications.
"If you want peace, prepare for war," he said, urging local businesses to provide funds and supply mercenaries.
"If you own a small factory that employs 100 people and 50 of them are adult males, 25% of them should serve in the trenches while 75% continue working," Prigozhin said in another Concord statement on VKontakte.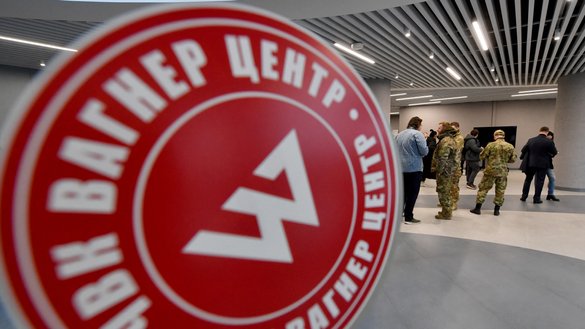 Prigozhin in September disclosed for the first time that he founded the Wagner Group in 2014 to fight in Ukraine and acknowledged its presence in Africa, the Middle East and Latin America.
This admission came after he and the Kremlin had long denied the group existed. Serving as a mercenary remains illegal for Russians.
Wagner's fighters have been at the forefront of Moscow's offensive in Ukraine and a video emerged in September that showed Prigozhin visiting a prison and offering contracts to prisoners to fight in return for their release.
This month Wagner also opened a headquarters in Russia's second city of St. Petersburg, purportedly to develop defence technologies.
"We are inviting start-ups involved in IT [information technology] and in industrial technologies and those developing new ideas that they are ready to apply in national defence," Anastasia Vasilevskaya, the centre's spokeswoman, said at the opening on November 4.
Public recruitment
The mercenary group has also ramped up recruitment with pages on Russian social networks and by publicising the contact information of recruitment centres.
Artur Prisiazhniuk, a Ukrainian investigative journalist, recently called many of the numbers listed on Wagner's VKontakte page.
"At some of the numbers no one answered. But the recruitment centre in Udmurtia responded," he told Caravanserai.
"Someone named Pavel picked up the phone. He wanted to know only a few things: how old I was, how much I weighed and whether I had any health issues."
"I said I'd never served in the army and that I was healthy. After exactly a minute and a half on the phone, I passed the 'medical exam'. Pavel said I could come by, and he gave me directions," he said.
Prisiazhniuk was told to go to Krasnodar and then to the village of Molkino, where an active training ground for the Russian armed forces and Wagner mercenaries is situated.
The recruiter also instructed Prisiazhniuk to use a code phrase at the first checkpoint with soldiers -- "How do I get to the Pioneer camp?"
The Pioneers were a Soviet youth organisation.
New recruits go through a two-week "young fighter" course in Molkino before being sent to Ukraine, the recruiter said, as cited by Prisiazhniuk.
Recruits sign a six-month contract, but no money is paid until the contract expires -- in other words, at the end of the six-month period, Prisiazhniuk said he was told.
"That's very profitable for them [Wagner]. You'll most likely get killed sometime during the first few days or weeks, so they won't need to pay anyone," he said.
"I was shocked at how easy it was to get 'officially registered' for the war given that the Russian constitution prohibits the operation of private military companies [PMCs]," Prisiazhniuk said.
Prigozhin's ambitions
Wagner's increased activity is another indication of Prigozhin's attempts to build clout in the Kremlin, say analysts.
Wagner Group mercenaries, for example, have been trying for months to capture the town of Bakhmut, where Ukrainian officials say Prigozhin has been sending thousands of soldiers recruited in Russian prisons to be used as "disposable soldiers".
War observers have pointed to potential political value for Prigozhin in capturing the town as a military trophy while Russia's regular forces face setbacks elsewhere.
The growing influence of the Wagner Group has stirred up conflict between Prigozhin and Russia's military leadership, specifically, Defence Minister Sergei Shoigu and Russian military chief of staff Gen. Valery Gerasimov.
The Institute for the Study of War in a report on October 31 noted that the publication Petersburg Vestnik characterised Prigozhin's popularity as "skyrocketing", after he criticised local St. Petersburg officials.
When asked if he had any plans to form a party or go into politics, Prigozhin replied "I do not strive for popularity. My task is to fulfil my duty to the Motherland, and today I do not plan to create any parties, let alone go into politics."
"Prigozhin may or may not create his own political party, but he is establishing himself as a political force, using his popular status and his affiliation with Wagner to critique his opponents within elite circles and to institutionalise his own authority," the institute said.
Prigozhin is trying to win more authority as he sets his sights on succeeding [Russian President Vladimir] Putin, and is therefore positioning himself before the Russian public as a strong leader who can solve problems by force, according to Ihor Reiterovich of Kyiv, a political analyst and director of programs at the Ukrainian Centre of Social Development.
"All those phone numbers of the recruitment centres are approved from the top. This is mass recruiting across the country to create a parallel army while bypassing the mobilisation because the mobilisation is slowing down," Reiterovich told Caravanserai, referring to Putin's September 21 edict that sent hundreds of thousands of men fleeing Russia.
"If Putin cedes power, the existence of a private army will be very strong leverage that will help the group supporting Prigozhin prevail," Reiterovich said.
International scrutiny
Wagner's increased activity could push the global community to tighten control over the use of such illegal quasi-military entities, say observers.
For example, McCue Jury & Partners, a British law firm, has sued Prigozhin and Wagner in London on behalf of Ukrainian victims of the war.
"The legal action is predicated on an unlawful means conspiracy between Prigozhin, Wagner, and Putin's war machine to terrorise the Ukrainian people," the firm said in a statement on November 1.
"We believe this is the first time in history that a [PMC] has been sued for its use of terrorism and for a conspiracy with a rogue paymaster state to commit an illegal war," it said.
"The action has the potential to change fundamentally the way the world addresses the proxy use of such organisations by regimes that seek to distance themselves and hide from their international crimes."
"It's possible that the people who are now joining Wagner don't fully grasp the extent of their liability," Eduard Bagirov of Kyiv, a human rights activist and head of the International League for the Protection of the Rights of Citizens of Ukraine, told Caravanserai.
"Everyone who belongs to this group has committed at least dozens of the gravest offences in Ukraine," he said.
"Belonging to a [PMC] is a crime to begin with. Even if they're not killing civilians, they're already criminals because they've joined an entity that is illegally using weapons and committing crimes," Bagirov said.