KYIV -- Belarusian opposition members and commentators have accused Russian forces of occupying the nation in support of President Alyaksandr Lukashenka.
Opposition leader Svyatlana Tsikhanouskaya November 14 said her country was under de facto "military occupation" by Russia as she urged the European Union (EU) to maintain pressure on Lukashenka's regime.
Moscow has used Belarus as a key launchpad for its war on neighbouring Ukraine and is deploying thousands of troops to its close ally as part of a joint task force.
"I have to say that Belarus is de facto under military occupation," Tsikhanouskaya told AFP after meeting EU foreign ministers in Brussels, Belgium.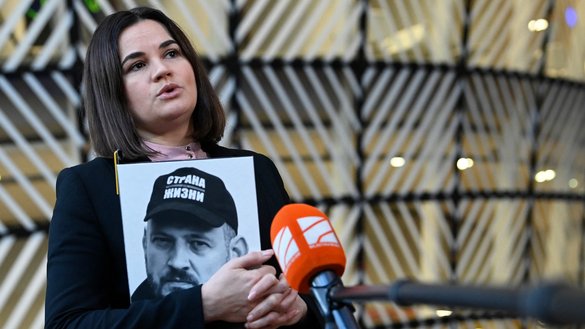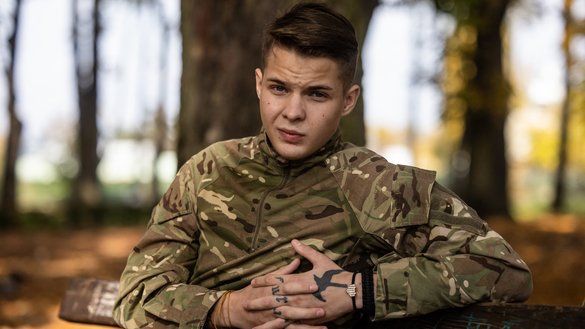 Lukashenka does not "control the presence of Russian troops" or stationing of Moscow's military equipment in Belarus, she said.
"He just has to agree with everything because he knows that without [Russian President Vladimir] Putin's support, he will not politically survive in Belarus."
The announcement of a joint deployment last month between Belarus and Russia fuelled fears that Minsk could be gearing up to send its troops into Ukraine just as the Kremlin's Russian forces have been pushed back.
But Tsikhanouskaya insisted Belarusian soldiers would refuse to join Moscow's war and that "Lukashenka knows this."
'Doubly occupied'
Belarus is "doubly occupied", said Aleksy Dzikawicki, a journalist and deputy director of Belsat, an independent Belarusian satellite TV channel.
He compared Lukashenka's regime to a military occupation of his own country.
"Look at Lukashenka. This is a man who shamefully lost the election two years ago. His defeat was absolutely disastrous. However, by using force, with the support of the Kremlin, Lukashenka stays in power."
"This is a junta. This is a group of people holding on to power through force. This is the first level of the occupation," he told Caravanserai.
"The second level of occupation is the presence of the Russian army in Belarus. In gratitude for the Kremlin's support of his power in 2020, Lukashenka shamefully provided Belarusian territory so that the Russian army could send its planes and launch missiles from Belarus," said Dzikawicki.
Lukashenka has to support Putin because Belarus is financially dependent on Russia, according to Dzikawicki.
"Lukashenka, with his stupid policy, made himself totally dependent on the Kremlin. In Russia, people might use outhouses when it's 30 degrees below zero, but they will always find money to support the Belarusian junta," he said.
"What's more, I think that Russia also has some documents and materials that compromise Lukashenka. For example, we could talk about the murder of political opponents in the late 1990s. In general, Lukashenka is so dependent on Russia that he can't do anything," Dzikawicki added.
Belarus ought to be recognised as a "temporarily occupied country", and Lukashenka should rightly be called "Putin's gauleiter", said Aleksey Frantskevich, director of the Free Belarus charity.
The term refers to Nazi officials who oversaw occupied areas in World War II.
"There has been a dictatorship in Belarus for 28 years. Lukashenka conducts repressions. They could even be called the genocide of his own people," said Frantskevich, who left Belarus two years ago and settled in Lviv, Ukraine.
"The only country that supports him is Russia, and Putin personally," he told Caravanserai.
The repression in Belarus has grown worse in recent years, according to Dzikawicki.
In the past two years alone, more than 50,000 Belarusians have endured prisons and torture, including rape with police batons. About 300,000 Belarusians have left the country, he said.
"According to official data alone, today there are more than 1,400 political prisoners in Belarus," said Dzikawicki.
"In Belarus, you can get five years in prison because you put thumbs down on a social media post one and a half or two years ago. Stalinist terror is in effect there," he said.
'We need a victory over Russia'
The situation in Belarus directly depends on Ukraine defeating Russia, say analysts and opposition members.
Tsikhanouskaya over the weekend met with Canadian Defence Minister Anita Anand to request equipment for an estimated 500 Belarusian soldiers fighting in Ukraine against Russia.
"They need first aid kits, warm clothing, simple stuff that will help them to survive the coming winter," she said, according to AFP.
She was also set to ask for tougher sanctions against pro-Kremlin officials in Belarus in a Tuesday (November 22) meeting with Canadian Prime Minister Justin Trudeau.
Speaking with reporters ahead of her talks with Trudeau, she said she would also seek increased aid for Belarusian civil society, including independent journalists, as well as political prisoners and their families.
"Lukashenka will never repudiate Russia. He will turn away only when Russia suffers a military defeat," Yevhen Mahda of Kyiv, director of the Institute of World Policy think-tank, told Caravanserai.
"What's more, Lukashenka himself may face the end at that point. Ukraine will win, and the world community will be able to force him to leave office through economic sanctions," he said.
"After February 24, when Russian troops began to enter Ukraine from Belarus, everyone became convinced of what a Kremlin-controlled regime is and how important it is for it to be crushed. There is no safe Europe without a democratic Belarus," said Mahda.
"The most important scenario is victory over Russia, weakening of the Kremlin, and then the process of de-occupation of Belarus really begins -- the release of all political prisoners, the overthrow of a criminal government and the beginning of all democratic processes," said Frantskevich, the director of Free Belarus.
"After all, in reality, we need a victory over Russia no less than Ukraine does. Our future depends on it," said Frantskevich.