ALMATY -- Kazakhs' refusal to support Russia's invasion of Ukraine is leading to the cancellation of concerts and events scheduled by so-called "Z-stars".
The term refers to Russian celebrities who support the Kremlin's invasion, and invokes the "Z" that has become the main symbol of public support for the invasion.
Outrage by Kazakhs on social media this month prompted the cancellation of a concert by Russian pop singer Polina Gagarina, scheduled for next February in Astana.
Ads for the concert disappeared from Gagarina's website and from billboards in Kazakhstan after public criticism arose, Radio Free Europe/Radio Liberty's Kazakh service reported November 15.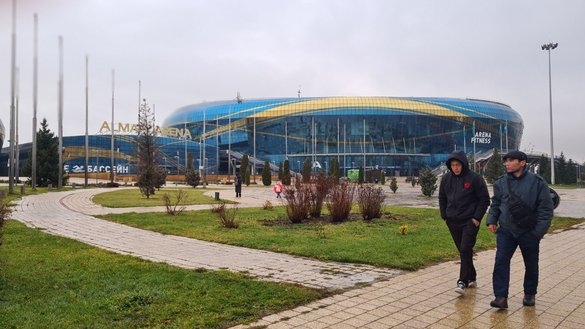 Gagarina has publicly supported Russia's so-called "special military operation" in Ukraine.
Additionally, in March, she sang at a Moscow concert dedicated to the eighth anniversary of the annexation of Crimea.
Criticism of the planned concert was harsh online.
"What's your motivation when you invite a famous Russian Z-artist to Kazakhstan, reserving the 12,000-seat Almaty Arena for her performance?" Vladimir Voloshin, an Almaty resident and editor in chief of Kazakhstan Business Magazine, wrote on Facebook on November 12.
He was addressing the concert organiser Jam.kz, a concert agency headed by Kazakh investor and producer Konstantin Gorozhankin.
"What gain (except money, of course) do you expect to receive after public opinion in our country forever links your agency's reputation to the Polina Gagarina concert you decided to organise," wrote Voloshin.
Concerts are a "component of state ideology" that local authorities should regulate, Zulfiya Baynekeyeva, a Atyrau-based journalist for newspaper Ak Zhaiyk, wrote in the comments of Voloshin's post.
"Is it also permissible to import Nazi ideologists under the guise of cultural activities? In short, what is [city hall] looking at?" asked Baynekeyeva.
"It's blasphemy and dancing on graves to go to a concert by Gagarina, Rozenbaum, Kirkorov and others like them at a time when children, women and the elderly are being killed in Ukraine," wrote Nurgul Abildina, a secondary school teacher in Karaganda, referring to other Russian artists.
"Think about how every tenge of yours fuels this cannibalistic war," she added.
Waves of discontent
Public outcry this month forced Shamil Alyautdinov, an imam at Moscow's Memorial Mosque, to cancel his planned trip to Kazakhstan.
Alyautdinov is known for his public support for Russia's policy of aggression and accuses Ukraine and the West of starting the war.
Kazakhs on social media criticised Alyautdinov's plans to speak at the New Reality business forum scheduled for December 4 in Astana.
"He has no business in Kazakhstan. The organisers must know that he is persona non grata in my country. We will not tolerate such miscreants," Askar Japarov, an Astana resident, wrote on Facebook.
Gani Uzbekov, an Almaty resident, suggested on Facebook that his compatriots "block" Alyautdinov and force the cancellation of that planned December 4 appearance.
Alyautdinov was ultimately forced to announce November 18 on Instagram that he would not fly to Astana in order "not to cause waves of discontent or create problems for the organisers and speakers".
"The provocateur, the source and organiser of this whole wave of lies and slander against me ... you know, God is your judge," Alyautdinov said in a video message.
"The haters themselves are gradually decaying and dying."
'Unwelcome guests'
Although the Kazakh government is maintaining a low profile regarding the war in Ukraine to prevent damaging relations with its neighbour Russia, the country's citizens are largely critical of Russian President Vladimir Putin's "mass murder" of Ukrainians, Yerlan Ismailov, a blogger from Astana, told Caravanserai.
"We [Kazakhs] cannot influence our government's foreign policy, but we can express our strong objections in the circumstances where we can," Ismailov said.
"Let Putin's supporters know they are unwelcome guests in Kazakhstan," he said.
Protests against the bloodshed in Ukraine have intensified among ordinary Kazakhs lately, Olzhas Beksultanov, an Almaty resident and youth activist with the Oyan, Qazaqstan (Wake Up, Kazakhstan) youth movement, told Caravanserai.
"If certain Kazakhs previously believed the propaganda that flows from Kremlin TV channels, many of them change their minds when they get information from international mass media outlets," Beksultanov said.
"We will not allow those who support the killing of civilians and children to roam about in Kazakhstan," he said.