ALMATY -- The European Union (EU) is prepared to help Central Asian nations step out from under the shadow of Russia, according to Josep Borrell, the EU's top diplomat.
Borrell at the European Parliament debate on EU-China relations in Strasbourg, France, on November 22 spoke about how Central Asian leaders are focusing their foreign policy on Europe more.
"The countries of Central Asia are looking at us, are waiting [for] our partnership, are waiting [for] our support because they do not want to be squeezed between China and Russia," Borrell said.
"They want to have a more balanced foreign policy."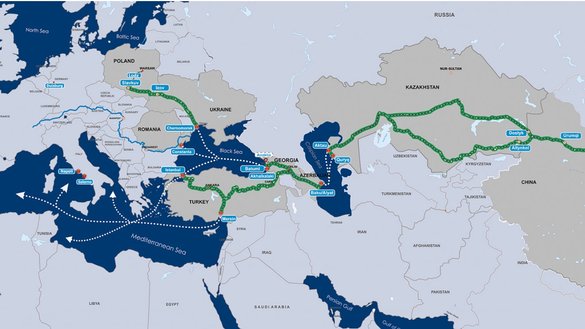 "This part of the world -- that, some years ago, could be considered to be 'in the middle of nowhere' -- now is 'in the middle of everything'," he said.
"This is a good example of how we can increase our partnership with people ... with whom we share a geo-strategic interest."
Borrell made his remarks after visiting Central Asia earlier this month.
His first stop was Astana on November 16–17, where he met with Kazakh President Kassym-Jomart Tokayev and Foreign Minister Mukhtar Tileuberdi.
Borrell then spent the next three days in Samarkand, Uzbekistan, where he chaired the 18th EU-Central Asia Ministerial Meeting.
In addition to general areas of co-operation such as trade, investment and green energy, the ministers discussed challenges to regional security, including the situation in Afghanistan and the negative repercussions for Central Asia of Russia's invasion of Ukraine.
Central Asia's geo-strategic significance is increasing, Borrell wrote on his official blog on November 20.
"These days, Central Asia is at the centre of events, in geo-strategic and geo-economic terms".
"It is obvious that the region is looking to diversify its relationships and that they see the EU as a partner of choice," he said.
"We must deepen our ties with the region and tap into the vast potential it has to offer, in terms of energy supplies, critical raw materials and new transport corridors that do not depend on Russia [the so-called Middle Corridor or Trans Caspian Corridor]," Borrell said.
In the past decade, the EU has invested more than €100 billion in Central Asia, a sum that makes it the largest source of foreign direct investment, far surpassing Russia and China, he noted.
"The key task is to build on these foundations and give a new impulse, while taking into account the fast changing geopolitical context," Borrell said.
Distancing from Russia
Central Asian states are trying either to drastically curtail their economic dependence on Russia -- to which they are bound through transportation and logistics infrastructure and close trade relations -- or to extricate themselves entirely.
The invasion of Ukraine, far-reaching Western sanctions, isolation on the world stage and the resulting economic crisis in Russia make the country an undesirable economic partner for Central Asia.
Borrell addressed this vulnerability at the EU-Central Asia Connectivity Conference in Samarkand on November 18.
"Having connections and options is good. But excessive dependencies and the absence of choice can come at a cost," Borrell said in his opening remarks, referring to ties with Russia.
Central Asian leaders are no longer hiding their dismay at Moscow's actions, from the invasion of Ukraine to the Kremlin's policies toward the region.
At the St. Petersburg International Economic Forum in June, Tokayev said in front of Russian President Vladimir Putin that Kazakhstan would never recognise the self-proclaimed republics in eastern Ukraine, which Moscow supports.
Then in October, at the Central Asia-Russia Summit, Tajik President Emomali Rahmon castigated Putin, who was sitting across from him, for his condescension toward the Central Asian countries and demanded that Putin respect them.
Such conduct by the region's leaders toward Putin -- at least in public -- would have been unimaginable in the past.
Dimash Aljanov of Almaty, a political analyst and consultant to the Organisation for Security and Co-operation in Europe (OSCE), told Caravanserai that rapprochement with the EU will offer excellent opportunities for the economic development of Kazakhstan, and enable it to strike profitable energy deals.
"And it's worth stressing that Kazakhstan and the EU also need to make a point of promoting human rights and political freedoms in Kazakhstan," he said.
Aljanov expressed hope that a key outcome of reinforcing the co-operation with the EU will be to bring Kazakhstan under the jurisdiction of the European Court of Human Rights.
European connections
Meanwhile, the European business community is already stepping up its activity in Central Asia.
Kyrgyz Deputy Minister of Energy Sabyrbek Sultanbekov said the French company EDF has expressed interest in resuming the stalled construction of the Kambarata-1 hydropower plant in Kyrgyzstan, 24.kg reported November 22.
The government has received "good proposals" from EDF, said Sultanbekov.
"If we build and launch Kambarata ... then we will immediately solve all our electricity problems," he said.
Russia and Kyrgyzstan in 2012 agreed to build the Kambarata-1 hydropower plant and the Upper Naryn hydropower cascade.
However, Russia halted work when oil prices dropped in 2015.
A year later, Kyrgyzstan was compelled to unilaterally abrogate the agreement with Russia.