MANAMA -- Gen. Michael "Erik" Kurilla, the chief of US Central Command (CENTCOM), earlier this month highlighted the growing role of drones in ensuring the security of the Middle East and beyond.
Speaking in Bahrain on November 19, Kurilla said a US-led task force will deploy more than 100 unmanned vessels in the Gulf region's waters in the next year to stave off maritime threats.
He made his remarks at the 18th International Institute for Strategic Studies' Manama Dialogue, which was held November 18-20.
"We have the technological capability right now to rapidly improve maritime domain awareness and build an integrated unmanned and artificial intelligence network to achieve safer seas and stronger protection for global trade," Kurilla said.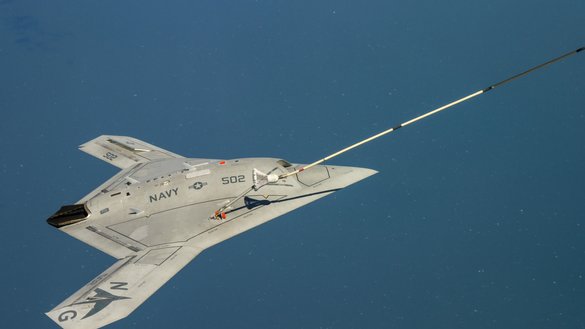 "By this time next year, Task Force 59 will bring together a fleet of over 100 unmanned surface and subsurface vessels operating together, communicating together and providing maritime domain awareness," he said.
"At least 80% of these unmanned vessels will come from our partnered forces," he added, noting that "the number of partnered countries continues to grow".
Launched September 2021, Task Force 59 was created in Bahrain, home to the US Navy's 5th Fleet, to integrate unmanned systems and artificial intelligence into Middle East operations following a series of drone attacks blamed on Iran.
It incorporates airborne, sailing and underwater drones and relies on regional and coalition partnerships, US Navy Central Command (NAVCENT) said.
Its mandate is to develop and integrate unmanned systems and artificial intelligence (AI) as a means to enhance maritime domain awareness and increase deterrence.
'At sea, on land, and in the sky'
Additionally, Kurilla said, Task Force 39, a ground-based innovation task force, "will test concept and technology toward a fleet of unmanned land vehicles that allows us to use our manned ground vehicles more effectively".
Task Force 99, based in Qatar, meanwhile operates in the air domain, with a fleet of unmanned aircraft that "will impose dilemmas on our adversaries and detect and defeat threats to our systems, and to our partners", he added.
"The sensors on these unmanned systems will constantly pick up information, giving us eyes and ears at sea, on land, and in the sky at all times," Kurilla said.
"Combined, these unmanned systems will operate on the same meshed network, feeding reams of data into an AI programme that sorts it all out, makes sense of it, and pushes critical information to analysts in real time," he said.
"Those analysts are sharing this information with partnered forces, all of whom share the same threat picture and the same information."
"As drone technology advances, adversary drones now serve as perhaps the greatest technological threat to regional security," Kurilla said in Bahrain.
"Our experimentation partnership, here in the Middle East, will focus on new capabilities, new technologies and new techniques to defeat these systems."
"More importantly, our international and regional partners are on this journey with us -- especially Bahrain," he said. "Task Force 59 teamed with Bahrain last year, and we have established a hub here along with one in Aqaba, Jordan."
Last month, Bahrain participated in a naval drill in the Gulf where seven crewed ships from Saudi Arabia, Bahrain, the United Kingdom and the United States teamed with unmanned systems, Kurilla said.
"This is one of many examples that underscore that our forces are realising the future right now -- and doing it together."
"For us, innovation is not only about artificial intelligence, machine learning and directed energy. It's not solely about the employment of new technology, either," he added.
"Our culture of innovation is about working with partners in the region on new processes, new ways of thinking about security, new procedures, new thoughts, and new concepts … and new technology."
"Innovation allows us to posture our forces better, to sense the environment better and to deter and defeat threat actors more effectively."
"That is why we need all partners in the region to innovate with us. Together, through innovation, we all can do much more to advance the stability of the region," Kurilla said.
Countering regional threats
The United States is reinforcing defence infrastructure in the Middle East as it seeks to deter "imminent threats" in the region, other top US military officials told the annual Manama Dialogue conference.
"The United States is now actively building and enabling an integrated air and maritime defence architecture in this region," US National Security Council co-ordinator for the Middle East and North Africa Brett McGurk said November 20.
"Something long talked about is now being done, through innovative partnerships and new technologies," he said.
US forces have "exposed and deterred imminent threats" by Iran, McGurk said, confirming earlier reports that the Islamic Republic was planning an attack against Saudi Arabia.
"That attack likely did not emerge because of the close security co-operation between Saudi Arabia and the United States, which is ongoing and continuous," he explained.
The United States and Israel on November 16 blamed Iran after an apparent drone strike hit a tanker operated by an Israeli-owned firm carrying gas oil off the coast of Oman.
"This UAV [unmanned aerial vehicle] attack against a civilian vessel in this critical maritime strait demonstrates, once again, the destabilising nature of Iranian malign activity in the region," Kurilla said at the time.
The attack is the latest in a string of disruptions in Gulf waters that are a major route for world energy supplies.
Drones manufactured and supplied by Iran have flooded countries around the region that host Iran-backed militias.
Lebanese Hizbullah specialists have been training members of the Fatemiyoun Division on operating drones in the Syrian Badiya (eastern desert), near Palmyra, according to recent reports.
In Yemen, the Iran-backed Houthi militia has used Iranian drones on many occasions to strike installations in Saudi Arabia and the United Arab Emirates.
In Iraq, Iran-backed militias have used Iranian drones for years to hit foreign military bases and targets in the Arabian Gulf.