BUCHAREST, Romania -- Allies of Ukraine pledged earlier this week to support its energy infrastructure as Russia continues to target key electrical sites amid winter weather.
US Secretary of State Antony Blinken on Wednesday (November 30) condemned Russia's missile attacks on Ukraine's civilian infrastructure as "barbaric".
"Over the past several weeks, Russia has bombed out more than a third of Ukraine's energy system, plunging millions in the cold," Blinken said after a meeting with NATO counterparts in Bucharest, Romania.
Nine Ukrainians have died in accidental fires over the past 24 hours, authorities said Wednesday, as outages due to Russian strikes force Ukrainians to find alternate heating sources.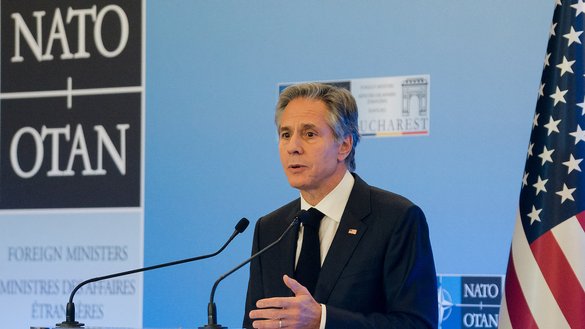 The blackouts have led to a spike in accidents "due to the violation of fire safety rules", the country's state emergency service said.
"These are [Russian] President [Vladimir] Putin's new targets. He's hitting them hard. This brutalisation of Ukraine's people is barbaric."
Western allies are setting up a co-ordination group to synchronise their support to restore Ukraine's infrastructure, said Blinken.
The United States supported "the need for a just and durable peace" in Ukraine, but Moscow's strikes showed it had no interest in achieving that, said Blinken.
"Russia's savage attacks on Ukrainian civilians are the latest demonstration that President Putin currently has no interest in meaningful diplomacy," Blinken said.
"Short of erasing Ukraine's independence, he will try to force Ukraine into a frozen conflict, lock in his gains, rest and refit his forces and then at some point re-attack again."
NATO chief Jens Stoltenberg Tuesday warned that Russia was using winter as a "weapon of war" against Ukraine, as Western allies meeting in Bucharest planned to help Kyiv mend its ravaged power grid.
"The message from all of us will be that we need to do more" to help Kyiv fix its gas and electricity infrastructure and provide air defence to help it protect itself better, said Stoltenberg.
He said he expected Russia to carry out more attacks on Ukraine's grid as the Kremlin suffers defeats on the ground and warned Europe should "be prepared for more refugees".
"Russia is actually failing on the battlefield. In response to that they are now attacking civilian targets, cities because they're not able to win territory," Stoltenberg said at the start of the two-day meeting.
"This targeting of civilian infrastructure, of energy infrastructure is obviously designed to try and freeze the Ukrainians into submission," said British Foreign Secretary James Cleverly.
"I don't think it'll be successful."
US aid
Washington is planning aid to help Ukraine recover from the Russian missile strikes on its infrastructure.
"The United States government is providing over $53 million to support acquisition of critical electricity grid equipment," the US State Department said in a statement on Tuesday.
"This supply package will include distribution transformers, circuit breakers, surge arresters, disconnectors, vehicles and other key equipment," said the statement.
"This new assistance is in addition to $55 million in emergency energy sector support for generators and other equipment to help restore emergency power and heat."
A senior US official said the assistance would "not be the end" and pointed out the Biden administration had budgeted $1.1 billion for energy spending in Ukraine and neighbouring Moldova.
Germany will provide Ukraine with more than 350 generators, a government spokesman said Tuesday, after Russian missile strikes severely damaged Ukrainian energy infrastructure.
Chancellor Olaf Scholz spoke to Ukrainian President Volodymyr Zelenskyy and said Germany would dispatch the generators, as well as provide financial assistance to repair energy infrastructure worth €56 million ($57 million), government spokesman Steffen Hebestreit said.
War crimes
Meanwhile, German Justice Minister Marco Buschmann said Tuesday that Russian missile strikes on energy infrastructure in Ukraine constituted a "war crime".
"Systematic destruction of the heating and electricity supply" ahead of the coldest months of the year was a "terrible war crime", Buschmann told reporters.
"Many people will fall victim to the winter," Buschmann said after the first meeting of G7 justice ministers, which was attended by the Ukrainian justice minister and prosecutor general.
Ukrainian investigators have already documented "almost 50,000 war crime cases" since the start of the invasion in February, Buschmann said.
European Union (EU) chief Ursula von der Leyen on Wednesday floated the idea of a "specialised court" to put Russia's top officials on trial over the war in Ukraine.
"While continuing to support the International Criminal Court [ICC], we are proposing to set up a specialised court backed by the United Nations to investigate and prosecute Russia's crime of aggression," she said.
But the initiative faces formidable legal and political obstacles.
The main problem is that the ICC does not have jurisdiction over Russia's "crimes of aggression" -- its invasion and war in Ukraine -- because Moscow is not a signatory to the court's treaty.
That tribunal therefore may judge only specific cases of war crimes and crimes against humanity perpetrated in Ukraine, but even then Putin and his prime minister and foreign minister enjoy immunity from prosecution while in office.
The only way the ICC can be called in to judge Russia's war is through a decision by the United Nations Security Council -- something that is impossible because Russia, with its permanent seat on the council, would veto it.
To get around that, von der Leyen is proposing to have a court set up in an EU country that could tackle Russia specifically on the crime of aggression, while leaving war crimes and crimes against humanity to the ICC.
The chief of staff to Zelenskyy, who has pushed for such a tribunal, hailed von der Leyen's words Wednesday and said: "Russia will pay for crimes and destruction. They will not avoid it."