TASHKENT -- A Russian proposal to form a trilateral natural-gas union with Kazakhstan and Uzbekistan has drawn scepticism from observers in both countries.
Kazakh President Kassym-Jomart Tokayev first disclosed the existence of the proposal on November 28 during his first official visit to Moscow after being reelected days earlier.
"[Russian President] Vladimir Putin and Kassym-Jomart Tokayev discussed the creation of a 'trilateral gas union' consisting of Russia, Kazakhstan and Uzbekistan in order to co-ordinate actions when transporting Russian gas through Kazakhstan and Uzbekistan," Ruslan Zheldibay, Tokayev's spokesman, said a day later, as quoted by Tengrinews.kz.
Russian Deputy Prime Minister Alexander Novak that same day confirmed to journalists that the leaders discussed the possibility of a gas union among Russia, Kazakhstan and Uzbekistan, TASS reported.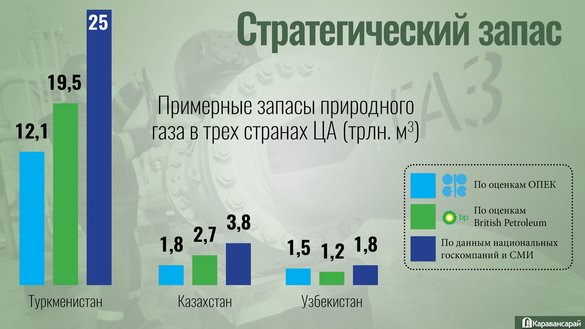 The union would involve co-operation in transportation, exports and gas processing, as well as other areas, he said.
"Yes, such areas of co-operation are being considered, since Russia, Kazakhstan, and Uzbekistan have had a common gas transport system since the USSR," said Novak.
China could become an export destination for gas and gas products, he added.
The proposal "needs to be studied", said Tokayev.
Meanwhile, for its part, the government in Tashkent has remained silent on the matter.
While Novak during a visit to Samarkand last Friday (December 2) claimed that Uzbekistan was interested in the union, not a single Uzbek politician has openly discussed the matter.
Controlling Central Asia
The idea of the union was not co-ordinated with Tashkent (or Astana) but rather arose impromptu during Tokayev's visit, taking everyone in Central Asia by surprise, said Alisher Ilkhamov, director of Central Asia Due Diligence in London.
The Kremlin is "highly concerned" about a potential alliance between Kazakhstan and Uzbekistan that would address potential Russian military threats, according to Ilkhamov.
Such an alliance could come under the influence of Turkey or even other NATO countries, he said.
When former Uzbek and Kazakh presidents Islam Karimov and Nursultan Nazarbayev formed the Central Asian Union in 1993, the Kremlin undermined the project by "inviting" itself to join, he noted.
Moscow would later effectively impose its leadership, resulting in the creation of the Collective Security Treaty Organization (CSTO) and Eurasian Economic Union (EEU or EAEU).
Russia intends to tightly control energy flows in the post-Soviet space, according to Tashkent political scientist Kamoliddin Rabbimov.
"It already controls Uzbekistan's and Turkmenistan's pipelines. Accordingly, if a union forms, Ashgabat will have no choice but to join it," he told Caravanserai.
"Russia controls Central Asia, and now it wants to control the sale and purchase of energy in China."
Russia has long used gas as an instrument of political influence and extortion, said Meruert Makhmutova, director of the Public Policy Research Centre in Almaty.
"Now, having essentially lost the European market, the Kremlin is looking for new markets. This explains why it proposed a gas union to Kazakhstan and Uzbekistan," said Makhmutova.
Today Putin finds himself in an exceptionally difficult, unpleasant and generally bad situation, Aidar Alibayev, a Kazakh economist, told Caravanserai.
A crushing array of sanctions and international isolation, plus the European Union's declaration of Russia as a state sponsor of terrorism, all put serious pressure on him, he said.
Russia has been under an international cloud since it invaded Ukraine February 24.
"Under these circumstances, any union, in any domain, with neighbours in the CIS is, for him, like a breath of fresh air and an indication that not all is lost for the country. That Russia is not an outcast, that it can be friends with someone else," said Alibayev.
Kazakhstan is a member of the EEU, CSTO and Shanghai Co-operation Organisation (SCO), but these unions formed long ago, he said.
"How can it now conclude an agreement with a state that has been declared a terrorist?"
"Neither country needs this union today," Alibayev said, meaning Uzbekistan and Kazakhstan.
Wrong move
Uzbekistan and Kazakhstan are most likely to quietly reject Russia's proposal, said the analysts.
In terms of gas, the union does not correspond to Uzbekistan's interests at all, neither politically nor economically, according to Ilkhamov.
Moreover, it harms them. After entering a gas union, Tashkent would have to co-ordinate with Moscow regarding its plans for developing alternative trade and logistics routes and co-operating with NATO countries in security and defence, he said.
That means Tashkent would have to receive (or not) the Kremlin's blessing for its actions.
In Kazakhstan, 80% of gas is produced by a consortium of Western companies with KazMunayGaz's (Kazakhstan's state-owned oil and gas firm) involvement. They are unlikely to tie themselves to projects that may face sanctions, Makhmutova noted.
"The country's domestic consumption of [gas] grows every year. It is expected that Kazakhstan will no longer have gas available for export after 2025," she added.
Kazakhstan's only potential benefit from the Russian-proposed gas bloc is "earning income from serving as a transit route for gas. But, given the above, the stability of such income is doubtful," Makhmutova told Caravanserai.
Makhmutova is also convinced that Tashkent's position will be close to that of Astana.
It faces the "same risks as Kazakhstan": the need to meet its own growing consumption of gas and the risk of secondary sanctions as international punishment for trading with Russia, she said.
It is an unjustified risk to sign any pacts with Russia, which "has grossly violated signed international agreements, like the Budapest Memorandum", Makhmutova added, referring to the 1994 treaty under which Ukraine gave up its nuclear weapons in return for security guarantees from Russia.
Uzbekistan does not want to join the gas union, agreed Rabbimov the political scientist.
Uzbekistan has already strengthened relations with the "collective West" and its own neighbours, he said.
"I think that Central Asia, especially the Uzbekistan-Kazakhstan duo, will strengthen its trend toward the West. The proposal to create an energy union will be rejected very smoothly and diplomatically," said Rabbimov.