Ukrainian forces said Wednesday (December 14) they had shot down a swarm of Iranian-made drones launched at Kyiv by Russian forces, giving further credence to recent warnings about deepening Iran-Russia military ties.
Explosions rang out over a central neighbourhood in the Ukrainian capital in the early hours of Wednesday, where law enforcement and emergency service workers later inspected metal fragments at an impact site.
"The terrorists started this morning with 13 Shaheds," Ukrainian President Volodymyr Zelenskyy said, referring to the Iranian-manufactured drone series.
"According to the preliminary information, all 13 were shot down by our Ukrainian air defence systems."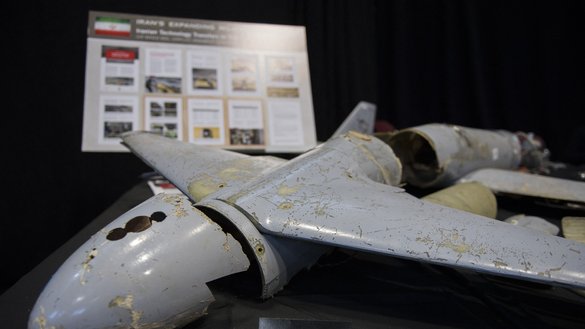 Residents of Kyiv, which has been subjected to nearly 10 months of air raid sirens and frequent aerial attacks since Russia invaded the country in February, should stay alert to government warnings of incoming attacks, he said.
Kyiv region officials praised the Ukrainian air defence and electronic warfare units for downing the latest wave of suicide drones.
US ambassador to Ukraine Bridget Brink said following the attacks that Kyiv could continue to rely on Washington's backing.
"More support is on the way," she wrote on Twitter.
Missile and drone attacks
Kyiv Mayor Vitali Klitschko announced on social media at 6.41am local time that "explosions" had been heard in the central district of Shevchenkivskyi and that emergency services were responding.
"Debris from downed drones hit one administrative building and four more residential buildings suffered minor damage. No one was injured," said Sergiy Popko, the head of the Kyiv regional military administration.
Since a series of key battlefield setbacks this summer and autumn, Russia has been pummelling critical infrastructure across Ukraine with missiles and drones, plunging millions into cold and darkness in winter.
Moscow last week also targeted Ukrainian energy infrastructure, piling pressure on the country's power grid, whose operators have for weeks been forced to implement rolling blackouts.
Ukrainian Prime Minister Denys Shmyhal said this week that between 40 and 50% of the country's grid was out of action because of Russia's strikes.
The European Union on Monday imposed fresh sanctions on Iran, including for drone supplies to Russia.
The United States in September sanctioned an Iranian air transportation service provider that helped ship drones to Russia for use in Ukraine, and later warned it would impose further sanctions on those working with Iran's drone programme.
'Sordid deals with Moscow'
The United Kingdom on Tuesday announced new sanctions against senior Russian military commanders and Iranians involved in producing and supplying drones to target Ukraine.
The government said 12 top Russian military officials would be subject to assets freezes and travel bans, including Maj. Gen. Robert Baranov, who is said to be in charge of a unit programming and targeting cruise missiles.
The Foreign Commonwealth and Development Office (FCDO) said more than 6,000 Ukrainian civilians are thought to have been killed since the Russian invasion in February, mainly as a result of missile and artillery strikes.
"Intentionally directing attacks against civilians and civilian objects is a serious violation of international humanitarian law. Those responsible must be held to account," it said.
Iranian-manufactured drones supplied to Russia have played a "central role" in such attacks, the FCDO said.
UK Foreign Secretary James Cleverly said the Iranian regime was "striking sordid deals" with Moscow "in a desperate attempt to survive".
The latest UK sanctions target four Iranians, including the managing director of the company that manufactures engines for drones used by Russia to attack Ukraine, Cleverly said.
On Monday, Cleverly accused Russian President Vladimir Putin of "waging a 19th-century war of imperial conquest" against its neighbour.
"Putin's goal is to turn back the clock to the era when might was right and big countries could treat their neighbours as prey," he added.
Russia's top military backer
In a December 9 security briefing, White House National Security Council spokesman John Kirby warned that Iran and Russia had entered into "a full-fledged defence partnership".
This poses a threat to Ukraine, Iran's neighbours and the world, he said.
"Iran has become Russia's top military backer," Kirby said, noting that Iran has transferred several hundred unmanned aerial vehicles (UAVs) to Russia, which Russia has been using to attack Ukraine's infrastructure and kill civilians.
The drone sales "commenced after Russia's full-scale invasion of Ukraine, and Iranian drones are being used specifically to bolster Russia's capabilities there", he said.
"Russia has been using Iranian drones to strike energy infrastructure, depriving millions of Ukrainians power, heat, critical services. People in Ukraine today are actually dying as a result of Iran's actions."
"We expect Iranian support for the Russian military to only grow in coming months," he warned. "We even believe that Iran is considering the sale of hundreds of ballistic missiles from Iran to Russia."
"We've also seen reports that Moscow and Tehran are considering the establishment of a joint production line for lethal drones in Russia. We urge Iran to reverse course, not to take the steps," he said.
Kirby also warned that the military support is flowing both ways, with Russia seeking to collaborate with Iran in areas such as weapon development and training, and potentially providing Iran with advanced military components.
He said Iranian pilots have been reportedly training in Russia to learn how to fly the Su-35, in a sign that Iran may begin receiving aircraft within the next year.