TAIPEI -- Taiwan on Tuesday (December 27) announced an extension of its mandatory military service from four months to one year, citing the threat from an increasingly hostile China.
China's sabre-rattling has intensified in recent years under President Xi Jinping, and Russia's invasion of Ukraine has further deepened worries in Taiwan that Beijing might move similarly to annex the island.
Beijing considers self-ruled, democratic Taiwan a part of its territory, to be taken one day -- by force if necessary -- and the island lives under the constant fear of a Chinese invasion.
China's "intimidation and threats against Taiwan are getting more obvious", President Tsai Ing-wen told a news conference after a high-level government meeting on national security.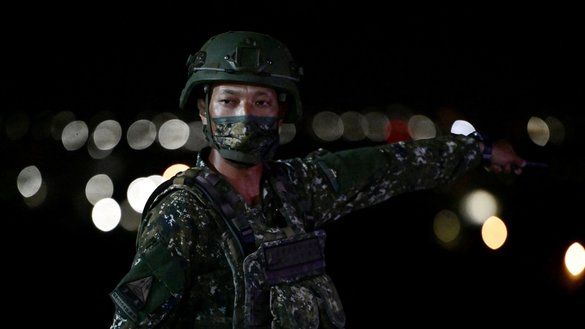 "No one wants war ... but my fellow countrymen, peace will not fall from the sky."
"The current four-month military service is not enough to meet the fast and ever-changing situation," she said. "We have decided to restore the one-year military service from 2024."
The extended requirement will apply to men born after January 1, 2005, Tsai added.
Mandatory service used to be deeply unpopular in Taiwan, and its previous government had reduced it from one year to four months with the aim of creating a mainly volunteer force.
But recent polling showed more than three-quarters of the Taiwanese public now say that is too short.
Tsai described the extension as "an extremely difficult decision ... to ensure the democratic way of life for our future generations".
Extra measures needed
The prospect of a Chinese invasion has increasingly worried world leaders, and especially many of China's neighbours.
Xi, China's most authoritarian leader in decades, has made clear that what he calls the "reunification" of Taiwan cannot be passed on to future generations.
Taiwan and China split at the end of the Chinese Civil War in 1949, and Tsai has said becoming a part of China is not acceptable to the people of the island.
Taiwan is a mountainous island and would present a formidable challenge to an invading force, but it is massively outgunned with 89,000 ground troops compared with China's one million, according to a Pentagon estimate released last month.
Beijing also has a huge advantage in military equipment.
Taiwan has stepped up reservist training and increased its purchases of warplanes and anti-ship missiles to bolster its defences. But analysts have said that is not enough.
The island needs to go further than just extending mandatory service, said J. Michael Cole, a Taipei-based analyst.
"Given the threat level and the example of Russia in Ukraine, I hope the Taiwanese public realises that such measures are needed," he told AFP.
"The threat that Taiwan faces is just as existential."
Chinese incursions
The military service announcement on Tuesday came two days after China deployed 71 warplanes, including dozens of fighter jets, in weekend military exercises around Taiwan.
China's People's Liberation Army said it had conducted a "strike drill" on Sunday in response to unspecified "provocations" and "collusion" between the United States and Taiwan.
Those drills were one of the largest since they started releasing daily tallies, according to the Taiwanese Defence Ministry.
Sixty fighter jets took part in the drills, including six Su-30 warplanes, some of China's most advanced, Taiwan said in a post on Twitter.
Moreover, 47 of the sorties crossed into the island's air defence identification zone (ADIZ), the third-highest daily incursion on record, according to AFP's database.
One of the pressure tactics China has increasingly used is probing Taiwan's ADIZ with its warplanes.
There have been more than 1,700 such incursions so far this year, compared with 969 in 2021, according to the AFP database. Taiwan's Defence Ministry said it recorded about 380 incursions in 2020.
China did not specify the number of aircraft mobilised for Sunday's exercises or the exact location of the manoeuvres.
Taiwan's Defence Ministry said on Sunday that co-operation between Taipei and Washington would "help [maintain] freedom, openness, peace and stability" in the Indo-Pacific region.
The United States has stepped up support for Taiwan including a bill this month that authorised $10 billion in military aid, to which Beijing expressed "strong opposition".
Authoritarian agenda
Meanwhile, China and Russia have become increasingly close diplomatically and militarily, with each supporting the other's transgressions in world bodies such as the United Nations, and holding joint military drills at strategic times.
Such co-operation comes at a time as even long-time Central Asian allies have turned their backs on Moscow following its invasion of Ukraine.
Russian President Vladimir Putin and Xi in a meeting earlier this year vowed to stick together in a "new era" of global political and military order.
"Friendship between the two states has no limits," they said in a joint statement released after a meeting on February 4 on the opening day of the Beijing Winter Olympics. "There are no 'forbidden' areas of co-operation."
They also said there is "no one-size-fits-all" type of democracy -- a convenient assertion for Moscow and Beijing.
"Russia and China stand against attempts by external forces to undermine security and stability in their common adjacent regions, intend to counter interference by outside forces in the internal affairs of sovereign countries under any pretext, oppose colour revolutions, and will increase co-operation," the statement said.
Russia invaded Ukraine later that month on February 24.