TASHKENT/ASHGABAT -- Amid the backdrop of the war in Ukraine and the ensuing international sanctions against Russia, Central Asian states are actively looking for alternative transport corridors to reach Europe and beyond.
This search stems from the desire to be less dependent on the Kremlin and to increase co-operation directly with the European Union.
Russia's invasion of Ukraine has greatly complicated freight transportation through Russia, a route on which the ex-Soviet states depended to trade with Europe.
The war has consequently forced some countries to fast-track use of the new Trans-Caspian International Transport Route (TITR) -- also known as the Middle Corridor -- which opened in 2017 and completely skirts Russia.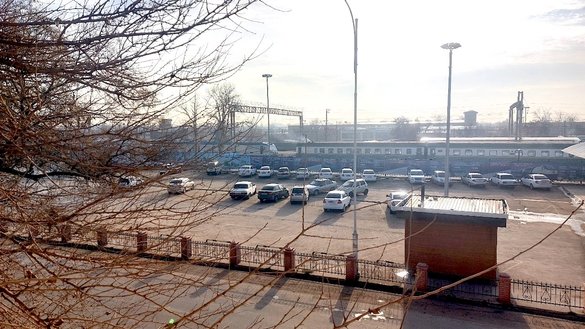 A journey beyond the two seas
Uzbekistan this month dispatched an inaugural train along a new section of the route.
A train comprising 46 freight cars and 91 containers and bearing a load of copper concentrate -- output from the Almalyk Mining and Metallurgical Combine -- left the Sergeli shipping centre in southern Tashkent on December 16, according to Uzbek Railways.
Others, like Kazakhstan, have begun exploring ways to expand this route in order to completely shed their dependence on overland routes through Russia.
In eastern Turkmenistan, Turkmen railway workers on December 18 met the Europe-bound container train and steered it all the way to Turkmenistan's Caspian Sea coast.
A ferry carried the train across the Caspian Sea to Azerbaijan. The rest of the route includes Georgia, transport by ferry across the Black Sea, and finally, the seaport of Burgas, Bulgaria.
The journey will exceed 4,000km.
"The train is expected to be en route for 25 to 30 days," said Alisher Baltabayev, an Uzbek Railways spokesman.
This inaugural train did not encounter problems en route or during maintenance on the Middle Corridor, said Suleiman Rejepov, chief specialist at Turkmenistan Railways.
"Everything went fine," he said.
"[This was] the first time we operated as one link in the new transport corridor to Europe," Rejepov said. "I can now say confidently that the Turkmen section of this profitable route to Europe will also be reliable going forward."
The TITR -- which stretches more than 11,000km -- starts from the Chinese coast and carries freight as far west as Poland. One branch runs through Kazakhstan and crosses the Caspian Sea to Azerbaijan and Georgia. Another branch runs through Uzbekistan and Turkmenistan before crossing the Caspian.
It has the capacity to transport 27 million tonnes of cargo annually, according to Middlecorridor.com.
Profitable and secure
Interest in the TITR spiked briefly in 2021 when a container ship notoriously ran aground in the Suez Canal, bringing international shipping to a standstill for six days.
The TITR was less popular in the past because of its distance and the need to offload trains onto ferries.
But the TITR has again begun to attract more attention from cargo shippers and recipients across Eurasia in light of Russia's invasion of Ukraine, say shipping and transport analysts.
The inaugural Uzbek train to Europe bypassing Russia, as well as monthly increases of freight tonnage on the route, confirms its new status.
The amount of cargo transported on the TITR in the first quarter of 2022 was 123% higher than in the first quarter of 2021, according to Azerbaijani data.
Russian President Vladimir Putin has turned his country into a pariah, say shipping analysts.
If Moscow does not withdraw its forces from Ukraine soon, Russia will end up isolated in transport and logistics, they predict.
"Anyone who thinks straight is trying to bypass Russia when it comes to trade, cargo transport and energy transport," Rejepov said.
More and more countries want nothing to do with Russia, he said.
"We can now forget about the traditional transport route through Russia because the war that was started in Ukraine has made it [the route] dangerous and unstable," he said.
"Russia has painted itself into a logistical corner with its imperialist ambitions and aggressive policies."
Alternative routes
Until now, the main corridor for international rail freight from Uzbekistan passed through Kazakhstan and then Russia and Belarus.
It is the shortest route for sending cargo to the Baltics and the rest of Europe, but it exposes exporters to Russian misbehaviour.
December 5 marked the beginning of another "maiden voyage" from Tashkent to Klaipeda, Lithuania, according to a Telegram announcement by the Uzbek shipping firm Uztemiryolkonteyner. That inaugural train carried 80 containers of mineral fertilisers.
"Uzbekistan is an extremely attractive partner for Lithuania, since it produces many goods that are in demand in Europe, which Lithuania could import or supply to other countries," Tautginas Sankauskas, vice president of the Vilnius Chamber of Commerce, Industry and Crafts, said in July, according to LRT.lt.
Those commodities include fertilisers and building materials, as well as agricultural, metallurgical and other products.
Freight can go in the other direction too.
On December 3, an inaugural 40-car freight train from Izmir, Turkey, arrived in Tashkent with a cargo of household appliances and refrigeration equipment. Its 4,500km route, which crosses Iran and Turkmenistan, takes 25 days.
In Uzbekistan, the new route is already said to be the fastest and most convenient for local exporters and importers.
Such trains will initially run once a month and later up to twice a month, media reports indicate.
Following Uzbekistan's lead
Other Central Asian countries will follow Uzbekistan's lead in trying new routes, predicted Rejepov.
Kazakhstan intended to start selling some of its oil through Azerbaijan starting in September, Reuters reported in August. Until recently, it depended almost entirely on the Caspian Pipeline Consortium (CPC) pipeline, which runs from Tengiz oil field, Kazakhstan, to Novorossiysk, Russia.
At a trilateral summit in Avaza, Turkmenistan, on December 14, the presidents of Turkmenistan, Azerbaijan and Turkey discussed exploiting the potential of existing alternatives to Russian cargo routes, as well as the possibility of bypassing Russia to ship Turkmen natural gas to Europe.
Turkmenistan has liquefied gas, diesel fuel, gasoline and other petrochemicals to offer, Rejepov said.
A key objective for Central Asian states is to develop or implement transport routes to Europe, said Fikret Shabanov of Vancouver, Canada, president of Consultations on International Policy and Economy.
By developing more transport corridors, Uzbekistan gains flexibility in choosing sources for products that its economy needs and avoids transit fees charged by Russian railways, he said.
"That cost has always been high because of the Kremlin's politically monopolistic attitude towards the countries of the former [Soviet Union]," he said.
"Russia has openly profited by lowering prices [on Uzbek goods] and by creating various joint ventures," Shabanov said. "Uzbekistan could export only through the joint ventures."
Opening new transport corridors is vital for Central Asian countries, said Nigara Khidoyatova, an Uzbek politician living in the United States.
"New transport corridors will shape the future and play a global role in the development of Central Asian countries, as the Silk Road once did," she said.