TASHKENT -- Uzbekistan is looking towards the West to develop strategic partnerships in trade, wary of Russia's attempts to isolate it from more-promising global markets, say analysts.
As part of this shift, Uzbek authorities are forging ahead to secure agreements with the United States, European Union (EU) and international non-governmental organisations.
After the second Strategic Partnership Dialogue between the United States and Uzbekistan, which took place in Washington, DC, on December 13, the parties issued a joint statement outlining the main areas of renewed co-operation.
US Assistant Secretary of State for South and Central Asian Affairs Donald Lu and Uzbek Foreign Minister Vladimir Norov headed their respective delegations.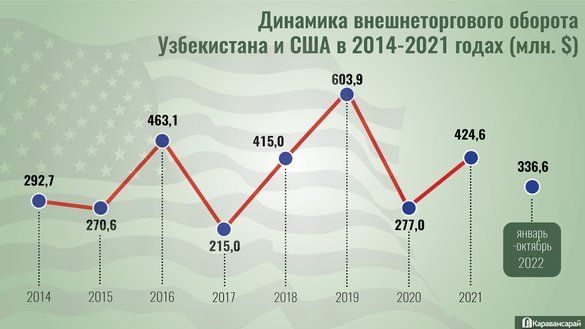 Areas of co-operation include establishing alternative trade routes -- Tashkent is actively seeking and testing transport routes that bypass Russia; diversifying import and export markets; combating the effects of climate change; and expanding economic opportunities for Uzbek women.
The United States is eager to support Uzbekistan in all these areas.
The delegations also discussed protecting freedom of speech and of the press in Uzbekistan, as well as organising and supporting civil society.
Security was also on the agenda -- specifically, the situation in Afghanistan and shoring up border protection and national defence capabilities.
Improving trade relations
Trade between the United States and Uzbekistan started to pick up again after the pandemic-induced lull of 2020. During the talks in Washington, the delegations weighed opportunities for increasing and diversifying this trade.
Talks also focused on investment, cutting-edge technologies and hopes for attracting American manufacturers and agribusinesses.
Improvement in Uzbek cotton-farming practices won recognition from Washington this year.
In September, the US Bureau of International Labor Affairs updated its global list of goods produced by child labour or forced labour, and removed Uzbekistan's cotton sector from the list after finding significant reductions in the prevalence of forced labour.
Washington is also willing to help Tashkent accelerate the process of joining the World Trade Organisation (WTO), which would mean gaining most favoured nation status.
Only three of the 15 former Soviet states do not belong to the WTO: Belarus, Turkmenistan and Uzbekistan.
Changing priorities
One of the most promising announcements in recent weeks is the planned return to Uzbekistan of the Peace Corps, which operated in the country from 1992 until 2005.
The volunteer organisation is working out the details of its return, US Ambassador to Uzbekistan Jonathan Henick said in November, as reported by Gazeta.uz.
The Peace Corps left Uzbekistan in 2005 after a dispute over human rights.
In the past, Peace Corps volunteers were assigned to projects related to education, the environment (such as purifying drinking water), health (combating AIDS) and small businesses.
Reviving Peace Corps activity in Uzbekistan is an excellent sign, said Anvar Nazirov of Tashkent, a political analyst.
International organisations working to support independent media, such as Internews and Freedom House, should return too, he said, adding that organisations involved in gender issues, children's rights, the fight against forced labour and other human rights issues are also welcome.
"It is vital for Uzbekistan to co-operate with developed European countries, the United States and Canada to counterbalance Russia and China," Nazirov said. "It should really be the priority."
Moscow's attempts to isolate Uzbekistan
The Uzbek government is also taking steps to diversify its foreign trade and set up trade and transport routes that bypass Russia, said Alisher Ilkhamov, director of the London-based Central Asia Due Diligence.
Uzbekistan is beginning to set up alternative routes, he said, adding that the process will take years.
Russia remains Uzbekistan's top trading partner, obstructing Uzbekistan's efforts to co-operate with the much more dynamic economies of East Asia, Western Europe and North America.
Over the past year, Uzbekistan's exports to Russia jumped by 50% in volume, according to official statistics. One factor that has contributed to this increase is the Kremlin's emerging interest in evading Western sanctions -- and making Uzbekistan an accomplice.
"To do that, Moscow is trying to conduct its foreign trade by relocating its businesses to other countries, first and foremost to Central Asia and the Trans- Caucasus," Ilkhamov said.
This year, Russia imported $20 billion worth of goods through so-called parallel trade deals, which allow it to buy prohibited products from countries that already purchased them from Western manufacturers.
"Moscow is most likely also using Uzbekistan as a channel for parallel importing," Ilkhamov said, warning about the risks of engaging in such deals.
"The growth of this kind of trade is plainly bringing Tashkent dividends -- but only in the short term," he said. "In the long term, it will undermine the foundations of its sovereignty and end up isolating it from more-promising global markets."
Opportunities to diversify
Russia, having failed repeatedly since it launched its "special military operation" in Ukraine (in February), can no longer satisfy its ambitions as the policeman of Central Asia, said Nigara Khidoyatova, an Uzbek politician living in the United States.
As a result, Uzbek President Shavkat Mirziyoyev, who positions himself as a reformer, needs the West's political, military and economic backing now more than ever, she said.
"Uzbekistan needs urgent measures to revive this process, and these measures are reflected in the Strategic Partnership Dialogue," she said. "The Uzbek government is even ready to welcome the Peace Corps back, and that's crucial for the United States and the restoration of its influence in the region."
The Uzbek market has room to diversify because presently Russia and Belarus supply almost all Uzbek imports, said Nazirov.
It is therefore crucial for Tashkent to expand trade with Europe, East Asia -- including Japan and South Korea -- and, of course, the United States, he said.
To reach that goal, it needs to create free trade zones or a most favoured nation system, he added.
But before that, Uzbekistan needs to create more-flexible customs policies, reduce customs duties and open the market to modern goods from Europe, North America and East Asia, Nazirov added.
"These kinds of options need to be examined because the Eurasian Economic Union [EEU or EAEU], which was foisted on us by the Kremlin, is like a yoke for Uzbekistan," Nazirov said.
Russia continues to pressure Uzbekistan to join the EEU, although to date it has resisted full membership. Members include Russia, Armenia, Belarus, Kazakhstan and Kyrgyzstan.