KYIV -- Russia's ongoing support and use of the Wagner Group around the world poses a direct threat to the Kremlin because the international community increasingly is seeing Russia as a state sponsor of terrorism, observers say.
The Russian Wagner Group has evolved from a shadowy group of private mercenaries into a criminal group operating openly in Ukraine, the Middle East and Africa.
Russian President Vladimir Putin is personally behind this transformation, analysts say, as he determines the militants' tasks through his close friend Yevgeny Prigozhin.
With Prigozhin as the face of the group, Putin is able to achieve his objectives around the world under the guise of plausible deniability.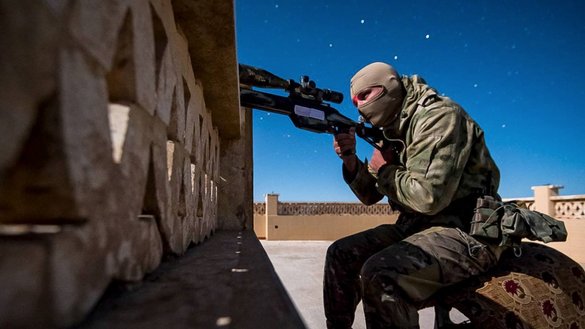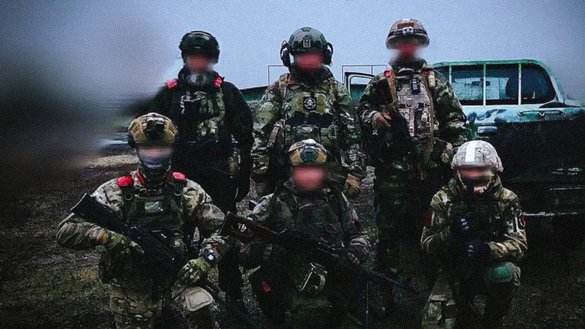 "Everything revolves around Putin," said Mykola Malomuzh, a security analyst who led Ukraine's Foreign Intelligence Service from 2005–2010.
"Five to six years ago, Putin chose a strategy to restore positions where the Soviet Union held sway. Namely, the Middle East, Southeast Asia, the Arab East and the African continent," he said. "He believed these were zones of influence belonging to Russia, as the USSR's successor, but there was no real political influence there."
"Putin had no means to enter in a civilised way," Malomuzh said. "For example, China has constantly invested and created joint projects with Africans. The EU [European Union], India, and the United States did as well."
"Putin chose a different path," he said.
The Kremlin's tool
The Wagner Group first surfaced in 2014 when Russia illegally annexed Crimea from Ukraine when "little green men" with no insignias played a key role in the seizure.
Wagner mercenaries then entered Syria in 2015 when the Russian military fought to support Syrian leader Bashar al-Assad.
"For Russia, this was the first example of renewed influence in third world countries," Malomuzh said.
"Obviously, there was an open war in Syria, but the Wagnerites performed special assignments there and succeeded," he said. "I'm talking about acts of sabotage. I'm talking about acts of terrorism against various political leaders who criticised al-Assad, against rebels and even against supporters of the United States."
"Putin viewed al-Assad's ability to remain in office as a concrete result, so Russia began to use the same methods in other countries," he said.
The mercenaries have since popped up in other hotspots of strategic importance to Russia, most notoriously in the Central African Republic (CAR), Mali, Libya, Chad, Sudan, Mozambique and Venezuela.
Prigozhin in September finally admitted to leading the group and to recruiting hardened criminals from prisons to fill its ranks.
As the group has expanded -- and with mercenaries overtaxed in Russia's latest war in Ukraine -- its tactics have become more brutal.
Wagner mercenaries are accused of torture, rape, extortion, war crimes, crimes against humanity and other atrocities.
In early December, US legislators initiated a bill to recognise the Wagner Group as a terrorist organisation. The document lists the militants' crimes, including the torture of civilians in Bucha, Ukraine, in March 2022, as well as similar crimes in Mali, Sudan and the CAR.
"The Wagner Group has also murdered and threatened journalists, kidnapped children, deployed nerve agents against civilians, committed acts of torture, and engaged in rape and sex trafficking of women and children," said a statement announcing the proposed law.
On December 29, the Organised Crime and Corruption Reporting Project (OCCRP) named Prigozhin as its infamous "Person of the Year".
"The line between Wagner and Russian officialdom can be difficult to draw. The group has been linked to Russia's military intelligence agency, the GRU, and many of its missions serve the Kremlin's interests," the OCCRP said in a statement.
The Wagner Group has been subject to US sanctions since 2017. In 2018, the US State Department added Prigozhin and his affiliated entities -- including the Wagner Group -- to the list of persons identified as part of, or operating for or on behalf of, Russia's defence or intelligence sectors.
The Russian analogue to IS
In addition to Putin's political goals, the Wagner Group pursues Prigozhin's criminal commercial interests.
For example, in the CAR and Sudan, militants are taking control of gold and diamond mining.
"Whether they fight for wealth or glory, the group's brutality is beyond a doubt," reads the OCCRP statement.
"Wherever Wagner fighters go, human rights abuses are sure to follow," it said. "From Syria to Cameroon, from Somalia to Mali, they have been accused of rape, robbery, murder and torture."
"The same is true in Ukraine. Aside from their indiscriminate shelling of residential neighbourhoods, Wagner fighters were accused of executing civilians near Kyiv in the early days of the war," the OCCRP said.
"Rape, human trafficking, blackmail, kidnapping, massacres, torture, seizure of natural resources, interference in other countries' domestic politics, illegal arms trafficking -- these are only a part of the accusations against the group, confirmed by abundant evidence," said Agiya Zagrebelska, a lawyer and founder of the Antitrust League in Kyiv.
In its actions and tactics, Wagner fighters are similar to Islamic State (IS) militants who use terror to loot, kill and destabilise entire regions, she said.
"In broad strokes, this behaviour is entirely identical to IS. The only difference is that for the most part IS has operated in a hostile environment. But Wagner, through manipulation, propaganda and illegal agreements with corrupt rulers, is given complete authority in a country, turning it into a vassal," she said.
Russia discredited as a state
The mercenaries' ties to the Kremlin compromise Russia on the international stage, analysts say.
"In reality, Wagner seriously discredits the Kremlin," said Kyiv political scientist Yuriy Atanov, who is currently serving in the Ukrainian military. "Only official state entities have the right to be armed. If Russia takes the step of supporting [renegade] combatants, it will discredit itself as a state."
"Why is Prigozhin recruiting convicts?" he said. "To commit atrocities, to achieve goals faster with horrifying tactics. After all, only the utterly demoralised can commit such crimes. They don't have any limits."
"That is why Wagner is being used -- to wage war with such methods," Atanov said. "They aren't soldiers at all. They are conducting the campaign without regard for the Geneva Conventions. Harshly. But all these crimes will only hasten Russia's ruin, without a doubt."
"The biggest question is when the tribunal begins. The enemy may believe that the crime will not be punished, but that is false. Sooner or later international justice will be done," he said.
Zagrebelska welcomed the move to recognise the Wagner Group as a terrorist organisation as it "will make it difficult for the group to access the arms market and establish commercial relations with the world".
"This action will limit the group's presence in other countries and reduce its influence," she said. "In addition, it will create a legal framework to encourage countries in Africa and the Middle East where Wagner is present to limit the group's influence and their interaction with it."
Designating Wagner as a terrorist group will open the door to declaring the entire Russian regime as sponsors of terrorism.
"If Wagner is operating under the auspices of the state, is integrated with government agencies and, what's more, is acting on instructions from the top, then government leaders' actions on the international stage fully qualify as 'organisation of terrorist activities'", said Malomuzh.
"This will definitely weaken Putin's position," he added, referring to designation of Russia as a sponsor of terrorism.