ALMATY -- Russia's media regulator, Roskomnadzor, is pursuing efforts to impose its draconian censorship policies on media outlets in neighbouring Kazakhstan, demanding that they delete articles about the war in Ukraine.
By and large, the Kazakh media have categorically refused to obey.
On December 15, the editorial board of the news site Informburo.kz reported that it had received a letter from Roskomnadzor demanding deletion of the November 20 daily summary of the situation in Ukraine and threatening to block access to the site in Russia if it did not comply.
"We will not do this," Informburo.kz stated, pointing out that it is a Kazakh news site and that "our activities are governed by Kazakh law".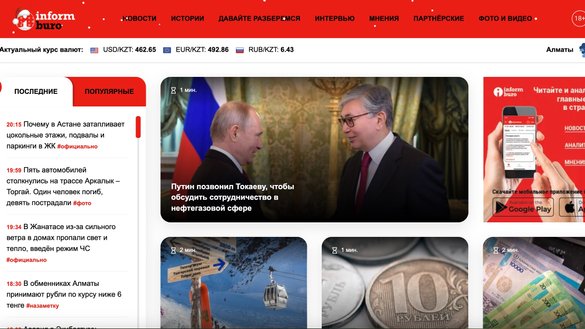 In the daily summary in question, Informburo.kz shares news from the front, objectively combining official reports from both Ukraine and Russia.
Two days earlier, the independent news site Vlast reported that it had also been pressured by the Russian media regulator.
"Roskomnadzor sent Vlast a series of notifications demanding that we delete news about the Russian invasion of Ukraine from our website, and it threatened to block the website in Russia if we did not comply," Vlast wrote.
"The Vlast editorial board does not intend to comply with the demands from the Russian agency," it added.
In particular, Roskomnadzor wanted Vlast to take down news about a Russian missile attack on Vinnytsia, Ukraine, which killed dozens of residents, and a report on the number of civilians who died in Mariupol, which was besieged by Russian troops for several months, Vlast stated.
Vlast also reported that the Russian media watchdog had threatened to put it on the "combined registry of websites disseminating prohibited information", joining thousands of other websites that are blocked for "disseminating information about the war, which in Russia is considered a 'special military operation'".
"The editorial board does not intend to delete this news or any other news about the war in Ukraine and will continue to cover it regardless of what the Russian agency responsible for military censorship thinks," Vlast wrote.
More letters
Roskomnadzor also made threats earlier in mid-November, according to Arbat Media, another Kazakh news site.
At the time, Roskomnadzor was aiming its ire in response to an article that ran in September under the headline "Russian Occupiers Suffer Defeat in Kharkiv Province But Don't Want To Admit It".
"This is an honour," Arbat Media editor in chief Syrym Itkulov quipped on Facebook. "We'll be waiting for more letters from you guys."
His publication will not "cave in to such provocations" from Roskomnadzor, he wrote.
The Russian censor also aggressively targeted independent Kazakh news site Ratel.kz over the summer.
Citing demands by the Russian prosecutor general, Roskomnadzor contacted the Kazakh internet provider of and the editorial board of Ratel.kz with an order to delete material that cast doubt on data from polls in Russia allegedly showing high civilian support for the war in Ukraine.
Roskomnadzor insisted that the Kazakh provider block Ratel.kz if the website did not take the article down within a day. The site's editors considered these actions illegal.
"Evidently Roskomnadzor ... has decided to act as though it considers Kazakhstan an 'artificial state' that is actually a Russian province, and as if Russian laws extend to the citizens [of Kazakhstan]," Marat Asipov, the editor-in-chief of Ratel.kz, wrote.
The actions amount to "meddling in Kazakhstan's domestic affairs", he said, urging the Kazakh Foreign Ministry to "respond to this uproar and remind Roskomnadzor that Kazakh citizens live under Kazakh law".
'This is nonsense'
Kazakhstan's media community has been incredulous and critical of the Russian censor's campaign to pressure foreign media outlets.
Roskomnadzor's actions against Kazakh media have no legal merit, Tamara Kaleyeva, former president of the Adil Soz International Foundation for Protection of Freedom of Speech, told Caravanserai.
"This is nonsense -- a Russian body has no right to order Kazakh media outlets to remove publications, or to demand anything at all," Kaleyeva said.
The incident indicates that "the entire Russian government has now gone mad", Zharas Akhmetov, an Almaty economist who wrote the Ratel.kz article, said in an interview on the YouTube channel Giperborei (Hyperborean), commenting on Roskomnadzor's order.
"They've voluntarily lost their minds, so they deserve to be isolated and put in a straitjacket," Akhmetov said.
The actions show that Russia considers Kazakhstan part of Russia, not an independent state, Vadim Boreiko, the former editor of the newspaper Vremya, said.
"Although [the Russian authorities] have disavowed politicians like Zhirinovsky who have questioned Kazakhstan's sovereignty, even after 30 years they are actually still treating us like that," Boreiko told Caravanserai, referring to Vladimir Zhirinovsky, a State Duma member who died in 2022.
"They haven't let go of their imperial convictions," he said.
Countering propaganda
The face-off between Roskomnadzor and the Kazakh media comes as Kazakh journalists fight an uphill battle against Russian propaganda.
Kazakh media are continuing to objectively report on the war in Ukraine, providing information from both sides of the conflict.
But their efforts are hindered by the Russian propaganda spewed every day on the Russian state-owned television channels that are also broadcast in Kazakhstan. These channels' current agenda is to justify the invasion of Ukraine.
Lukpan Akhmedyarov, the former editor in chief of the newspaper Uralskaya Nedelya, is actively combating Russian propaganda.
Kazakhstan must counteract the Russian information influence, and in particular the Kremlin propaganda that has saturated the local media space, he said.
"In our country, there are many people who are consumed with this false propaganda and believe it," Akhmedyarov told Caravanserai.
"The task for us Kazakh journalists is to offer them different information so they see the actual picture."