TASHKENT -- Uzbekistan's efforts to resolve its border disputes with its neighbours are paying off and could facilitate more co-operation among Central Asian states, analysts say.
After decades in limbo, Uzbekistan and Kazakhstan last month settled their disputes over the entirety of their shared border.
Uzbek President Shavkat Mirziyoyev and his Kazakh counterpart, Kassym-Jomart Tokayev, on December 22 signed a border demarcation agreement during the closing ceremony of a summit held in Tashkent.
"This agreement completes the international and legal establishment of Kazakhstan's entire national border on its southern frontiers," Tokayev said, according to Gazeta.uz.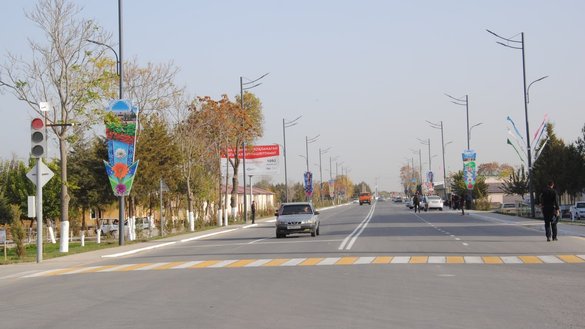 The signed document will help advance peace and security in the region, said Mirziyoyev.
"Our border has always been and will remain a border of friendship and good-neighbourliness," he said.
Resolving borders
The recent agreement means that that Uzbekistan and Kazakhstan have no standing dispute over borders for the first time since gaining independence 31 years ago, according to Farhad Tolipov, an Uzbek political analyst.
Relations between the two countries have become much warmer, culminating in the December agreement, he said.
"The current context of the war in Ukraine might have provided an additional impetus, but the entire evolution and history of Kazakh-Uzbek relations also led to this moment."
"As the two largest states in the region, they carry a burden of special responsibility for the unity and cohesion of the Central Asian countries," Tolipov said.
The agreement also sends an important signal to the other Central Asian states, he said.
"Two countries have shown that they have no border disputes. If there are still any unresolved segments of border -- for example ... in relations between Uzbekistan and Kyrgyzstan, or between Tajikistan and other countries -- they can be resolved," he said.
The demarcation of the borders is not just a political step -- it also heralds the expansion of economic co-operation and development of cross-border trade.
For instance, in 2021 trade between Uzbekistan and Kazakhstan reached $4.3 billion, Kursiv.kz reported last February.
It exceeded $4 billion in just the first 10 months of 2022, Kazakh Deputy Prime Minister Serik Zhumangarin said in December in Tashkent, according to Kazakh Prime Minister Alikhan Smailov's press office.
The countries wish to attain $10 billion of annual trade within five years, Astana Times reported last May.
Becoming good neighbours
While the Soviet Union's disintegration brought independence to Central Asia's nations, it also left unresolved border issues and strife.
Uzbekistan is the only Central Asian country that shares borders with all four of its neighbours.
In recent years, Tashkent has made a concerted effort to resolve border disputes with its neighbours.
Uzbekistan and Kyrgyzstan on November 3 inked an agreement covering separate disputed sections of the Kyrgyz-Uzbek border spanning 302.29km, particularly around the Kempir-Abad reservoir -- known as the Andijan reservoir in Uzbekistan.
The total length of the two countries' shared border is 1,378km. Until 2017, only 85% of it had been demarcated.
The latest agreement includes a land swap, under which Uzbekistan received the 4,957 hectares on which the reservoir sits as well as an additional 19.5 hectares "for the maintenance and protection of the dam", the Diplomat reported in January.
Kyrgyzstan received 1,019 hectares of pastureland plus 12,849 hectares in a separate section of the border as compensation.
The agreement also stipulates that Uzbekistan will supply water to Kyrgyz villages, which could become vital in the future.
The reservoir, which has a capacity of 1.578 billion cubic metres of water, is an important strategic and economic facility, Uzbek Prime Minister Abdulla Aripov said in November.
It irrigates 175,000 hectares of agricultural land in in the Fergana Valley in Uzbekistan and 25,000 hectares in Kyrgyzstan.
Over the past five years, Uzbekistan has signed agreements demarcating 1,170km of the border with Kyrgyzstan, 193km of the border with Tajikistan and 2,356km of the border with Kazakhstan, Aripov noted. Fifteen border checkpoints were also reopened.
Tashkent has also worked with Dushanbe to resolve border issues.
In March 2017, Uzbekistan began clearing land mines from several segments of the Uzbek-Tajik border and opening checkpoints.
Uzbekistan mined the highland sections of the border in the 1990s to block entry by Islamic Movement of Uzbekistan (IMU) militants.
In August 2018, the countries agreed to the joint construction of two hydroelectric power plants on the Zarafshan River.
Model of co-operation
Uzbekistan has demonstrated its knack for peacefully and diplomatically resolving border strife, say observers.
Meanwhile, considerable organisational and preparatory work preceded the signing of the demarcation pact between Uzbekistan and Kazakhstan, said Ravshan Nazarov, a scholar of Uzbek history.
"Working groups made up of Foreign Ministry experts and officials from the customs, border, quarantine and other services met on multiple occasions. They considered both old and modern maps and reached a decision on a number of contested segments."
"Another important element was the parties' mutual goodwill," he said.
The agreement signed in Tashkent is an excellent model for the other Central Asian countries, said Galym Ageleulov, the president of Almaty-based NGO Liberty.
Uzbekistan and Kazakhstan have shown that they can trust one another, which could have a positive effect on relations between the other countries in the region, he said.
This could be the start of bringing the Central Asian states together and pursuing a common policy on many issues, Ageleulov added.
"This is a case study for an approach to defining the borders between Kyrgyzstan and Tajikistan," he said, referring to a long-running dispute between the two countries.
Last September, border clashes between the two Collective Security Treaty Organisation (CSTO) members killed at least 100 people, including civilians, and wounded more than 200, according to official sources. They also fought in 2021.
The recent agreement between Uzbekistan and Kazakhstan "shows that it is possible to find mutually acceptable solutions and compromises".
"The Central Asian countries need to stand together," said Ageleulov. "That makes it easier for us to counteract outside threats that we all face."
The border issues between Uzbekistan and Kyrgyzstan are settled once and for all, and this progress will promote stability and prosperity across Central Asia, said Mars Sariyev, a Bishkek-based political analyst.
"The construction of the China-Kyrgyzstan-Uzbekistan railway that then goes into Europe is set to start this year," he said. "Talks on the Kyrgyz-Tajik border will be starting soon. There are already promising signs that this question will be solved in a way that's good for everyone."
"The Central Asian republics are gradually becoming a single region for the sake of stability and prosperity," Sariyev said.