TASHKENT -- Threatening comments made by a Russian Foreign Ministry official last month, warning Central Asian countries not to comply with anti-Russian sanctions, have not gone down well in the region.
On December 22 at a conference in Moscow on "Central Asia and the Ukrainian Crisis", organised by the Valdai Discussion Club (VDC) think-tank, Russian Foreign Ministry official Alexander Sternik described the Kremlin's policy towards the former Soviet Central Asian republics as "strategic patience".
Sternik heads the ministry's 3rd Department of the CIS Countries.
The VDC held the conference to discuss a report on the Ukraine war's political, economic and humanitarian impact on the Central Asian states; their economic development in 2022; the dynamics of relations with Moscow and how political elites and society have reacted to the invasion of Ukraine.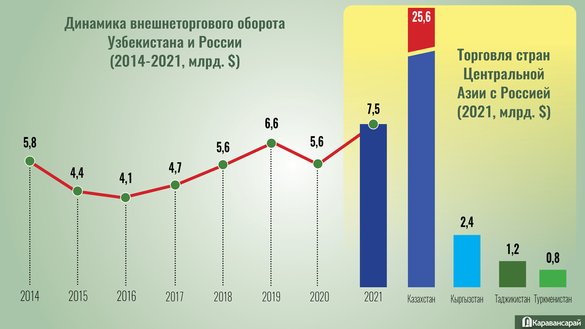 "Even hinting about curtailing relations can turn into economic costs for which their overlords' promises could never compensate," Kommersant quoted Sternik, referring to the United States and European Union (EU).
In order to comply with the international sanctions imposed on Russia and meet demand from Europe, Uzbekistan and its closest neighbours have been developing new routes to transport goods and energy supplies.
At the end of October, Turkmenistan announced its intention to build the Trans-Caspian gas pipeline, which will allow its gas to be supplied to Europe through Azerbaijan and Georgia. This route, if completed, could ship 10 to 30 billion cubic metres of Turkmen gas per year.
Uzbekistan is also actively testing railway routes to the EU through Turkey or the Caucasus.
"Whoever bypasses us will perish in the process," said political scientist and VDC moderator Fyodor Lukyanov.
Overt threats
Sternik's remarks indicate that he sees Central Asian countries as the Kremlin's servants, said Meruert Makhmutova, director of the Public Policy Research Centre in Almaty.
In so doing, the Russian Foreign Ministry refuses to recognise Central Asian countries' right to determine their own foreign policy.
In recent years, Russian officials have repeatedly insulted Kazakhstan's nationhood and independence, said Makhmutova.
"And it isn't just private individuals talking privately but rather people who influence the country's politics: State Duma members, political scientists and ideologues."
"Television propagates these statements and, for Russians, creates the image of a new 'enemy'. This is a propaganda attack," Makhmutova told Caravanserai.
Sternik's remarks about the "economic costs" of turning away from Russia were overt threats, said Alisher Ilkhamov, director of the Central Asia Due Diligence Centre in London.
As a high-ranking official, he was stating Russian policy, added Ilkhamov.
"Moscow's displeasure with this very obligation [to comply with sanctions] was voiced publicly, perhaps for the first time," he told Caravanserai.
At present, Sternik cited only economic retaliation, said Ilkhamov. Such retaliation already has occurred, such as in 2022, when Russia repeatedly blocked the Caspian Pipeline Consortium pipeline that carries most Kazakh oil exports to Europe.
"As for Uzbekistan, Moscow can leverage migrant workers and imports of Uzbek products, against which it can raise additional barriers. But if Russia does this, it will only shoot itself in the foot," said Ilkhamov.
Russia needs Uzbek goods and workers, he said, noting that the country drafted much of its own working-age population to fight in Ukraine.
Russian dependence on migrant labour was underscored in the first nine months of 2022, when more than 8 million migrants entered Russia to work: more than 4 million from Uzbekistan, 2.7 million from Tajikistan and almost 676,000 from Kyrgyzstan.
International isolation
Sternik is giving the Kremlin's official position, agreed Dzhuma Agabayev, a Turkmen journalist and international relations analyst, who spoke with Caravanserai under a pseudonym.
"This is undisguised blackmail ... from the head of an entire department of the Russian Foreign Ministry -- in other words, an official," Agabayev said.
Central Asian countries need to respond to such an assault by issuing a note of protest or statement from their foreign ministries expressing concern or bewilderment, he suggested.
Sternik's comments were no accident, said Bishkek journalist Adil Turdukulov.
Moscow understands Kyrgyzstan is torn between trying to preserve ties with Russia and avoiding Western sanctions, he said.
"They decided to give us advance warning in this rather impolite way," he said.
Russia leans hard on Kazakhstan and Kyrgyzstan because it needs them, as neighbours of China, to keep up the "huge flow of goods" from the Asian giant, he said.
All these machinations come at a difficult time for the Kremlin.
Russia is starting to weaken as a regional player, said Murat Kurbanov, a Turkmen political scientist based in France.
Central Asian countries now view Russia as an economic and political threat and are seeking alternative ways to export oil, gas and other products, he said.
"Russia is withdrawing from the world stage not only in Central Asia but also in Africa, Syria, and many other countries," he said.
Central Asian leaders are quickly sensing this and trying to create favourable conditions by building international and economic relations not linked with the Kremlin, he added.
"A connection with Russia today is fraught with consequences, namely international isolation."
The stick
Turkmenistan has seen plenty of the Kremlin's "carrot and stick" strategy, said a political analyst and instructor at the Institute of International Relations of the Turkmen Foreign Ministry who requested anonymity.
"In a brief dated December 6, 2022, Russia's Foreign Ministry calls Turkmenistan a close friend, a strategic partner in Central Asia and an important trade partner, but 10 days later, on December 16, Alexander Bashkin, a Russian senator from Astrakhan province, says that Russia won't allow Turkmenistan to build a gas pipeline through the Caspian Sea," the political analyst said, citing a recent example of this strategy.
"Is that really how you treat your close friends and strategic partners?" he asked.
A pipeline across the Caspian, Caucasus and Turkey will enable Turkmen gas to reach European buyers that have renounced Russian gas because of the invasion of Ukraine, he said.
Russia's punitive measures are not limited to economic measures, according to Kurbanov, the Turkmen political scientist.
The "intolerable costs" that Sternik spoke of are Russia's ability to conduct so-called special operations in Central Asia, including regime change, he said.
The Russians are warning the leaders of Central Asian countries, "If you choose the wrong side, we'll replace you," he said.
"One cannot rule out the possibility of provocations in Kazakhstan's northern territories, where Moscow may try to play the separatist card," said Ilkhamov.
Russian politicians and propaganda in recent years have claimed North Kazakhstan province as historically Russian and have made baseless accusations claiming that Russian-speaking residents there are being oppressed.
Putin did not start the war in Ukraine to defend the ethnic Russians living there but rather to thwart Ukraine's aspirations to be part of the EU and NATO and break away from Russia, said the Turkmen political scientist.
"In destroying apartment buildings and Ukraine's energy infrastructure with missile strikes, Moscow is sending a message to its other neighbours that they will suffer the same fate if they contemplate ruining their relations with Russia," he added.