ALMATY -- Observers in Central Asia regard the recently introduced code of conduct for Russian members of parliament as evidence of their intellectual and moral degradation.
United Russia, the ruling political party, drafted a code of public conduct for the party's State Duma members, Russia's RBC news reported in late December. The document has already been circulated among lawmakers.
The code comprises 11 main points expressed in extremely simple and accessible language -- and reflects the consequences of parliamentarians' irresponsible behaviour.
The document sets forth elementary rules for United Russia MPs, such as "do not violate the statutory ethical norms of the party by deed, word or text" and "correlate your position and statements with the basic statutory values of the party, programme guidelines and the consensus of the party on the issue".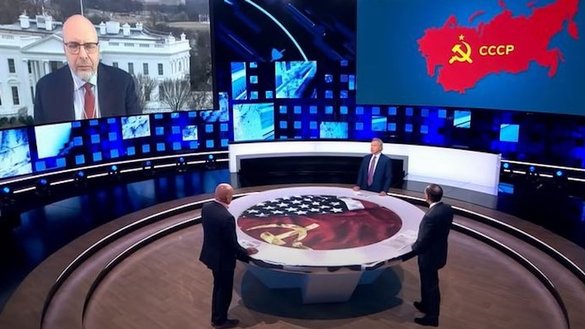 Observers point out that this advice raises a basic question: what are they doing in parliament if they do not adhere to such basic party norms?
But further instructions indicate a deeper problem.
The code urges United Russia MPs not to speak out on social networks or in the media with the goal of "being the first", so as not to later look like a fool and need to apologise. Here, the document even lists various options, likely based on past experiences: "I misled, I deceived, I was just 'trying to catch the wave', etc.".
The document "categorically does not recommend" commenting on the international agenda or on military or domestic conflicts in other countries if the comments would contradict Russia's official position. MPs are instructed to follow party directives or wait for the official position from the Russian Foreign Ministry.
The code criticises legislators' habit of discussing pressing problems that they do not understand. They are advised to first consult with experts.
Some points are tragicomic and and likely to open the eyes of Russian voters and taxpayers to the absence of professionalism among the ruling party's MPs.
For example, one point reads: "Categorically do not write on social networks when physically and psychologically impaired."
Another says: "Comply with the basic requirements of language etiquette. Do not use obscene language and slang terms that can be interpreted in two ways or could give opponents a reason for trolling."
The code even has a point likely in response to the propensity of United Russia members to publicly brag about their success and wealth, which infuriates the impoverished general public.
"On your social networks, do not post luxurious objects or exotic travels and restaurants -- anything that could create an image of you as a member of a 'privileged class'," the code says.
The document concludes by reminding MPs that their actions contribute to the deteriorating image of the ruling party and of "all authority" in general.
'Don't Do This!'
The code also provides examples under the heading "Don't Do This!"
Real-life cases include inflammatory statements by United Russia lawmakers that caused an international uproar.
In particular, in January 2022, United Russia MP Sultan Khamzayev declared on social media that "Central Asia is Russian soil!" and proposed holding a referendum in Kazakhstan on the republic's reunification with Russia.
The code also cites the behaviour of another party member, Oleg Matveychev, who in January 2022 during mass unrest in Kazakhstan incited protesters to violence against owners of mobile phone shops in Almaty.
Matveychev was outraged that some phone shop owners spoke out on Facebook in favour of withdrawing from the system of government built by former president Nursultan Nazarbayev. Matveychev later deleted the post and apologised.
Last June, even Kazakh President Kassym-Jomart Tokayev was the target of inappropriate remarks by Russian lawmakers.
Tokayev told reporters at the St. Petersburg International Economic Forum on June 17, which his Russian counterpart Vladimir Putin also attended, that Kazakhstan would never recognise the so-called "Donetsk People's Republic" (DPR) or "Luhansk People's Republic" (LPR), two self-proclaimed, Russian-backed republics in eastern Ukraine.
A day later, State Duma Committee on CIS Affairs Deputy Chairman Konstantin Zatulin called Tokayev's comments "a challenge to the president [Putin] next to him".
"They [Kazakhs] know only too well that a number of provinces and towns populated predominantly by Russians have little to do with what is called Kazakhstan," he said, in an apparent reference to North Kazakhstan province, which Russian politicians in the past have claimed historically belonged to Russia.
If allies have "friendship, co-operation and partnership" with Russia, then they will not face "territorial issues", he added.
"But if these things do not exist, then anything is possible. As in the case of Ukraine."
Kazakhstan is not the only country to suffer from Russian politicians' aggressive rhetoric.
In a fresh example, at the end of November, State Duma member Svetlana Zhurova used the war in Ukraine to threaten Kyrgyz Parliament Speaker Nurlanbek Shakiev over his initiative to change the names of four Bishkek districts from Russian to Kyrgyz.
Shakiev justified his proposal by stating the poor development of the Kyrgyz language amid the historical dominance of the Russian language.
"It also started with this in Ukraine," Zhurova said in an interview with the Moscow Speaks radio station, referring to measures to protect the Ukrainian language and gradually move away from Russian.
She said the renaming "will violate the rights of Russians" living in Kyrgyzstan.
Kyrgyzstan's public was outraged that a foreign official was interfering in their internal affairs and questioning the country's sovereignty.
Kyrgyz MP Dastan Bekeshev on his Telegram channel noted that city authorities and citizens are responsible for renaming the Bishkek districts and that they do not need foreigners' permission.
"It would be nice if my wonderful colleagues in the State Duma would occupy themselves by solving the problems of their immediate constituents," he added.
Behaving like clowns
United Russia's new code of conduct provoked mostly sarcastic responses from the Central Asian public.
"What a disgrace that Russian authorities had to create such a code at all, which teaches basic ethics to high-ranking officials, like they are hoodlums at school," said Nurlan Asylkhanov, a student at Al-Farabi Kazakh National University in Almaty.
"What did they mean when they forbade United Russia deputies [MPs] to write on social networks when they're impaired? What are these deputies, drug addicts?" he said.
Although the initiative to produce a code of conduct appears strange, there is nothing surprising about it -- the Russian MPs themselves necessitated "such an absurdity", said Zhyldyz Aliyeva, a reporter for the Almaty newspaper Delovaya Nedelya.
"They made loud, aggressive and unacceptable statements against other countries, which often caused international uproars," she said. "As officials, they behaved absolutely irresponsibly... like clowns."
Such misbehaviour by the ruling party's MPs reflects the moral degradation of Putin's regime, she added.
Sanjar Iskanderov, spokesman for Almaty publishing house Drakkar, says the code of conduct for Russian MPs is an attempt to repair Russia's rapidly deteriorating international image -- a trend that State Duma members are only exacerbating with their attacks on Central Asian countries.
"Russia today has few friends left," he said. "It would seem that they ought to be cherished, but Russian MPs are doing everything to make fewer of them."
"The ruling party's leadership is apparently trying to remedy the situation, but the code is unlikely to help it," he said.