VILNIUS, Lithuania -- Ukrainian organisers this month showed Lithuanians the repercussions of Russia's invasion of Ukraine on Kyiv's suburbs with a photo and video exhibition.
From January 12 to 15, the Lithuanian Seimas (parliament) hosted the exhibition titled, "The Battle of Kyiv Region 2022: the People and the Armed Forces Resist the Russian Invasion", in Vilnius.
A small delegation from Kyiv region brought the exhibition from Ukraine.
The region has seven districts, one of which, Vyshhorod, borders Belarus, Kristina Basok, a delegation member and deputy mayor of the village of Petrivtsi in Kyiv region, told Caravanserai.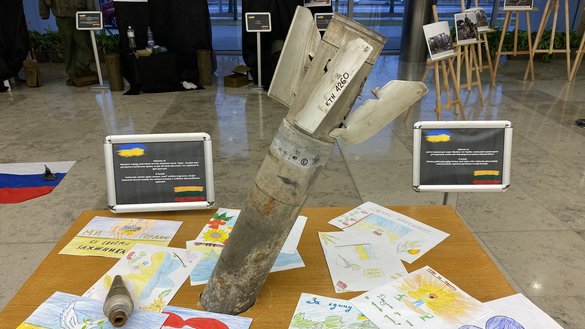 "It's a district that was captured [by Russian troops] but not completely. For example, the Ivankiv hromada [municipality] was occupied, and so was the Dymer hromada, which borders Bucha district."
"But our hromada, Petrivtsi, was on the edge of the Kyiv defensive cordon. No one reached us because we blew up the bridge over the Irpin river," Basok said.
"People here [in Lithuania] keenly understand what war is. They're aware of what's happening in Ukraine, they watch Telegram channels and they're actively helping us," she said.
"But when the first visitors saw our displays, they said, 'None of us walked out unaffected'."
'Goosebumps'
The exhibition included virtual reality (VR) glasses so visitors could experience firsthand the destruction wrought by the Russian occupiers.
Other displays included uniforms of dead Russian soldiers, remnants of missiles launched from Belarus to Kyiv region and debris of Russian helicopters that were shot down February 24 -- all battle relics that Ukrainians collected in Petrivtsi after their forces regained control.
"When I put the [VR] glasses on, I could examine even tiny details. I could see what was left of a street: just a traffic sign," a middle-aged man who gave his name as Kipras told Caravanserai.
"It was very hard to see what happened there. It gave me goosebumps. I thought, I hope to God nothing like that happens here in Lithuania."
He drew a comparison to the unrest Lithuania faced in 1991 as it declared independence.
"Our events [of 1991] seem petty ... I want all of this to stop and people to reconcile, and for there to be peace," he said.
"Only a small portion of the events that have taken place in Kyiv and Ukraine are shown here. Mainly, we see ... damaged buildings, while the human pain isn't visible here at all," an elderly woman named Rita said.
"We ourselves endured such a time, and we still feel it to this day. After all, not only buildings but also human connections were destroyed ... That's the main thing."
Vilnius is the first city outside Ukraine to host the exhibition.
Talks are under way with different European cities about the possibility of bringing the exhibition to them, according to Basok.
Russian leaders are counting heavily on residents of Poland, the Czech Republic, Sweden, Finland, Denmark, the Netherlands, Germany and other countries that are actively supporting Ukraine to ultimately tire of the war, said Basok.
"Right now we're seeing that in Lithuania the attitude is completely different," she said, pointing to Lithuania's struggle for independence.
"As a result, Lithuanians understand the price of freedom, and here we really feel the compassion and support of both the people and the government," Basok said.
'Painful' to see
One visitor to the exhibition in the Seimas was Ekaterina, a second-year student at the European Humanities University, which is accredited in Lithuania as a Belarusian institution in exile.
"Since I'm from Russia, it was important to me to come here. But on the other hand, it was painful to look at the things exhibited."
"It was Russian shells that fell on buildings in Ukrainian cities. There are photos of ruins and all the destruction the Russian army brought on Ukraine," Ekaterina told Caravanserai.
"I deeply felt all the pain that was reflected in the drawings by the young children, where there were maps of a unified Ukraine. These children wrote letters to their protectors asking them to come home alive," she said, referring to one of the displays.
"I was born in a country that is now an aggressor that attacked a neighbouring state. Of course that's painful, and I want the war to end as soon as possible."
"I think this exhibition is a very important event, and I'd really like people in Russia to see it too so they can see what their state is doing," she said.