KYIV -- Russians are alarmed by the recent pardoning of violent repeat offenders recruited by the Wagner Group mercenary army to fight in Ukraine.
In one village in Leningrad province, residents have signed a petition demanding protection from an uncontrollable repeat offender and Wagner fighter who returned home from combat in Ukraine.
In another village, residents fear a man who beat his grandmother to death with a hammer but has now been authorised to go home after fighting in Donbas.
'The police must treat you respectfully'
Faced with mounting losses on the battlefield, Wagner started recruiting fighters from Russian prisons this summer, just before Russian President Vladimir Putin ordered a "partial mobilisation" of 300,000 reservists.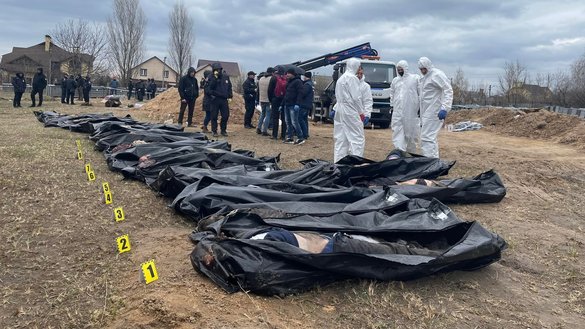 Leaked video, verified by the BBC in a report September 16, showed Wagner boss Yevgeny Prigozhin promising inmates at a prison in central Russia, "If you serve six months, you are free."
Now, the first 20 prisoners recruited by Wagner have served their time in Ukraine and are returning home.
Russian news agency RIA Novosti on January 5 published a video showing Prigozhin commending the fighters for "completing [their] contracts".
He also gives the criminals some "final instructions" before they go free.
"We don't booze it up, take drugs or rape women! The police must treat you respectfully," Prigozhin says in the video, which RIA Novosti posted on its official Telegram channel.
The documents pardoning the inmates were signed when Wagner recruited them in July, said Eva Merkacheva, a member of the Russian Presidential Council for Civil Society and Human Rights.
"I don't have the decrees themselves, but I've spoken with the relatives of the men who were first to be freed," she told RIA Novosti earlier in January. "They all say that they have on hand documents signed on July 5, and consequently they took [the prisoners] out that day or the next day."
Wagner has about 50,000 fighters in Ukraine, with about 80% recruited from prisons, US national security spokesman John Kirby said last Friday (January 20).
"It certainly reeks of desperation," Ned Price, the US State Department spokesperson, said January 9 in response to journalists' questions about Prigozhin's rising influence in Russia.
"And if you look at the backgrounds of so many of these fighters, these are not highly trained infantry men, these are convicts," Price said. "In many cases these are individuals who have been accused and convicted of heinous crimes, violent crimes -- murder, rape -- who are now fighting in Ukraine because they've been promised pardon or leniency."
"That itself is repugnant. Human rights groups have condemned it as extralegal. We have made the point that it reeks of desperation," he said. "It's not going to change the ultimate tide of battle."
Russians 'fear for their lives'
Russians themselves are not pleased with the thought of convicted criminals returning home, pardoned after waging war in Ukraine.
"Twenty men have returned home," said Olga Romanova, director and founder of Rus Sidyashchaya (Russia Behind Bars), a Russian organisation that defends the rights of prisoners and their families.
"One of them came to Leningrad province, and village residents there signed a petition. But they don't know to whom to send it, so they sent it to journalists," she told Caravanserai.
"They say [in the petition] that this convict terrorised the whole village in the past and went to jail many times. By all accounts, he's totally uncontrollable and has major mental problems," she said. "The residents fear for their lives."
"There's another guy who killed his own grandmother, a veteran of World War II," Romanova said. "He beat the old woman to death with a hammer in the garage. Now, without finishing out his sentence, he's coming back."
"Of course the neighbours are afraid of men like him. Russians aren't looking forward to the return of crime," she said.
The men being pardoned are receiving only the equivalent of parole since each man who is released must sign a new contract with Wagner, added Romanova. If they do not, they are not set free.
"They've all been given flip phones," she said. "This is a phone with a single contact, and it can't be used any other way. After 45 days they get a call and they're supposed to go back to the front."
"But now they're being promised that they won't be on the front line as they were before but rather will be in sabotage and reconnaissance groups," she said.
'Mayhem'
It is highly probable that the released prisoners will commit crimes again, analysts say.
"There's a huge number of prisoners in Russia: out of a population of 140 million, almost a half-million people are in jail," said Polina Kostyleva, a social activist and co-ordinator of the Golos (Voice) movement in St. Petersburg.
"And when they're amnestied or when they finish their sentences, they're not properly reintroduced to society in Russia," she said. "That was always a major problem. It's why many [criminals] commit repeat offences."
"What's happening right now is mayhem," she said. "When Prigozhin was going around to prisons, everyone understood it was illegal, but it was impossible to do anything about it. Sometimes lawyers can't get in to see a prisoner, or relatives can't, but here's some sinister guy who shows up devoid of any official capacity or anything at all."
"When you see all of that happening, you realise that the legal framework is inoperative," Kostyleva said. "You're a totally meaningless citizen. Prigozhin's the one with authority -- he has every conceivable power -- while you have no rights at all. It's an agonising experience."
The action of "pardoning" Russians is a major public relations stunt for Prigozhin, said Ihor Petrenko, a political analyst at the Kyiv-based think tank United Ukraine.
"Given the tremendous number of Russian casualties in Ukraine, it's getting harder and harder for Prigozhin and his cronies to interest men in going to war, including those in prison," he said. "Prigozhin needed a case he could parade around with and hold up and say, 'Look, we made a promise and kept it'!"
The pardons also play right into Putin's hands, he said.
"Putin is saying to the West, 'See, there are people who are even more unreasonable than I am -- those like Prigozhin, who's really damaged. Imagine what they would do if they got their hands on the nuclear codes. It would be far worse,'" Petrenko said.
"So for Putin, Prigozhin and all his actions are a scare tactic, a clear way to protect his life."
All things considered, Petrenko added, "The fact that these repeat offenders are going home will be very alarming for Russians."