VILNIUS, Lithuania -- "Most of the time we don't know where we're calling," says Paulius Senuta, one of the founders of the Call Russia initiative.
"We ask personal questions -- like, what do you do, where are you from and so on -- only if the conversation turns out to be very friendly," he said.
Created in Lithuania in the early days following the Russian military's invasion of Ukraine last February, Call Russia seeks to change opinions in Russia one phone call at a time.
As part of the initiative, volunteers call mobile numbers based in Russia to chat about the so-called "special military operation", giving Russians a chance to rethink what is happening in both their own country and Ukraine.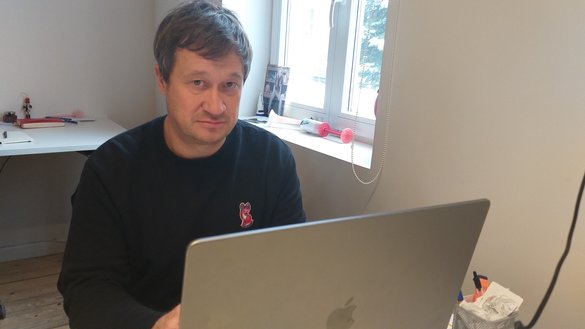 Senuta said that he and his friends found a publicly available database of Russian mobile network users and decided to try to call Russians to try to share alternative information with them.
Their idea came as Russian authorities cracked down on independent and foreign media outlets, stopping them from covering the invasion.
So far some 60,000 volunteers have joined the initiative, most of them using messaging apps such as Viber and WhatsApp so they can talk without worrying about how long the call lasts or how much it costs.
They have spoken to more than one million inhabitants of Russia.
Around one-quarter of the calls are made from Lithuania, according to Senuta. Poland and Moldova are the second- and third-largest sources of calls.
Great Britain is in the top five countries most called from, while the United States is in the top 10.
The project also has volunteers from as far away as Australia and New Zealand. Those who cannot speak Russian instead donate to the effort.
Anyone can volunteer with Call Russia regardless of gender or socioeconomic status, according to Natalija Boguševičienė, a project manager for Call Russia.
As a manager she does not keep track of such demographics, she told Caravanserai.
"This is the sensitive part ... You can participate anonymously without even showing your face. You can decide whether you want to share your name," Boguševičienė said.
"We don't record them. You can give your email address, and then we send information when there are seminars where [the participants] exchange information and share their experiences."
"We're a platform that enables you to do good things and somehow change the mentality of [residents] of Russia and even the course of the war," she said.
Change for the better
Grajina, a Vilnius resident, heard about Call Russia in a radio report one summer morning.
She has a cargo-shipping business that involves migrant workers from former Soviet republics.
"I had previously met those who justified Russia's actions in Ukraine," Grajina told Caravanserai.
"At the beginning of the war I would talk about the Russian invasion with long-distance truckers coming to Lithuania. There are also Belarusians living in Lithuania who like [Russian President Vladimir] Putin and his policies. That stunned me because my position is unambiguous.
She decided to join Call Russia, completing an online training course on how to navigate phone calls and what information to share.
Before her first call, Grajina said she "was curious and really wanted to try to converse."
Many of the numbers she called never picked up.
"From my early days as a volunteer, I started to get the sense that [Russians] already knew that they might get calls from Europe. We called through WhatsApp ... Sometimes they hang up after you've said only a few words," she said, adding that the constant rejection leads to a sense of hopelessness and futility.
"Sometimes you get the impression that ... Russians don't want to hear anything about the war in Ukraine," she said.
But every now and then, someone picks up.
"One time a college student answered the phone. At first she was afraid to talk," Grajina said.
"She told me she lived with a Ukrainian girl and was able to compare information from Russian and Ukrainian media. Then she said she opposed the war."
In fact, everyone in the young woman's social circle shared her views, she said.
On the whole, Grajina said she has gotten the sense that since Putin announced a partial mobilisation in September, more Russians have become critical of the war but that they are afraid to talk about it with a stranger calling from abroad.
Despite the emotional exhaustion and an occasional feeling of emptiness, she said does not plan to stop volunteering for Call Russia because she wants to witness change for the better.
Not alone
Boguševičienė, the project manager, previously worked in refugee assistance centres where she met survivors of the invasion.
So when she saw posters publicising Call Russia, she decided to sign on to the international effort.
Russians' views of their army's "special military operation" have changed noticeably "from one snowfall to the next", Boguševičienė told Caravanserai.
At first, in the majority of cases, Russian citizens got their information only from television, but then information started coming from other sources, she said.
"People are turning on each other, and everyone has his [or her] own interpretation of what's going on, of who attacked whom. The difference in the interpretations is very noticeable in the free world and in Russia."
"And if we manage to have a decent conversation with them, we can give them the contact information of organisations that have remained in Russia," she added, referring to groups opposed to the war and to Putin's draft.
Bogushevich said she plans "to find as many Russian speakers abroad as possible -- some say they can't even change their own parents' minds, but sometimes people are more willing to listen to a stranger than to a relative."
"It's an important thing if we call someone who doesn't support the war and as a result of our conversation he [or she] understands that he's [or she's] not alone -- because there are many like them, who are afraid to talk to even their friends and family."
"After all, even your close friends, not to mention your neighbours, could betray you."