ALMATY -- Kazakh philanthropists are bringing their own flavour of aid to war-torn Ukraine despite discontent from Moscow.
Daulet Nurzhanov, an entrepreneur and general director of Kusto Agro, an agricultural business operating in the Vinnitsa, Zhytomyr and Khmelnytskyi provinces of Ukraine, this month began installing "Yurts of Invincibility" in Ukrainian cities, including one in Taras Shevchenko Park in Kyiv in mid-January.
Large, snow-white and consisting of 16 wall segments, the yurt in Kyiv gives locals a place to keep warm in freezing weather, charge their phones during power outages and treat themselves to Kazakh national dishes such as baursaks and pilaf as well as hot drinks.
With an area of approximately 64 square metres, the felt-covered yurt in the capital is the largest in Ukraine.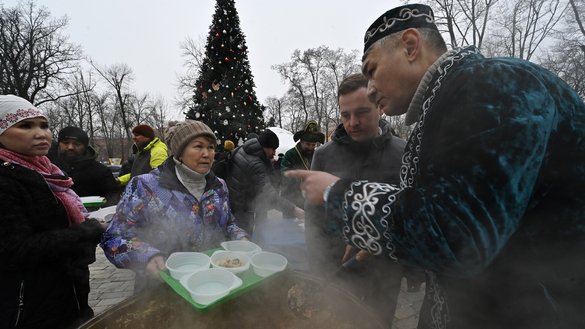 Nurzhanov installed the first "Yurt of Invincibility" January 6 in Bucha, a city in Kyiv province that gained tragic notoriety after Russian occupiers tortured and slaughtered not only captured soldiers but also civilians there.
Nurzhanov brought the yurt's frame and other parts came from Almaty province, Kazakhstan. Members of the Kazakh diaspora in Ukraine together with local volunteers assembled the it.
Other Ukrainian cities will soon also receive yurts: Lviv, Odesa, Kharkiv and Cherkasy.
Against the backdrop of the Russian invasion, Nurzhanov, together with partners and friends, has also created a headquarters for humanitarian aid to Ukraine, organised a fundraiser and sent 41 generators for hospitals along with more than 160 tonnes of essential humanitarian cargo to the country.
Angering Moscow
The growing humanitarian aid to Ukraine from Kazakhstan and the accompanying media coverage have irritated Russian officials.
Russian Foreign Ministry spokeswoman Maria Zakharova on January 10 asked Astana to provide an official response to coverage of the yurts "to avoid further 'unspooling' of this topic" and "to avoid damaging the Russia-Kazakhstan strategic partnership and alliance".
But Albek Smadiyarov, a Kazakh Foreign Ministry spokesman, said a day later that no special comment on the issue was warranted.
"We see no problem in setting up this yurt. On the contrary, we're proud that we have a yurt," Smadiyarov said in response to a question from Radio Azattyq, Radio Free Europe/Radio Liberty (RFE/RL)'s Kazakh service.
The "Yurts of Invincibility" are being built in Ukraine by private Kazakh companies, and Kazakhstan's government does not intend to prohibit this private initiative, he said.
"This is a matter for our people. There will be no official response [to the Russian Foreign Ministry]," Smadiyarov said.
Astana has not supported Russia's aggression against Ukraine and does not recognise the so-called "Donetsk People's Republic" (DPR) or "Luhansk People's Republic" (LPR).
Kazakh President Kassym-Jomart Tokayev, while attending the plenary session of the St. Petersburg International Economic Forum last June, told reporters that Kazakhstan would never recognise the self-proclaimed, Russian-backed republics in eastern Ukraine.
Astana has also expressed determination to comply with Western sanctions against Russia.
Kazakh consensus on Ukraine
About 80% of Kazakhs support Ukraine in the war, said Arman Shorayev of Almaty, former executive at Kazakhstan's largest TV channels, Khabar and KTK.
"With Russia's treacherous attack on Ukraine, Kazakhs were among the first to collect humanitarian aid for their Ukrainian brothers. In one week we collected $1 million," he told Caravanserai.
Kazakhs brought a huge amount of aid -- from money and clothing to food and medicine -- to the Ukrainian embassy in Astana, he said.
Shorayev traveled to Ukraine this year and visited Bucha, where he talked with survivors of the Russian soldiers' cruelty.
"They [Russian soldiers] are real beasts," Shorayev said. "We, Kazakhs, will continue to help the Ukrainians, and we have no doubt that Ukraine will prevail over this evil."
Shorayev's views are shared by many residents of Kazakhstan.
Last March, Almaty was the location of a rally against the war in Ukraine and Russian aggression, with thousands of citizens and visitors taking part.
Many participants held Ukrainian flags and posters calling for Russian President Vladimir Putin to be stopped.
"We live in 2022 according to the rules of the civilised world. You cannot just take and seize other people's land by force," said Almaty resident Yulia Kovalchuk, who attended the March rally.
"If Russia achieves its goals in Ukraine, then Kazakhstan could be next," she added.
Kyrgyz support
Kyrgyz citizens are supporting Ukrainians, despite facing their own socio-economic problems.
The first shipment of humanitarian aid left Bishkek for Ukraine in early April, with warm blankets, sleeping bags, honey, canned food, diapers and much more.
"Ordinary citizens brought all of this. [They] wanted Ukraine to know our country's position -- that we do not support any aggression," Dinara Aliayeva, founder of Helping is Easy, a Bishkek-based charity, told news website 24.kg at the time.
"We will be on the side of Ukraine and those fighting to defend its independence," she said.
In a June interview with Radio Azattyk, RFE/RL's Kyrgyz service, Ukrainian Ambassador to Kyrgyzstan Valery Zhovtenko stressed Kyrgyz support for Ukraine.
"When Russian military aggression against Ukraine began, [in Kyrgyzstan] there were mass protests in front of the Russian embassy in Bishkek and other public places, and many people came to the Ukrainian embassy to express their support," he said.
Kyrgyz citizens and local public organisations have provided significant assistance to Ukrainians, he said.
"The Kyrgyz people are not unmoved by the tragedy that Ukraine is experiencing, and we are very grateful to them for this," Zhovtenko said.