TASHKENT -- Uzbeks are welcoming a joint effort between the United States and Uzbekistan to boost co-operation in a number of areas including border security, seismology and women's rights.
In one recent example, US Ambassador to Uzbekistan Jonathan Henick donated 225 FLIR thermal monoculars worth $600,000 (6.8 billion UZS) to Uzbek border guards, the US Embassy in Tashkent said in a January 17 statement.
The systems make it easier to detect illegal border crossings in low light or bad weather and enable troops to quickly respond to border incidents.
Col. Bakhtiyar Mansurov, deputy commander of the Border Troops of the State Security Service (SGB), accepted the equipment on behalf of the troops.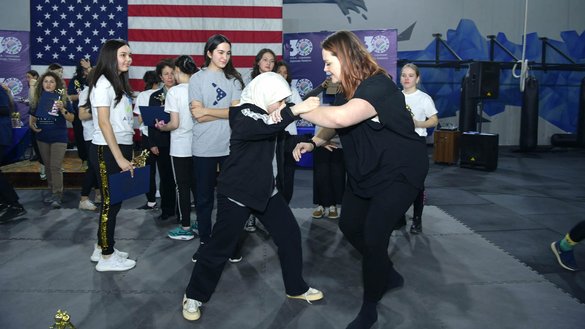 The US State Department's Non-Proliferation and Disarmament Fund made the donation possible, the statement noted.
After the United States and Uzbekistan signed the Defence Relations and Prevention of Weapons of Mass Destruction (WMD) Proliferation Agreement back in 2001, the Uzbek military has received various military equipment for free.
The recent transfer ceremony is the latest stage of this co-operation, the statement added.
The latest donation is very important for Uzbekistan's border troops, said Farkhod Mirzabayev, a political scientist from Tashkent.
"This assistance will undoubtedly improve our soldiers' combat readiness and professionalism," he said.
"I'm sure that the authorities and people of Uzbekistan are grateful to the US government."
Mirzabayev said he hopes the United States will continue to show its generosity by providing all possible military and technical aid to his country.
In addition to receiving new equipment, the training of border guards should include a stint with the US military, suggested Maxim Matnazarov, a scholar of Uzbek history.
"The borders of Central Asian countries are unstable, and the geopolitical situation itself requires close co-operation between Uzbekistan and the United States," he said.
Protecting the border requires new technologies for monitoring and combating violators and smugglers, he added.
A key objective for Uzbekistan should be co-operation with the United States, which has extensive border protection experience and produces the necessary equipment, said Matnazarov.
Seismology equipment, training
Co-operation is continuing in other areas as well.
The US government on December 14 delivered about 1 tonne of seismological equipment to the Republican Centre of Seismic Forecasting Monitoring (RCSFM), an agency of the Uzbek Ministry of Emergency Situations.
Specialists from the University of California at San Diego (UCSD) and the Incorporated Research Institutions for Seismology (IRIS) Consortium plan to install the equipment at a seismic station in Karasai, Jizzakh province, according to another embassy statement.
The donation enables Uzbekistan to join the Global Seismographic Network, which conducts earthquake monitoring, research and education.
UCSD specialists and personnel from the US government's National Science Foundation will support data collection and processing in Karasai and train personnel on how to use and maintain the station.
Boosting the level of seismological education in Uzbekistan is equally important, the statement noted.
The National University of Uzbekistan and the University of Michigan signed a memorandum that includes remote learning for future seismologists, it said. The two universities are planning a training centre for Uzbek students.
Self-defence for girls and women
Meanwhile, a pilot project under way since 2021 offering self-defence courses for Uzbek girls and women continues to attract applicants.
The US Embassy in Tashkent has arranged for the next round of these courses to take place in 2023: one set for girls aged 13-18 and a second set for women over 18.
More than 500 women and girls have applied for 60 spots in the three-month-long courses, a source at the embassy said.
The classes cover practical self-defence skills and each course participant learns to repel and escape from an attacker.
In addition to fitness, judo and jiu-jitsu training, participants gain skills in conflict resolution, open communication and stress management.
The embassy plans to start self-defence courses for girls and women in other regions of Uzbekistan as well.
The bottom line is that in the event of an attack, women are still more vulnerable than men, said Irina Matviyenko, creator of Nemolchi.uz, a project that aims to defeat gender-based violence through education.
"There is demand for women to be coached by women, to respect these significant nuances for girls. And in our country, it is mostly men who teach martial arts," she said. "That is why last year the US Embassy announced the recruitment of female coaches."