As the war in Ukraine and the resulting international sanctions on Moscow continue to decimate the Russian economy, one sector is witnessing an unfortunate boom.
Russia's funeral industry is seeing unprecedented growth, nearly one year after Russia's invasion of Ukraine, according to investigative news website The Insider.
High demand comes both from clients and from those seeking to become funeral and crematorium workers, it reported January 26.
"The boom began during the pandemic when demand for cremation increased," said Dmitry Yevsikov, a mortician and crematorium equipment specialist in Crimea, which Russia annexed from Ukraine in 2014.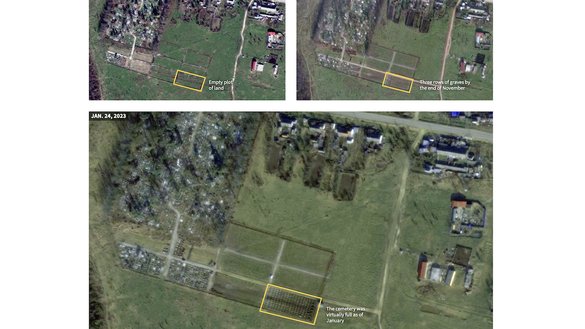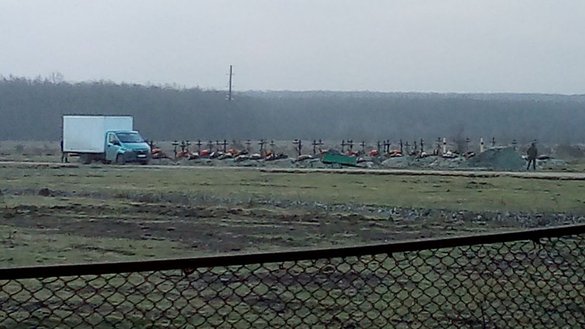 "In addition, land in cemeteries is physically running out," he told The Insider.
Boris Yakushin, a crematorium owner in Russia's third largest city, Novosibirsk, identified the city of Rostov-on-Don near the Ukrainian border as a transshipment hub for bodies returning from Russia's "special military operation".
The city is so overwhelmed with bodies that it is building a new crematorium, he said, predicting it will be busy for the next two to three years.
"The workload is quite heavy," he said.
Russia's Defence Ministry placed its wartime death toll at just under 6,000 in its latest update in September.
The real scale of Russia's troop losses is likely much higher.
A tally of confirmed military deaths kept by the BBC Russian Service and independent media outlet Mediazona shows in early December that more than 10,000 Russian soldiers have been killed since Moscow invaded Ukraine.
Senior US and other Western officials last week said the number of Russian troops killed and wounded in Ukraine is approaching 200,000, The New York Times reported February 2.
The "tremendous amount of casualties" suffered by Russia includes "regular military, and also their mercenaries in the Wagner Group and other type forces that are fighting with the Russians", Gen. Mark A. Milley, the chairman of the US Joint Chiefs of Staff, said at a news conference January 20 in Germany.
Wagner's battlefield casualties are in the thousands, according to the US government, and about 90% of them are former inmates.
Recruiting violent criminals
One final destination for dead Russian combatants was identified as the village of Bakinskaya in Krasnodar province, about 250km south of Rostov-on-Don.
In just the past two months alone the number of graves at the Bakinskaya cemetery has grown sevenfold, The New York Times reported January 24.
Satellite imagery shows an area of the cemetery known to hold Wagner Group mercenaries with about three rows of graves on November 24. By the end of January, the cemetery was virtually full, with at least 170 burial plots.
Reuters reporters counted about 200 graves at the site.
The news agency matched the names of at least 39 of the dead men buried at Bakinskaya and at three other nearby cemeteries using Russian court records, open source databases and social media accounts. Reporters also spoke with family, friends and lawyers of some of the dead.
Many of the men buried at Bakinskaya were convicts whom Wagner recruited last year with promises of pardons if they served -- and survived -- six months at the front, reporting showed.
They included many violent offenders, a contract killer, murderers, career criminals, drug manufacturers or dealers, alcoholics and others with financial problems.
Russia's penal colony population decreased by about 8% between August and early November, according to a regular report published by the Russian Federal Penitentiary Service.
The report gave no reason for the sharp decline -- the largest drop in more than a decade -- but it coincided with the beginning of Wagner's prison recruitment drive.
The expansion of the Bakinskaya cemetery, where graves are marked with a wooden cross and wreath bearing Wagner's colours and insignia, coincides with a bloody offensive by Russian soldiers and mercenaries to gain ground in eastern Ukraine.
Grave markers indicate they were killed between July and December.
Many apparently died in fighting around Bakhmut and Soledar, which Ukrainian forces have been defending over the past four months.
The two eastern Ukrainian cities are of such importance to Moscow that the battles have sparked tensions -- and competing claims of success -- between the Kremlin and Wagner Group boss Yevgeny Prigozhin, according to US officials.
"Wagner is becoming a rival power centre to the Russian military and other Russian ministries," US national security spokesman John Kirby said January 20.
"Prigozhin is trying to advance his own interest in Ukraine and Wagner is making military decisions based largely on what they will generate for Prigozhin, in terms of positive publicity," he said.
"[Prigozhin] works a lot on heroifying -- it's now a sort of Russian policy: why hold onto this life, when you can die so heroically," Olga Romanova, the founder of Russia Behind Bars, a charity organisation that assists convicts and their families, told The New York Times.
"Death is not horrific. What's horrific is the opposite: not to die for the Motherland."
'War results in deaths'
The Wagner cemetery in Bakinskaya was initially revealed in December by local residents who tipped off Vitaly Wotanovsky, 51, an activist and a former Russian Air Force officer, The New York Times reported.
Wotanovsky visits graveyards to document cases of Russians who have been killed while fighting in Ukraine.
"Our goal is to show people that war results in deaths, and it's not somewhere far away or on TV, but it's here next to us," he told the newspaper.
Over the course of several visits, he photographed the growing number of graves in Bakinskaya and uploaded them to his Telegram channel, Titushki in Krasnodar, which has almost 2,500 subscribers.
Many fighters had most likely been cremated, so there are likely more dead than what is easily visible, locals told Wotanovsky.
Ten days after he revealed the cemetery's location, pro-Kremlin media outlets published videos showing freshly dug graves at the cemetery, and Prigozhin laying flowers at one of them.
Prigozhin had earlier hinted at the cemetery's existence while recruiting inmates from a Russian penal colony in Yoshkar-Ola.
"Everyone is buried in the Alley of Heroes, in towns that have one," he said in a video that emerged last September. "For those who do not know where they want to be buried, we bury them near the chapel of Wagner."
The Bakinskaya plot was provided by the local authorities after the chapel ran out of space, Prigozhin told local media in late December via Telegram.
In another recent video, Prigozhin visited Wagner's chapel, about 13km from the cemetery. The chapel features well-manicured grounds, grand monuments and murals memorialising the dead.
There are also rows of black walls containing compartments typical of how cremated remains are interred, with each compartment numbered and decorated with the deceased's combat awards.
There are 21 walls total at the chapel, each containing 42 compartments, The New York Times reported, indicating that hundreds of Wagner fighters are interred, or at the very least memorialised, there.