KABUL -- Afghans are expressing outrage following the arrest of two Chinese citizens and three Afghan collaborators accused of attempting to smuggle some 1,300 tonnes of lithium-bearing rocks out of Afghanistan.
The suspects moved the lithium rocks from Kunar to Nangarhar in an attempt to smuggle them to China via Pakistan, according to a local intelligence official who goes by the name Dr. Bashir.
"We received intelligence on the illegal mining and smuggling of precious stones," he said January 21 at a news conference in Nangarhar.
"To arrest the main culprits, we allowed them to travel to Nangarhar, and when the smugglers came to Jalalabad city, we arrested two Chinese and three Afghan nationals."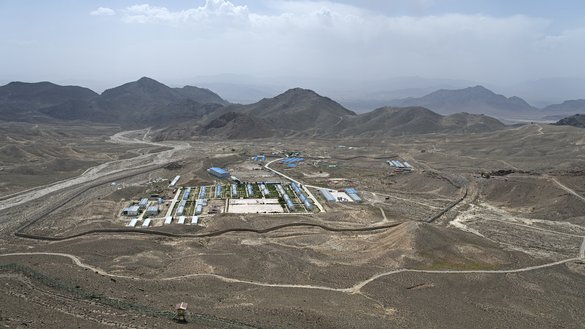 He did not elaborate on when the Chinese nationals were arrested.
"Three hundred tonnes of these stones is in Nangarhar, while the remaining 1,000 tonnes is in Kunar," Bashir added.
"These rocks contain 30% lithium," Mohammad Rasool Oqab, a senior official at the Ministry of Mines and Petroleum, told reporters at the news conference.
"These are very rare stones ... secretly extracted in Kunar and Nuristan provinces."
Bribery and corruption
China is extracting Afghanistan's natural resources through illegal workarounds, bribery and smuggling, analysts say.
"China is a rising country in dire need of raw materials and natural resources," said Sayed Mehdi Munadi, an international affairs analyst based in France and a former Afghan diplomat who was stationed in Beijing.
"Any country endowed with natural resources is a priority objective for China," he said. "Therefore, some African countries and Afghanistan are very attractive to China and its businesses."
China in most cases acquires natural resources of other countries through illegal means, Munadi said.
"Most Chinese firms have external budgets to pay bribes and to illegally win projects and contracts," he said. "They try to acquire natural resources, precious stones and energy contracts by paying bribes, and if that does not work, they turn to smuggling."
"The smuggling of Afghanistan's natural resources by the Chinese is effectively plundering the natural resources and underground wealth of the country," Munadi said.
On the one hand, China's payment of bribes and illegal competition promotes "administrative corruption and embezzlement among the current rulers", he said.
"On the other hand, it will lead to the waste of Afghanistan's national wealth and resources."
'Plundering Afghanistan'
"Most of the mining activities and extraction of minerals in Afghanistan are carried out illegally and unprofessionally by local strongmen, criminal groups, and local and international smugglers," said Esmatullah Sarwari, 28, who has studied mining at Kabul University.
He pointed to the recent smuggling incident.
"The illegal and unprofessional extraction and smuggling of Afghan minerals have been a challenge for Afghan governments, and right now our country is going through political difficulties and turmoils," Sarwari said.
"[Afghanistan's] neighbours, especially the Chinese, are more involved than ever and have been trying hard to legally or illegally extract Afghanistan's minerals and transport them out of the country, which means plundering Afghanistan's natural resources," he said.
"Afghanistan's natural resources have been plundered for years by groups and regional countries either through illegal means and smuggling or formally," said Azrakh Hafizi, an economist based in Germany and former director of the Union of Importers of Oil.
"The Chinese government and companies have a strong interest in Afghan mines," he said. "They acquired the Mes Aynak copper mine and Amu Darya gas and oil deposits for very cheap."
"Unfortunately, Afghanistan has very little share and profit in these contracts while the Chinese get 80% of the shares and profits," he said. "They take advantage of the current [political] situation to plunder the natural resources of Afghanistan."
"The current rulers should not allow the plunder of the country's natural and public wealth by neighbouring countries," he added.
Afghanistan's wealth
"Chinese companies are interested in Afghanistan's natural resources more than any other time following the latest developments in the country," said Sayed Masood, an Afghan economic analyst based in Canada.
But rather than acquire Afghanistan's natural resources through mutually beneficial trade agreements, they are trying to extract them informally and smuggle them with the help of some Afghans, he said.
"Afghanistan has 1,400 mines," Masood said. "The Chinese are eying those mines and trying their best to acquire them in any way possible."
Afghanistan's untapped mineral and metal resources are valued at more than $1 trillion, the Ministry of Mines and Petroleum said in 2019.
China is seeking regional influence "so that its competitors cannot dominate the region", Masood said.
"Therefore, it tries to cover the region politically, economically and security-wise through economic projects -- as well as legal and illegal contracts."