BISHKEK -- At Russian prisons, inmates who refuse to go to war are now facing threats of new prison terms, according to the Agency.News Telegram channel.
Meanwhile, authorities are promising those held in jail before trial that their cases will be closed if they go to Ukraine, it reported February 8.
The Wagner Group, a Russian mercenary force headed by Kremlin crony Yevgeny Prigozhin, has been recruiting fighters from prisons since last summer. Prigozhin claims that "Wagner has completely stopped the recruitment of prisoners."
The Russian military, however, also struggling to boost its depleting ranks, took a page out of Wagner's book and started to recruit from Russia's vast prison network.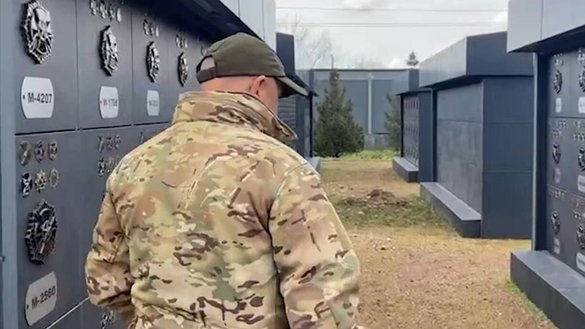 But prisoners are getting wiser to the realities of war and refusing to take the bait, observers say.
The UK Ministry of Defence in an intelligence update February 17 noted that convict-recruits deployed by the Wagner Group "have probably experienced a casualty rate of up to 50%".
Senior Western officials estimate the number of Russian troops killed in Ukraine could be as high as 60,000, while another 175,000 to 200,000 Russian Defence Ministry forces and private contractors have likely suffered casualties since the start of the war.
Ukrainian officials say more than 140,000 Russian troops have been killed in the war.
At the end of 2022, recruiters began a second tour of the prisons, but they are netting significantly fewer volunteers than in previous recruitment drives, the Mediazona news website reported February 6.
"If a couple of hundred prisoners from one prison enlisted in the summer and autumn, now they barely recruit a few dozen," it said.
'They are afraid'
There has been a recent wave of forced recruitment of inmates at prisons near the Ukrainian border, according to Yana Helmel, a Paris-based lawyer for In Defence of the Rights of Prisoners.
Helmel previously worked to protect the rights of prisoners in Yekaterinburg, Russia, but left Russia last year after the start of the war.
Her opposition to the war has put her in danger of criminal prosecution in her homeland for "discrediting" the Russian army.
If earlier it was Wagnerites recruiting prisoners, now Russian law enforcement officers are trying to recruit prisoners, and they are using the leverage available to them, she said.
"My client, held in a prison colony in Rostov province, was recently threatened with prosecution for a theft committed 20 years ago if he does not agree to go to war," Helmel said.
The Russian Interior Ministry (MVD) and Federal Security Service (FSB) interview prisoners and promise that if they agree to fight, they will receive a presidential pardon and the opportunity to "start life with a clean slate", she said.
But prisoners have heard of Russia's massive losses in the war with Ukraine and are no longer willing to leave prison for certain death, said Helmel.
"They are afraid, because if they refuse, they may be tortured in prison," she said.
Recruitment problems
By the end of January, Prigozhin had recruited more than 50,000 convicts into his private army -- of which only 10,000 are currently fighting in Ukraine, Olga Romanova, founder of Russia Behind Bars, said in a recent interview with My Russian Rights.
The rest are killed, wounded or missing, or they surrendered or deserted.
Recruitment problems have prompted Prigozhin to launch a new publicity campaign.
"Since the beginning of January, [Prigozhin's] media outlets have regularly featured stories and videos about prisoners who joined ... Wagner, fought in Ukraine for six months, and now, allegedly, have returned home as free men," Mediazona reported.
Such instances appear to be rare.
One convict who ended up fighting outside Bakhmut, a major battleground in Ukraine, admitted his regrets about joining the Wagner Group in a conversation with an inmate who stayed in prison.
Of those who left the prison with him for Ukraine, only 20% were still alive, the fighter said at the end of 2022, according to Mediazona.
Imprisoned foreigners
As pressure grows in prisons to fight in Ukraine, foreigners being held in Russia are at risk.
A diplomatic scandal broke out between Russia and Zambia last fall after it came to light that one of the African country's citizens, 23-year-old student Lemekani Nathan Nyirenda, was killed in combat in Ukraine in September. He was serving time in a Russian prison when Wagner recruited him.
Many of the foreign convicts recruited and thrown into the cauldron by Prigozhin are citizens of Central Asian countries.
Amanbol (not his real name), a 30-year-old citizen of Kyrgyzstan, was sentenced in Russia to nine years in prison for robbery and rape.
Three months ago, the Wagner Group recruited him and sent him to war in Ukraine, and now his mother does not know whether he is dead or alive, Radio Azattyk, Radio Free Europe/Radio Liberty (RFE/RL)'s Kyrgyz service, reported in early February.
Azattyk also reported the death of 30-year-old Kyrgyz citizen Ayan Alisherov in the war in Ukraine. He had been serving time in a Russian prison.
Rakhatai Abdivaliyeva, his mother, told Azattyk that she does not understand how her son got from a Russian prison to the war in Ukraine.
Alisherov, who did not have Russian citizenship, was killed in November in a battle near Bakhmut.
Bishkek resident Tolekan Ismailova, director of the human rights organisation Bir Duino Kyrgyzstan (One World Kyrgyzstan) and a member of the International Federation for Human Rights, urges Kyrgyz migrants to refuse to fight in Ukraine and, if possible, to leave Russia.
"The authorities in Russia have shown themselves to be an aggressor and are committing a crime against humanity," she said. "The victims of this crime include not only Ukrainians but also our citizens."
Bishkek officials are also concerned about Kyrgyz citizens ending up in the Ukraine war. In early February, members of the Kyrgyz parliament raised the issue of Russian recruitment of Kyrgyz citizens.
At a session of parliament, MP Meikinbek Abdaliyev stated, "Our citizens have no ties to this conflict and must not have them."
He called on his colleagues to instruct relevant agencies to investigate instances of recruitment.
"Recently the body [of Ayan Alisherov] was returned from Luhansk. How did our citizen, who was in a Russian prison, end up in a war between Ukraine and Russia? Where was his body shipped from?" Abdaliyev said.
"Did he go there voluntarily or he was forced? This is unacceptable."