TBILISI, Georgia -- Thousands gathered for a demonstration Friday (February 24) in Tbilisi in solidarity with Ukraine on the first anniversary of Russia's invasion of the fellow ex-Soviet nation and in support of Georgia's European Union (EU) membership aspirations.
Other pro-Ukraine rallies took place in Kutaisi, Batumi and other Georgian cities.
Politicians, members of different NGOs, college students and Georgians of various professions gathered outside the parliamentary building in Tbilisi. They were joined by Ukrainians living in Georgia as well as some Russians.
About 30,000 demonstrators gathered outside parliament waving Georgian, Ukrainian and EU flags, according to an estimate by an AFP reporter.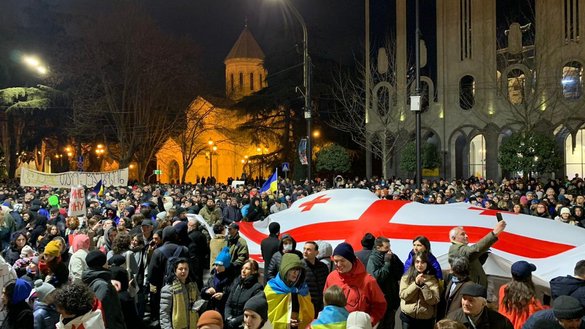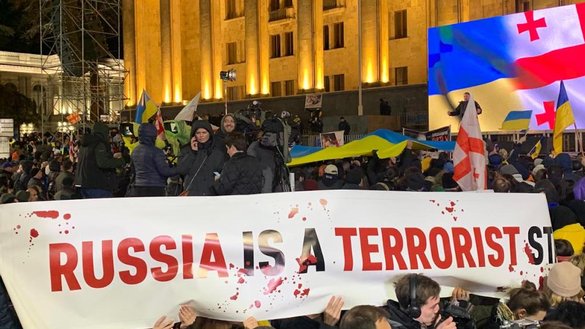 The rally was organised by several opposition parties and Georgia-based Ukrainian activists.
Crowds chanted "Glory to Ukraine!" after the Georgian and Ukrainian anthems were performed at the demonstration.
The demonstrators also honoured the Ukrainians and the 36 Georgians who have died fighting for Ukraine.
"We, citizens of Georgia, political parties, civil society and Ukrainians living here unite today in solidarity with the heroic Ukrainian people," the organisers said in a statement.
Addressing the rally by video link from the Ukrainian capital, Kyiv Mayor Vitali Klitschko thanked Georgians for their support.
"We defend today Europe and its values," he said to applause from the crowd, adding he was certain both Ukraine and Georgia would become "EU members".
Supporting Ukraine
Participants in the Tbilisi rally vented their disgust with the Kremlin's incompetent but brutal attempt to conquer a neighbour.
"Russia is a terrorist nation," Georgii Gogitidze, a 19-year-old college student, told Caravanserai.
"We are expressing our solidarity to the Ukrainian people, but we mustn't forget that we ourselves need to be freed from Russian claws," he said,
"Everyone who wants freedom must stand here; otherwise, we will never climb out of this swamp."
"Today we wanted to show that we stand with Ukraine. We stand with the fearless leader of a free country, Volodymyr Zelenskyy," said Lasha Beridze, 32, a computer programmer based in Tbilisi.
"Also, we wanted to show again to the whole word that we choose Europe. We want to join the EU and NATO."
"February 24 was the most frightening day of my life," said Tatyana Nikitchenko, 24, a refugee from Kharkiv, Ukraine, who fled a year ago.
"One year ago Russia destroyed my life and my family's life. It arranged the genocide of my people. Today I want to support both my country and Georgia, which fully understands what Russian terrorism means."
Russians who have fled their homeland also took part in the rally.
Arsenii Malotlekov left for Georgia during the first Russian mobilisation.
"I came here to support Ukraine, Georgia, Russia, Belarus and everyone who suffers from Russian imperialistic policy," he said. "I want to thank, first of all, the Georgians who received and sheltered me; [here] I can express my opinion without fear about the aggressive policy of my country."
Rallies in Europe, US
Protesters in various EU capitals and in the United States on Friday and Saturday also demanded peace for Ukraine.
In Paris, police said 3,000 protesters rallied on Saturday as they sang Ukraine's national anthem before Ukrainian children dressed in traditional costume led a procession.
Hand on his heart, 73-year-old Volodymyr Kraftchenko, who fled Ukraine a year ago, condemned "those who violated our land and our rights".
Krystina Krasnoboka said the "guilt" of not being in Ukraine had over the past year faded and become a feeling of "being more useful here [in France], to send supplies and money to the country".
Hundreds also rallied elsewhere across France, including Montpellier, where Kseniia Litouka arrived with her two-year-old daughter in April last year.
"We must not think the war will end soon; we must shout everywhere that Ukraine is suffering and unfortunately is still going to suffer," the 29-year-old told AFP.
Paris' Eiffel Tower, Rome's Colosseum, and Warsaw's National Theatre were among the European monuments illuminated in blue and yellow on Friday, Radio Free Europe/Radio Liberty reported.
In Washington, pro-Ukraine demonstrators gathered on the steps of the Lincoln Memorial on Saturday.
Ukrainian Ambassador to the United States Oksana Markarova addressed them, calling for "more weapons, more support to Ukraine and more sanctions to Russia", a local news station reported.