KYIV -- Before the start of Russia's invasion of Ukraine, Oksana Hrabovenska, 41, lived in Lviv province, near the Ukrainian western border with NATO member Poland.
Even though her town was almost 1,000km from the main front in the earliest days of the full-scale invasion, Russian missiles still flew into the region.
"We were living in a small town. It was terrifying ... No one knew what was going to happen the next moment, or where the Russian tanks were going to go," she said.
"During the first week we were expecting attacks on the Yavoriv military base," she said, referring to the International Centre for Peacekeeping and Security, 30km northwest of Lviv.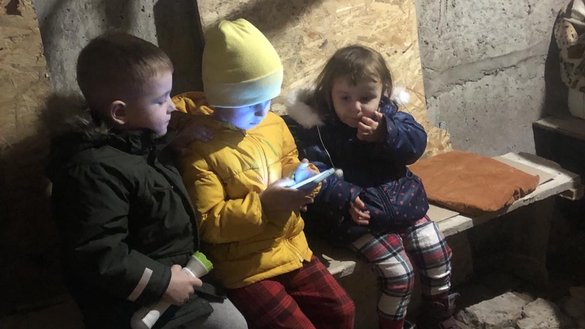 "For those seven days, whenever the alarms went off, my children and I would go down to the basement, and it was really hard because they're four and two," she said. "We would sit there with other people for hours and just cry because we were so scared."
With the future uncertain, after a week, Hrabovenska gathered her children and two dogs, got in the car and headed toward the Polish border.
Like hundreds of thousands of other Ukrainians, she did not know what lay ahead.
"I think that only someone who has seen war with his [or her] own eyes and heard the sirens can understand ... It's a feeling of total devastation, confusion and sometimes panic," she said. "Of course, people then got used to everything, but those early days were truly horrific."
Hrabovenska has since been living in Warsaw, where she found a job, and her children attend a Polish kindergarten.
While the family's life is now stable and they are safe, she has only one dream: to go home.
"I picture my home every day. You need to understand that it's not just an apartment, or things, or the people you know around you. It's your life."
"The lives of millions of Ukrainians were destroyed," Hrabovenska said. "I desperately want everything to go back to the way it was before February 24."
Sudden upheaval
Life for Hrabovenska and nearly every Ukrainian changed that day last year.
Russia's full-scale invasion caused "the fastest and one of the largest forced displacement crises since World War II", the United Nations High Commissioner for Refugees (UNHCR) said in June.
More than 8 million Ukrainians have fled since the war broke out last year, UNHCR reported February 15.
More than 5.3 million have been internally displaced, the International Organisation for Migration estimated in January.
The war has inflicted unprecedented demographic damage on Ukraine, according to the UN, which estimates that the nation's population has dropped to a record post-Soviet low: 36.7 million.
By comparison, 30 years ago Ukraine's population was 51.7 million.
"We can say with certainty that the longer the war goes on, the less people will want to come back," said Alexey Buryachenko, a political scientist and executive director of the International Association of Small Cities.
"People who didn't return in the first wave -- July-August 2022 -- will gradually assimilate abroad," he said. "Children have started going to school, people have started going to university, learning the languages, making new social connections."
'I'm staying'
Still, many Ukrainians have chosen to remain in the country.
One of them is Tetyana Belyamenko, 64, of Dnipro, a logistical hub for Ukrainian troops in the east and south of the country.
Dnipro has been regularly bombarded by Russian missiles. In one recent attack on civilian infrastructure on January 14, a Russian missile destroyed a high-rise apartment building, killing 46 people.
The building stood a block away from Belyamenko's home.
"It's a horrendous tragedy. It happened 1.5km from me; it was in our housing estate -- estate 6, where we live. It happened right where we are," Belyamenko said.
Belyamenko said her daughter, Yuliia, who lives nearby, also does not want to leave the country.
"She said, 'I don't want to go. I was born here in Ukraine, and I said I'm not going anywhere'," Belyamenko said.
"Even yesterday, when I was trying to talk her into going. I said, 'Yuliia, you need to leave.' But she said, 'Mom, if you need to leave, then you leave. But I'm staying here'."
"Initially, when the war started a year ago, it was a huge shock. By now we've gotten used to it."
"You just think that if it's your time to die, you'll die no matter where you go," Belyamenko said. "That thought is sort of comforting, and then you start living -- living in war."
"Sure, if you have kids, you need to leave, but in my case, I'm more useful here, especially because my brother-in-law has a cousin in the Ukrainian military, so we're all trying to help however we can."
"I believe in our victory, and I know I'm needed here," Belyamenko said.